The Monday Hangover:
Other drink adventures of note from the weekend.
Why is the sun setting before 4pm?


Ugh. It's about time for the days to start getting longer. I'm tired of driving home in the dark.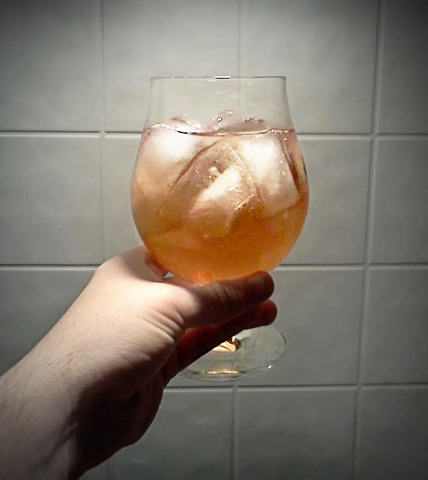 Friday night was, as per the usual, Rule 37 Cocktail night. The Lady Friend made up her own, the Maurad, and I had an Angel's Tit. And a cocktail. Zing. From there, we had several other drinks… I'm pretty sure she switched over to tequila, and I had myself a Double-term Presidente, using some tasty Roaring Dan's Maple Rum from Great Lakes Distillery in Milwaukee. I brought it back after a trip out there last year. It's pretty damn tasty. We did a tour and tasting at the distillery, while I nursed one of the worst hangovers I've had in a long long time. Spirit tasting was rough, but I was impressed enough with the rum to buy a bottle. They named it after "Roaring" Dan Seavey, because every rum needs a pirate.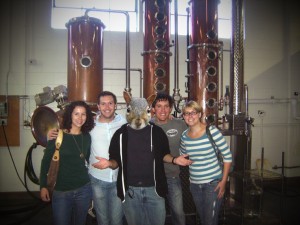 And every trip to Milwaukee needs a horrible hangover.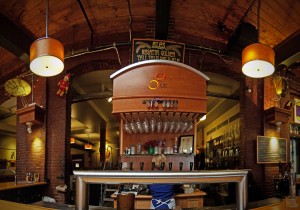 I felt like we should get something accomplished on Saturday, so we hopped the T up to Kendall Square in Cambridge for lunch at Cambridge Brewing Company. It had been awhile since I went to CBC, but it was as tasty as always. There was a large tv up in the corner, which I really wish bars would stop putting in. It's insanely distracting. At least for me… it doesn't matter what's on the tv; I can't ignore the flickering siren song. In this case, Elf was finishing up as we sat at the bar, which went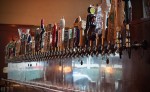 into The Land of the Lost. The bartender changed the channel and it went to Anchorman. Apparently Will Ferrell is the king of weekend afternoon movies. Following our CBC tastings and lunch, we headed over to the recently-opened (well, April) Meadhall, which boasts 110+ taps. Whoa. After a couple more brews there, it was back to SFHQ and then out to a holiday party in Weymouth. I had a glass of the cranberry champagne cocktail (vurry tastilly tart) and helped myself to an Otter Creek Wolaver's IPA. Not bad, but nothing mindblowing, a decent, solid hoppy ale.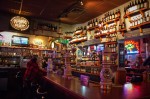 Sunday's main event was the return of Sissy to the East Coast for the holidays. We snagged her from Logan and immediately absconded to Sunset Grill and Tap in Allston. Like Redbones, the Lady Friend had never been here before, so it was a visit long past due. They've got 100+ taps and I have notoriously bad luck choosing a beer. I've gotten into the habit of choosing three beers at a time, since they're inevitably out of my first two choices. This time was different. I ordered a Boulder Beer Mojo IPA, which was strangely in the Double IPA section (Mojo Risin' is their dIPA). I was assured that they had it, yet when the glass came, it was oddly dark. Mojo IPA is a nice orangey amber; this was deep nut brown. It smelled malty, without the citrus hop I was expecting. Again, I was assured that it was Boulder's Mojo. Tasted it… nope. Way too malty. Not bad, but not Mojo. I asked the waitress again if she could find out exactly what "Mojo" it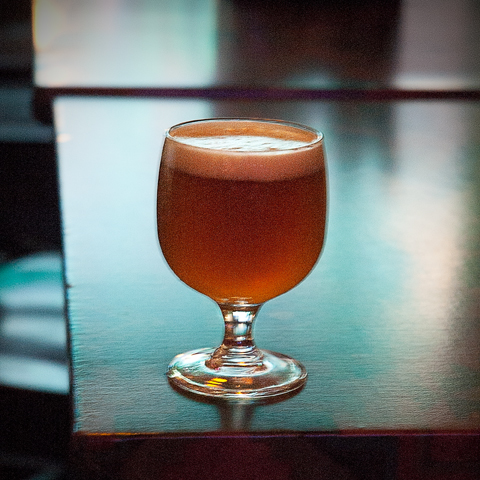 was. She came back with a blank face saying it was "Killer." That's all the information she could gather. Turns out, it's Boulder's Killer Penguin barleywine, which is a tasty beer, but not at all what I wanted. Ugh. I love Sunset, but it's always a battle there. I don't understand why I can't just get the beer I want.
I followed up with Dogfish Head's 120 Minute IPA. Because it was on tap, and there wasn't any available last year. And it's 120 IBUs. And 18% abv. Yes, eighteen.


After Sunset (the Lady Friend drove us… I was in Happyville, USA after the Dogfish) we returned to home base, the SquirrelFarts Cocktail Cave. Sissy finally got the full drink experience, having never made it to a cocktail night at SFHQ before. I started the two of them off with a round of Rum Stone Sours using the very vanilla tasty Sailor Jerry spiced rum. This drink is like chick crack… fruity, sweet, and full of 92 proof spiced navy rum. I started off with a Jack Rose for myself. By then, they were demanding something different, having happily slurped down round one, so I went with a Flamingo: 1.5 oz white rum, 1.5 oz pineapple juice, .25 oz lime juice, .25 oz grenadine, .25 oz simple syrup. I whipped out the Bully Boy for this one, and with all that juice and sugar, it was a big hit.
From there we had quite a variety, throwing whatever I could think of into the mix. While the femmes had a Paloma (one of the Lady Friend's tequila cocktails) I had a nice little Old Overholt Whiskey Sour, followed up by an Income Tax, or, Bronx with Bitters. There are cocktails named for all the New York boroughs (the most famous is likely the Manhattan) and the Bronx is a decently easy-going tipple. However, it really picks up some flavors with a couple dashes of bitters, and becomes much more interesting. This version is from Ted Haigh's Vintage Spirits and Forgotten Cocktails: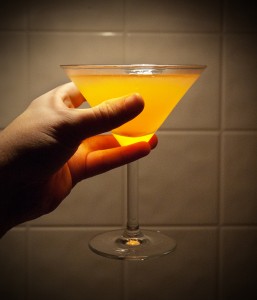 The Income Tax (Bronx with Bitters)
– 1 1/2 oz gin
– 3/4 oz dry vermouth
– 3/4 oz sweet vermouth
– 1/2 oz fresh-squeezed orange juice
– 2 or 3 dashes of Angostura bitters
Shake/strain/serve. It's ok on its own, but really nice with the bitters.
From Ted:
"It was the Bronx Cocktail to which the Income Tax merely added a couple dashes of Angostura Bitters. In fact, if you wanted to feel particularly film noir, you'd lean over the dark bar you found yourself in and growl, 'Bronx with bitters, and make it snappy!'"
Also, be sure to make this one with FRESH-squeezed orange juice. It makes all the difference.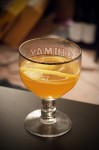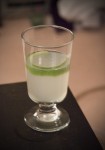 Somewhere in there we ordered a pizza, but I couldn't tell you at what point. I think Sissy had a Tom Collins, complete with Old Tom gin but the timeline started to get loose. The Lady Friend had made some potato skins, which were doing a wonderful job of soaking up the booze, giving us more mixing playtime. Up next for the sisters were a double Sidecar for Sissy, and a Kamikaze for the Lady Friend. I had her try to guess what it was, but since I rarely use vodka, she couldn't even pin down the base spirit. It's essentially a Margarita with vodka switched out for the tequila. At any rate, it was amusing (for me) to watch her guess liquor after liquor trying to figure it out.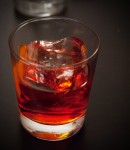 As a nightcap, they switched over to a couple of Dogfish Head 60 Minute IPAs that the Lady Friend had purchased earlier, and I finished off with a lovely Negroni, showing Sissy the fun of flaming an orange peel. We chatted about who knows what, though Sissy did share her thoughts about the Squirrel Farts Drink Blog. Apparently she doesn't necessarily read it, but squealed "I skim for my name… there's a lot of words in your blog!" making sure to defend herself by noting "I look at the pictures!"
So as long as her name is in here, and there's pretty pictures to look at, I've got another satisfied reader.
Bully.