The Monday Hangover:
Other drink adventures of note from the weekend.


It was a long week. At times it seemed to fly by, but that was countered by the times that dragged on for an eternity. Finally Friday came, and something strong and warming was called for. That wound up being Aberlour A'bunadh single malt scotch. The wax-sealed bottle was a birthday gift from Wifey and the Irish Lad, and, with the exception of a small taste the night I got it, I hadn't really delved into its depths. I poured a decent dram and took a sip. PHOAHRAH! What does that label say? Oh good lord… 60.4% abv, cask strength. That's 120.8 proof for those playing along. Yowza. Lots of alcohol punch. But, once that evaporates, the resulting flavors are really nice. A'bunadh is aged in Spanish Oroloso sherry casks, so it gets a nice red hue, and a tasty sweet flavor. There's a whole lot more going on behind that, but then this would turn into a review instead of a weekend recap. I had the Lady Friend take a sip when she came over, and she looked like steam was going to shoot out of her eyeballs. It's probably one of the higher abv things she's ever tasted. Cask strength is no joke. But delicious.
The Lady Friend cracked one of her Sixpoint Diesels before our cream cocktails. After the disastrous Parisian Blonde, she went to her old friend, Margarita, while I sipped an Avery IPA.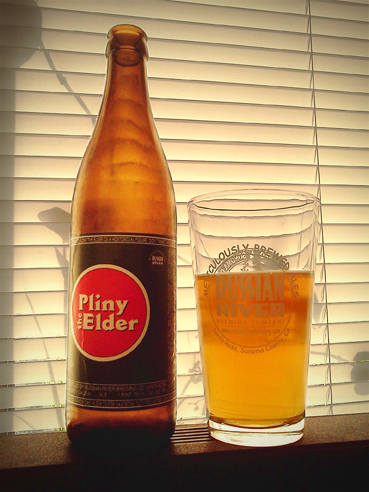 We lacked the energy to get much accomplished on Saturday, except sipping on the last remaining Pliny the Elder while playing a game of Scrabble. I'm still a touch bitter that she managed to successfully play a 'Q' and a 'Z' in the course of the game leading to her victory. Following that, we rallied for some pregame drinks at the Union Brewhouse, and two more crossed off of our 99-bottle list. The next slot on my list was for Lindeman's, which wound up being their Framboise, a raspberry lambic "beer" that tastes like soda. It's chick crack. I've had tastes several times before ("It's like drinking a Fruit Roll-Up!"), but never an entire bottle to myself. It wasn't easy. Full of sugar and lots of carbonation. I resorted to downing most of it in one go, while the Lady Friend sipped on her skunky green glass Spaten lager. The next round was an Ipswich ale for me, and a Berkshire Brewing Co. (BBC) Lost Sailor IPA for she. After the sugar fruit bomb of the lambic, the ale tasted horribly bitter to me, and I really didn't want to finish it. The Lady Friend enjoyed her IPA, though she's had a bit of an issue with pronunciation lately, calling it "Berk-shy-er" instead of "Berk-shur." It's odd, because she's from New Hamp-shur, not New Hamp-shy-er.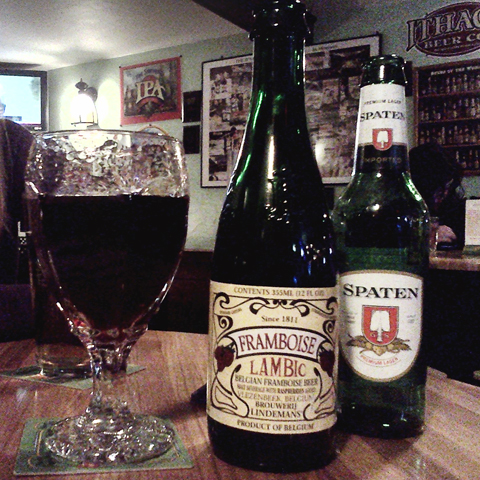 BEWARE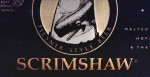 After the Brewhouse, Saturday's main event was a trip to Norwell for dinner and drinks at The Tinker's Son, (Warning: A commercial autoplays on the webpage) an Irish pub and restaurant owned by a friend of my buddy, Shaw (ScrimShaw, the ShawDog). The food was great, and the beer list excellent. In addition to the usual fare of Guinness and Smithwick's (the Lady Friend got an education before we went… it's pronounced "Smiddicks"), they had several options on tap including Bear Republic Racer 5, Stone Double Bastard and local offerings from Pretty Things, Blue Hills, and Wachusett. Impressive for most bars, not to mention an Irish pub. I started off with a Guinness, as did most of the group, and the Lady Friend had a Smithwick's, but switched over to Racer 5 for her second, as did I. Great food, great crowd (we mostly talked about craft beer and race cars, excellent dinner conversation), and great beers. At the bar later on, Shaw (who was celebrating a birthday) was busy double fisting a Jameson Gold in one hand and a Stone Double Bastard in the other. This is usually about the time his inebriated alter-ego, "Schwa," makes an appearance, though apparently he kept his Hyde-ian doppelganger under control, despite the elixirs consumed.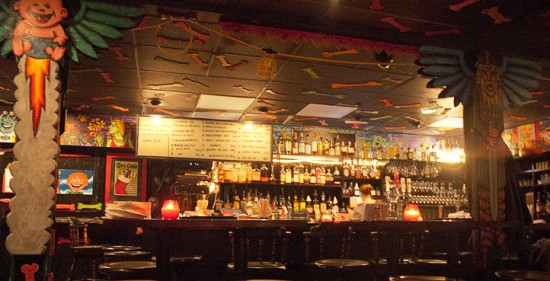 The Underbones Bar. 24 taps. Happy place.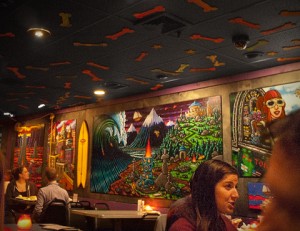 Sunday brought another grand event: the Lady Friend's first visit to Redbones, in Davis Square. It's a very popular (and delicious) BBQ restaurant with crazily vivid murals all over the place and a fantastic beer list (24 taps). I've been going there for years with Wifey and the Irish Lad, but the Lady Friend had never been, despite previously living about a mile away in Somerville. We got there around 2ish, and headed down the stairs to "Underbones," the underground bar/restaurant area… it's dark, dank, and much better than the the cramped, cafeteria decor of the upstairs section. Time for beer! I opened with an Anderson Valley Mendo Mellow Estate Ale, which was very… mellow. It was a sweetish ale, nothing wild, but generally mild and tasty. Beer Advocate lists it as an American IPA, but it wasn't very hoppy at all. The Lady Friend countered with a Brooklyn Brown, and the Irish Lad hit back with a Boundary Bay ESB, which was very IPA-like. Come to think of it, I wonder if they switched our beers. That actually would make a lot of sense. Although, after reading the reviews of the Mendo Mellow, it seems like they were correct after all… it didn't seem to impress most people.
Wifey, being an anti-beer, went with a Margarita to start, and followed up with a Twisted Tea, which confused the waitress who thought it was a cocktail. Nope, just a bottled hard iced tea. As for the rest of us, our second round consisted of a Meantime London Stout for me, and a Tröegs Mad Elf (11% abv) for the Lady Friend and the Irish Lad, both of whom get very silly when the abv's start pumping. I was very pleased with my stout, which I feel was the perfect beer to have after lunch… slightly roasted bitter to cut through the BBQ spice, and a dry creaminess to smooth out the finish. Mad Elf was a bit nutmeggy/wintery, and it looked like it was a struggle to get through, though they seemed quite happy after that 11% kicked in.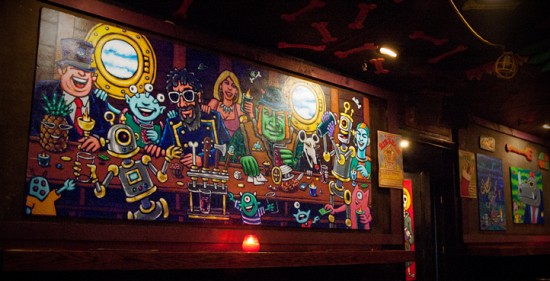 The murals start talking after a couple 11% beers.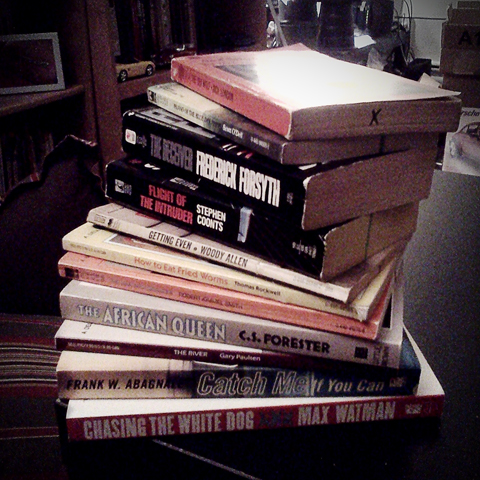 After lunch we hit the annual Harvard Bookstore Warehouse Holiday Sale, where the warehouse is converted into a new and used bookstore to get rid of back inventory. Used books start at $1. Newer books are up to 60% off. Awesome. While others shop for specific titles, I usually go for gross poundage, and see what quantity I can get for my self-imposed $30 cap. This year was a new record: 11 books for $25. Now I need more bookshelves.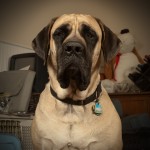 The two hours of book browsing (I can spend all day in a bookstore) helped take the buzz out of the group, and we returned to the home of Irish Lad and Wifey. They had asked me to do some photography for their holiday card, including the monster dog, Zero. I had a frosty-delicious PBR while shooting, and the Lady Friend and I packed up back to her apt to finish my laundry. Clean clothes! Finally, back to the Liquor Lair of SFHQ and my lovely, lovely bed. Rest would be necessary, for the next day, December 5th, was a big one: Repeal Day.