As you may have noticed from my constant endorsements, I'm a fan of Bully Boy Distillers, Boston's first craft distillery since Prohibition.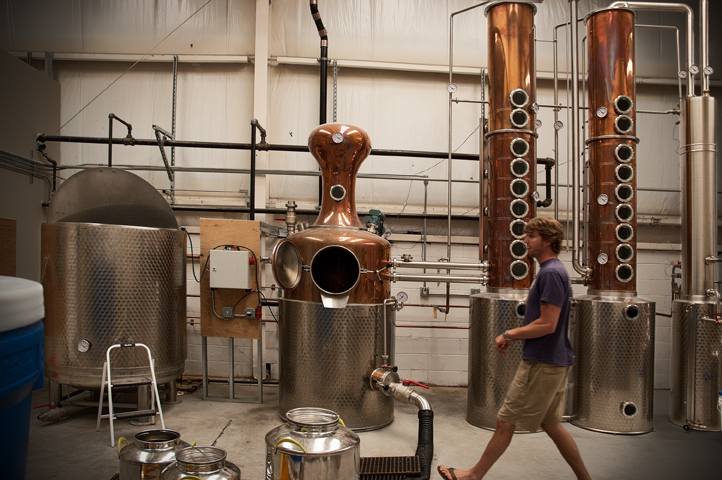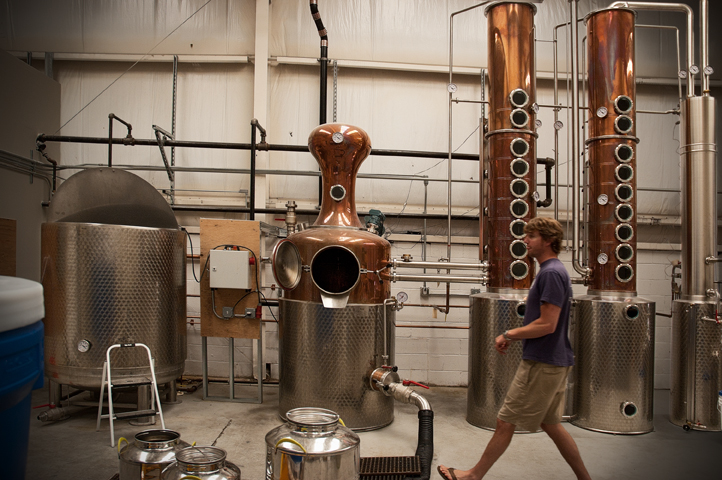 Bam.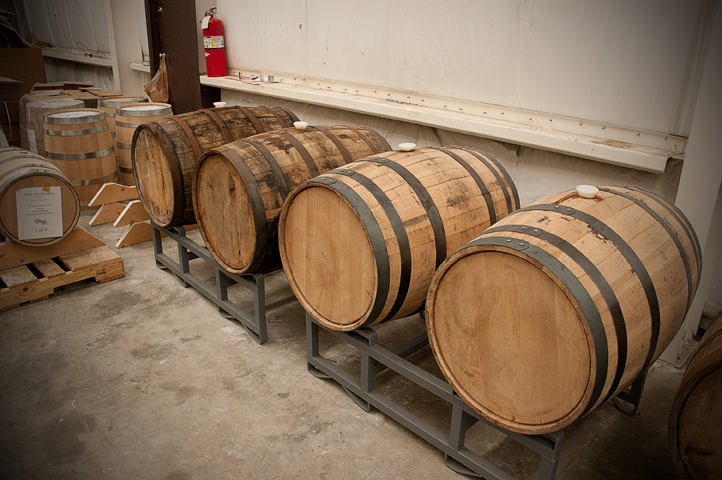 Because I wasn't thinking clearly after the liquor geek-out time on the tour, it didn't occur to me to purchase a bottle at the nearby liquor store before braving the Southeast not-so-Expressway. Since then, it's been a mission to track down and acquire a bottle of their product for my home bar/ happy place. But which? Well for one thing, they have three products on the shelves at the moment; vodka, white whiskey, and white rum. Currently sitting in barrels is an aged rum, and an aged whiskey, which should both be ready at various times next year. Basically whenever they taste like distilled awesomeness (see what I did there?).
So after a visit to Harpoon Brewery recently, the Lady Friend and I ventured down to Liquor Land in South Boston, where I knew I could snag a bottle (it's about a block from the distillery). I had called them previously trying to get a price estimate, but couldn't get in touch with anyone. A craft product like this could get quite pricey, so I had no idea what sort of neighborhood I was dealing with. Fortunately, they had several bottles of the rum, vodka and whiskey in stock, all retailing for about $28. Nice. $30 per bottle is where I really start to lose interest these days, and I was glad to see Bully Boy come in under the mark. When I toured and tasted at the distillery, the rum blew me away, so that's what I ultimately bought.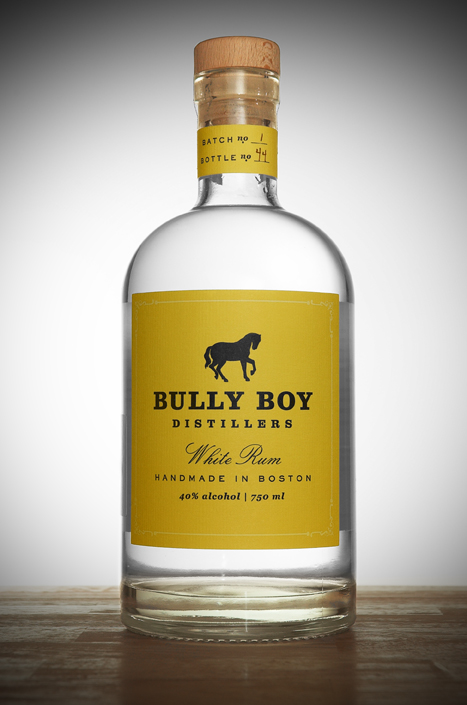 Batch No. 1, Bottle No. 44.
Awesome.


Now, what you should understand about this rum is that it's unlike a "standard" white rum. Pop the cork on this bad boy and sweet vanilla sugar grains skitter off through the atmosphere, like reverse fruit flies. It's like the sweetness is trying to escape the bottle, lest you trap it back up again. It noses with a harsh alcoholic sting to the ol' schnozzle, which evaporates quickly to reveal vanilla undertones with an abundance of sweetness. It's made in the style of a traditional blackstrap rum, distilled from dark molasses. This was popular back in the day in Boston, as the city bustling port was a center of the sugar and molasses trade from the Caribbean. Rum was the drink of Colonial America, and Boston's first distillery sprang up in 1667, though little Rhode Island was the big player in the rum game, outproducing everybody else by far. Then the Brits tried (and failed) to collect taxes on first molasses, then sugar. So we went to war and beat them up. As is my understanding. And now we talk correctly, saying things like al-oo-min-um not al-yoo-min-ee-um. Wikid pissah.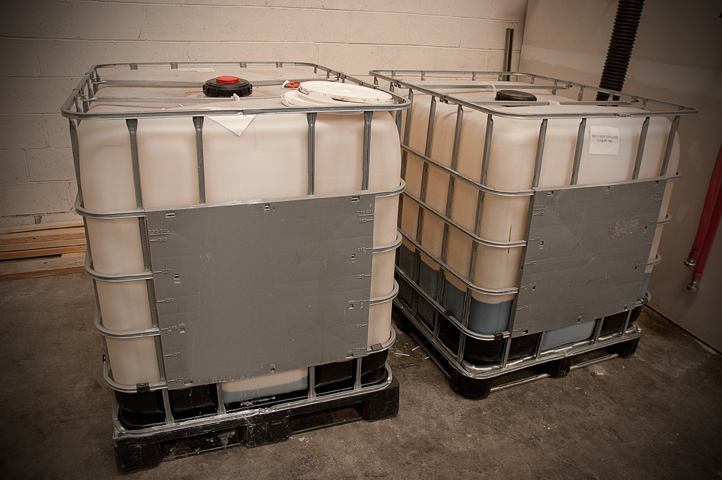 No molasses taxes!


Despite the alcoholic burn in the aroma, this rum tastes heavenly sweet. Sugar cookies with vanilla frosting. Cupcakes. Warming in the mouth, and light vanilla floral before the molasses mouthcoat. It's not a syrupy or viscous mouthcoat, as found in an imperial ale or dessert wine, but fools your mouth with the sugary flavors. Dave, the distiller I met with at Bully Boy, describes it as being "like an aged, dark rum that isn't aged." I couldn't describe it better. A Meyers or Gosling's dark flavor, full of sugary molasses, but in a perfectly clear liquid. The aged version, which matures for about 8-9 months (they're not sure yet, it's the first batch) should be PHENOMENAL.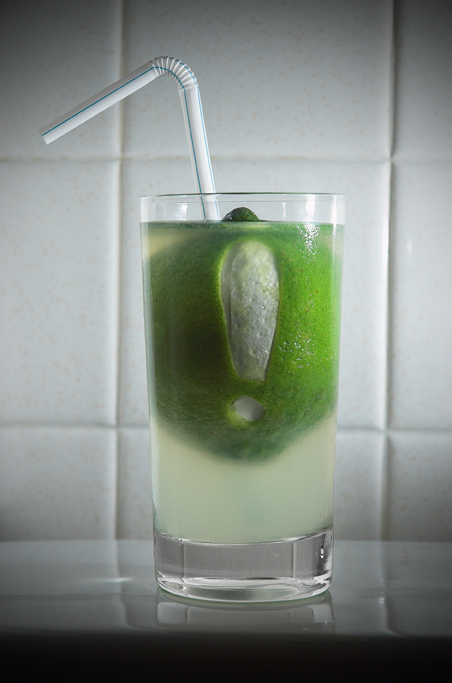 The Lady Friend and I tried a taste of the Bully Boy straight, to get a good sense of the spirit's character. For comparison, she also tried Bacardi's light/ white/ silver offering and found it to be much more alcoholic tasting; medicinal and sterile, making the Bully Boy that much sweeter. I splashed, shook, strained and served up a round of daiquiris (REAL daiquiris: 1.5oz rum, .75oz fresh sqeezed lime juice, 1oz simple syrup) and we sipped, slurped and slightly slurred our speculations. Dilicioso. Lady Friend even remarked that she'd "be as bold as to say it's best one she's ever had."


Along with our cocktail consumption, we toasted as we usually do. However, this time the toast was simply "Bully!" and a new House Rule was born:




Hithertoforth, whenever proffering a toast, whilst raising a spiritous beverage
containing that whist hast been distill-ed by the Bully Boy troupe, a cry of "Bully!" shall ring forth, preceding quaffing and the making of merriment.


I find this new decree to be exceedingly appropriate, as the cry not only refers to the distillery, but the namesake of the distiller and the origin of the namesake of the distillery. Ok. So, the Willis brothers named their distillery "Bully Boy" after their great-grandfather's favorite farm horse, to keep a connection not only with their family farm, but also with their grandfather and his vaulted collection of Prohibition-era liquors.
UPDATE: I had some incorrect info up in the original draft. The REAL story is that the Willis' GREAT-grandfather was Theodore Roosevelt's Harvard roommate. Wait… what? AWESOME. So, later on, the great-grandfather named his favorite draft horse after the president, and his fondness for bellowing "Bully!" when the inclination struck him. "Bully," in case you don't speak old-timey, means "superb," "well-done," or "marvellous," and was a key phrase associated with the Rough Rider.
TR, a true manly man, (don't call him "Teddy") was the Chuck Norris of his day except he actually DID all the ridiculous feats attributed to his legacy. He wrote a book about the naval tactics of the War of 1812 that is still taught today. He hunted down the thieves that stole his river boat, and guarded them for 40 hours straight while marching them to trial. He became president of the board of New York City Police Commissioners and straightened out the corrupted system. He practically started the Spanish-American war, and created a volunteer cavalry division called the Rough Riders. He was nominated for the freaking MEDAL OF HONOR (which he was awarded, posthumously, in 2001). And this was all BEFORE he ever became president. Seriously, go read a bit about him… he's NUTS.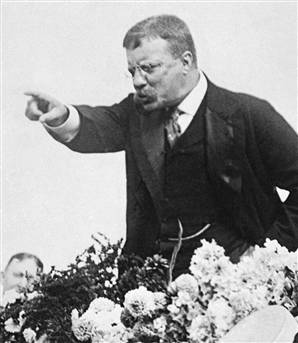 "Hush your bone box lest the dash-fire of my bunch of fives give you a fizzing nose-ender.
Now saw your timber, Chumpy!"


So we've got a rum with ties to Colonial Boston and one of the bear-punchingest presidents ever. What would TR have said about this rum? What else: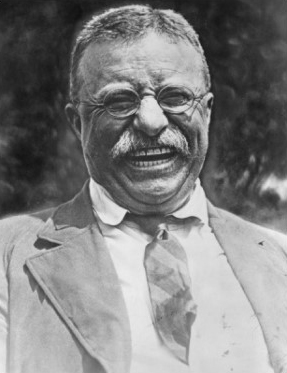 "Bully!"





Fun Fact: While president, TR helped negotiate the peace terms of the Russo-Japanese War, which earned him the damn NOBEL PEACE PRIZE. The treaty was signed in the Portsmouth Naval Shipyard, in Kittery/Portsmouth, ME/NH.


For our Bully Boy white whiskey review click here: Bully Boy White Whiskey
For our Bully Boy vodka review click here: Bully Boy Vodka
For our Bully Boy American Straight Whiskey review click here: Bully Boy ASW
For our visit to the Bully Boy distillery click here: Bully Boy Distillery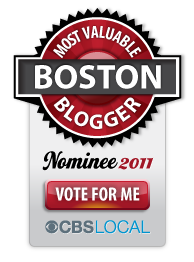 Btw, you can still vote for me for CBS's "Most Valuable Blogger Award." Just click on that badge picture on the left. You should do it every day.
Not like showering, which is totally optional depending on how cool your hair looks when you wake up.
Besides, TR would totally want you to vote for me. Plus, he thinks your hair looks cool sticking out to the side like that.
Seriously. Are you going to contradict Big Daddy Roosevelt? Don't be off your chump. He's having none of your sass mouth and will slap the gullyfluff right off your muckender, you scalawag.