Another week, another new cocktail. This one comes courtesy of Andrew Bohrer's Caskstrength blog, a great resource for the way things should be done. Currently, he's in the midst of a Cocktail Advent calendar, posting a different drink every day. This one, the Angel's Tit, came up recently and looked good. Plus, there's plenty of jokes and double entendres to be made. Be sure to watch the "Bawdy Hospital" video on Caskstrength as well. Michell and Webb are hilarious. Numberwang!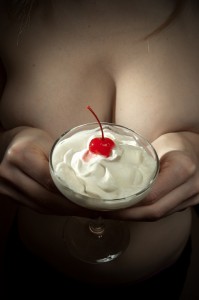 The Angel's Tit
– 1/4 oz white crème de cacao (again, had to use the dark, didn't have white)
– 3/4 oz maraschino liqueur
– Top with fresh whipped cream and a cherry
In a shooter or shot glass (I used a cocktail glass for photo purposes), layer the cacao, then maraschino, then dollop on whipped cream. Top with a cherry. Works better in pairs… just one looks kind of lonely.


Very little actual liquid, plus I went a little crazy with the whipped cream. Again, I didn't have the clear creme de cacao, but it layered very nicely with the maraschino liqueur. It tasted boozy, with some chocolate, and a whooooole lotta whipped cream. Impossible to drink from a cocktail glass without the Belgian Dip. But it's supposed to be a shooter anyway, so might not be as much of a problem.


I can't believe I didn't make two of these. The photos possibilities for a pair are endless.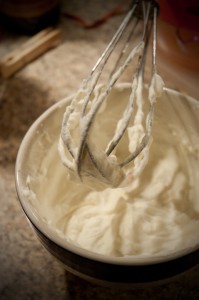 Yes, I made my own whipped cream for this one. It'll make about a cup. When wipped, the cream about doubles in volume. The recipe I used:
– 1/2 cup (4oz) heavy whipping cream
– 1 tbs sugar (could have used another tbs… wasn't sweet enough for me)
– 1 tbs vanilla extract


Chill a whisk and bowl (preferably metal… I only had ceramic) in the freezer for about 20 minutes before you start. It'll help keep the cream cold as you're whipping. The cream can just be in the fridge. Whip it (there's no avoiding the Devo joke here).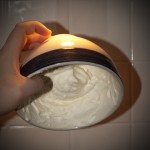 Whip it good. For like 3-5 mins. Basically until your arm feels like murderous snails are chewing on your forearm muscles, and the cream will "hold a point." If it gets grainy, you've gone too far. Mine was perhaps a bit too thick… it held a point all right, but didn't want to pour or move when I tried to spoon it into the drink. I could hold the bowl upside down without the cream moving at all. Gravity-defying!


For her drink, the Lady Friend tried a cocktail of her own invention, calling it the Maurad. We've been quite amused with that word since reading about it. What else would a randy French tomcat say? Ma-RAUd!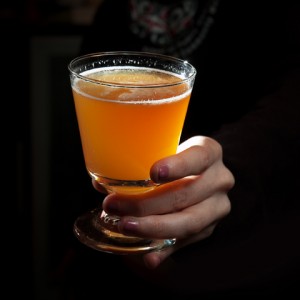 The Maurad
– 1 1/2 oz bourbon (Knob Creek)
– 1 oz amaretto
– 1 oz grapefruit juice (used a ruby red)
Shake, strain, serve.


Well. It was ok. A boozy start from the 90 proof Knob Creek, then too sweet. Most likely needs more grapefruit to balance. I always think grapefruit juice is more tart than it winds up being. It could make a very nice fizz, with some extra grapefruit juice and club soda. Still, a valiant attempt, and interesting that she's branching out into trying her own creations. I couldn't find anything quite like it, so I'm going to go ahead and say it's an original. Prove me wrong.