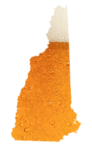 So the Lady Friend and I took a day trip up to our home state of Moo Hampsha for some good ol' Granite State boozing. This is Part I of the adventure. For those who may have missed it, there's a handy map on my White Birch Brewing post that shows why NH is the best state ever, besieged on all sides by other scary New England states (and a Commonwealth). Part 1 starts here.
Drink Free or Die: Sobriety is the Worst of Evils.




This is going to be a different sort of brewery tour.
Let's set the Way-Back Machine to the 1880s.
New Hampshire actually has a pretty big role in New England brewing history, which I was oblivious to until a chance viewing of a vintage beer ad slideshow. I'd show it to you, but it was on Life.com and they seem to have taken it down as if it never existed.



This was the picture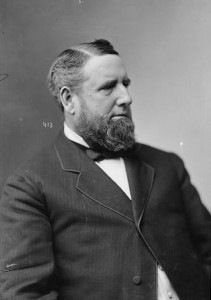 I recognized the name "Frank Jones," and saw "Portsmouth, NH" in there as well. That intrigued me, and kicked off some research. Having grown up in Seacoast NH, I had heard the name Frank Jones, but mostly only in reference to the convention center off of the traffic circle. Turns out he was a pretty big deal. Frank was a businessman, politician and brewer, and even served as mayor of Portsmouth for awhile. As a young man, he moved from his hometown of Barrington, NH, to the hustle and bustle of Portsmouth, and started working with Swindell Brewing, owned by Englishman John Swindell, around 1858. Swindell's business started tanking, so Frank bought him out. I'm not sure what he did after that to turn things around, but business took off. By the Civil War, he was profitable, and had a local competitor: Eldridge Brewing Company, also of Portsmouth, founded in 1864. These two were the big players in Portsmouth until Prohibition, though several smaller breweries also sprung up. Ironically, post-Prohibition, Eldridge started up again in various forms and produced Frank Jones's ale among its products.
Back to Frank: he continued expanding the brewery, and sales kept rising. They brewed 150,000 barrels of ale in 1882, making Frank Jones the LARGEST producer of ale in the ENTIRE COUNTRY. Holy snotrockets. Let's put that in perspective. First of all, I'm sure you're thinking "What about Miller, and Budweiser, and Pabst, Schlitz, Coors, Stroh's, and all those? Weren't they making a lot of beer as well?" Sure they were. But they were mostly making LAGER, not ale. Secondly, how much is 150k barrels of beer? That was Harpoon Brewery's production in 2011. That's a LOT of beer. We're talking a Harpoon-sized operation in the 1880s. By this time he was adding buildings left and right… a malt house, a cooperage (barrel house), ANOTHER malt house, ANOTHER cooperage, and a 140′ clock tower.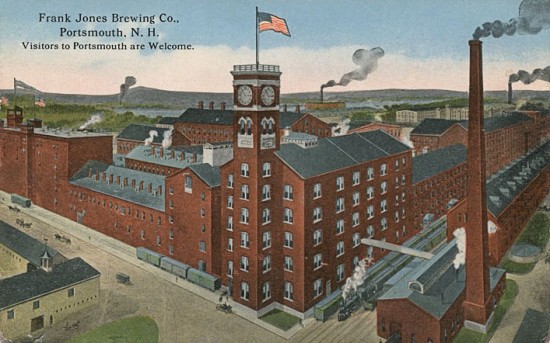 This place was HUGE.


This was just Portsmouth; there was a second brewery in South Boston, formerly called Henry Souther & Company. It's the one that is actually represented in that first picture. Under "Portsmouth, NH" the caption reads "Depot 82 & 84, Washington St, Boston": Washington Street runs right through Dorchester. That print is apparently in the Boston Public Library archives.
Anyway, in 1889, Frank went public and sold out to British investors who were sniffing out brewery purchases in America. Frank stayed on as head of the brewery, and they hit their peak in 1896 producing 250,000 barrels of ale. That's over 7.8 million gallons. Insanity.
There's even a SONG about the beer from about 1897:

Chorus:
Hurrah for Jones' brewery, may it never fail
Brew us beer and porter and beautiful stock ale,
That's the stuff for me, my boys, it drives away all pain,
Whenever I can get a glass of it I'll have it just the same.


Frank died in 1902, but not before making sure he had the biggest tombstone in the city.


Most of these brewery buildings still exist, off of Islington Street (behind CVS, next to the Pic n' Pay/ Hannaford's) near downtown Portsmouth. I've probably driven past them hundreds of times, and never gave them so much as a glance. Some of them have been repurposed/renovated and contain various businesses, like a tech company, yoga studio, and even a bar, located on the aptly named Brewery Lane. The Lady Friend and I went for a look.




WOW.


This was a serious brewery.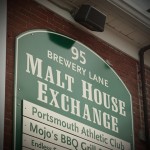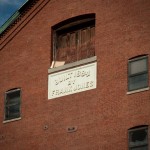 I couldn't really tell you which building is which, though I have a vague sense from the postcard above. The dominant building still standing has a big white stone near the top which reads "Built 1884 by Frank Jones," which I believe refers to the expansion of the main brewery building. Shorter, lengthy, two story buildings along Brewery Lane (where train tracks once ran) are the malt houses, currently containing businesses under the title "Malt House Exchange." There's just a parking lot where the largest building, and the clock tower, once stood. Most buildings are boarded up and have graffiti sprayed everywhere within reach, though the solid brick walls are still standing. The buildings that are left appear to be pretty sound, structurally.
I found an opening in one of the boarded-up doorways, and squeezed inside the main building for a look.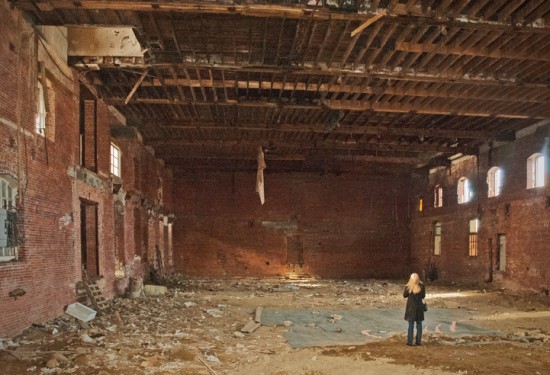 Lady Friend added for scale.
Dirt floors, and an empty, cavernous space. Portions of the beamed ceiling look to be recently replaced, though pigeons roost everywhere up there. Various fuse panels and electrical conduit is another up-to-date addition, most likely installed for work crews to repair the structure. More graffiti, and I wonder if the person who scrawled the drinking philosophy knew this was a brewery. One section is an addition likely from the post-Prohibition days, with steel beams extending out from the original brick facade. Real estate banners hang on the building's exterior, and I would love to find out what this property would cost. It's a bit of a fixer-upper, and a tad drafty. Smuttynose Brewery looked into these buildings for their new brewery home, though it just wasn't feasible. Funnily enough, Smuttynose is currently located at Heritage Ave. in Portsmouth, which was one of the former Frank Jones Brewing Company sites. Smuttynose holds the title of the largest brewery in New Hampshire, a distinction that once belonged to Frank Jones. History!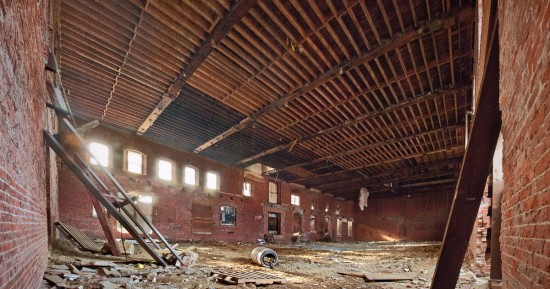 Dusty history.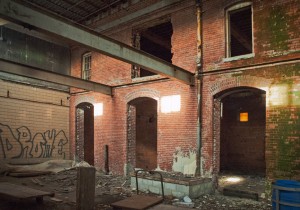 So what happened? FJ was the largest brewery around and employed something like 500 people. Where did all that business go? Simple. Prohibition. Ugh. Prohibition went into effect on the national level on January 17, 1920, but had already been enacted statewide in New Hampshire in 1917. The brewers were forced to shut their doors, and the Frank Jones Brewing Company, LLC, was finished. Well, kind of. After Prohibition ended in 1933, old rival Eldridge began brewing again in the former Frank Jones buildings. They later renamed themselves "Frank Jones Brewing Company" in 1937, and even produced some of the original FJ recipes. The company was sold in 1947 to a rum distiller called Caldwell Incorporated, but the big midwestern macrobrew lagers were taking hold, and consumers' tastes shifted to the lighter beers. Frank Jones finally went down in 1950.
-BUT-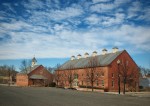 Apparently, you can actually still get some of Frank's Ale. After an attempt to revitalize the brand in the early 1990s with contract brewing at Catamount Brewery (now Harpoon's Windsor, VT location) a restaurant in Barrington (Frank's hometown) sprung up that offers Frank Jones' Original Ale and IPA. At least they used to. I sent them a message trying to get more information about where and how they brew these beers, but I still haven't heard back from them. I think it would be a worthwhile adventure to get the real story, even if I have to go to *shudder* Barrington. That's not even EPPING. Yikes.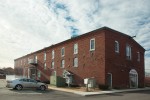 Also, it seems there are further plans for the site, though there's no telling how recent this information is, or if it's even still heading in that direction. It could be the reason I spotted some recent electrical work, though there is still a real estate banner hanging on the building. I'm not sure if the deal fell through, or if they simply haven't taken down the banner yet.


The more information I found out on this topic, the more buried I became in the brewing history of the area. One major source for this post was the website Rustycans.com, with this page of incredibly informative history. Other sources are linked within the post, but Rustycans in particular was extremely helpful. There's also a book that was recommended to me by JT of Smuttynose called Brewing in New Hampshire, which seems like it will be an invaluable source of information once I get my hands on it. Then this article from seacoastnh.com had a lot of important information, and the unique perspective of one of the current tenants of the FJ site.
If you have any other information about the Frank Jones Brewery, feel free to contact me or leave a comment below. I have a feeling I'll be digging into this topic for a long time.


Finally, one last comparison from past to present, as of February, 2012. You can see the brewery building that still exists on the left, and the adjoining main floor, though another story was added on at some point. The giant clock tower, and largest building, would be right about where that lamppost is, in the middle of the shot. Nothing remains of the either: it's now just a parking lot.