Ah, the unspoilt expanses of granite-laden New Hampshire. The Lady Friend and I were up that way to visit Maggie the Thunder Kitten of Doom, and took the long way back to Braintree, by way of Hooksett, NH. It wasn't exactly on the way; Hooksett is past Manchester on the way to Concord, so it's a detour whether traveling on 101 or 93. Manchester is kind of like the last civilized outpost before the frontier lands of NH. The only reason to drive past it is to visit the mountains, lakes, or Vermont. You know, wilderness.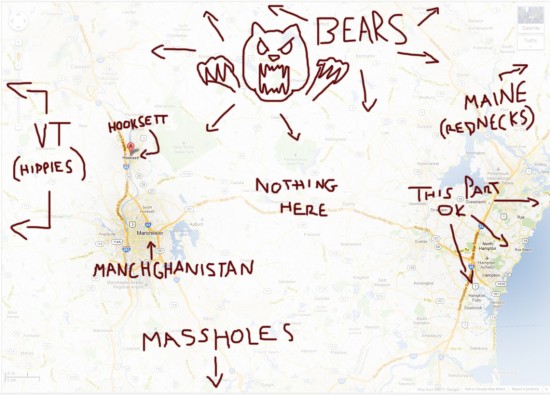 I've included a helpful map.


However, there was a reason for venturing into such dangerous, possibly bear-infested, territory: White Birch Brewing. No no, that's White BIRCH, with an "R" not a "T." Trust me, the White Bitch website is totally different. Anyway, I had seen their clean, black and white graphic labels on shelves in the South Shore area, but had never been intrigued enough to purchase one. As a N'Hampsha native, I can appreciate the white birch (state tree!) branding, but there would always be a different brew I was more interested in when beer shopping. Since we were already up in the Granite State, a minor detour sounded like a good excuse to finally check out what they do.




Well, as brewery exteriors go, that's a different one.


Yup. It used to be a car dealership. Now it's a brewery. It turns out they do pretty much all Belgian-style ales, which are not exactly my most favorite. But I was certainly willing to partake of the free tasting. Ben the Brewery Assistant was pouring the samples, so we dove in.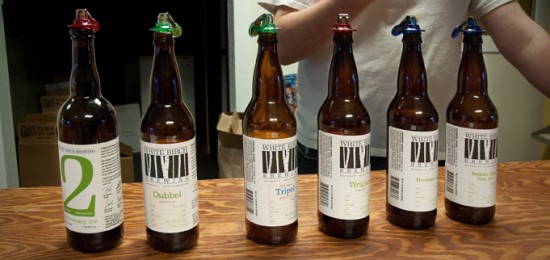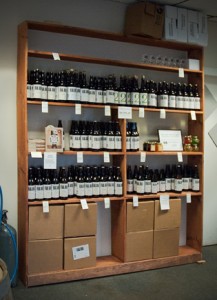 Belgian Style Pale Ale
Year-round flagship beer
Nose: Tart fruit, almost like a cider or a sour ale.
Taste: Foamy head. Belgian wheat, but not too banana/yeasty. There's a nice hop bitter that helps to cut through the yeast. (The yeast used is their house yeast, a Belgian strain.)
Hooksett Ale
Nose: Caramel. Sweet malt.
Taste: Malty, with a slight bite to the end.
Wrīgian Belgian-Style Ale with Rye Flakes
Pronounced "Rye-gan"
Nose: Fruity malt aroma. Caramel.
Taste: Malt. Slight rye spice to the back end. Nice little bite to cut the malt.
Oak Aged Tripel
Flavored with rye-soaked oak chips
Nose: Foamy head. Slight sour apple aroma.
Taste: Starts fruity, foamy, with a soft carbonic. Slight spice in the start, changes over to malty mid, with a rye whiskey snap to the finish.
Dubbel
Nose: Dark color. Noses with a dark, malt, some syrup, and a slight roast.
Taste: Smooth and sweet. Malty start, but Belgian yeastiness helps add spice to cut the syrup, without being too mouth-coating. VERY nice.
2nd Anniversary Ale
Flavored with oak chips
Nose: Malty, but with a sweet roasted flavor.
Taste: An open sweetness unusual for a beer. An evaporative sensation opens up the taste, unlike the heavy syrup sensation/mouthfeel that was expected from the malty nose. Maybe it's a higher alcohol punch (it IS 9% abv) that helps cut through the malt and give a slight evaporation.


So, that did it for the tasting. All Belgian-based, which is not my preference, but certainly some interesting things with rye and oak in the mix.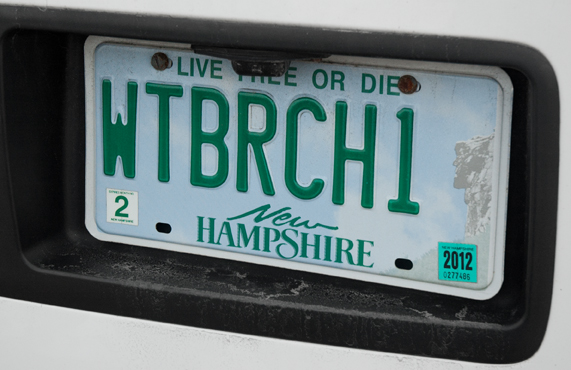 Live Free or Die!
Yeah, pretty much everyone in NH has a vanity plate. It's like a law or something.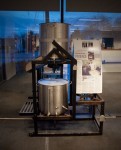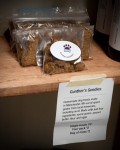 So, White Birch is about two and a half years old (hence the 2nd Year Anniversary Ale we tasted). Two weeks before our visit, they had moved to their new (current) location, which was previously a car dealership. They're running a 7 barrel system, which is quite a step up from the 20 gallon system they started with, proudly displayed in the main room. There's plenty of beer for sale on the giant wall of happiness, and we picked up a Colonial Ale that looked interesting, though we haven't cracked it yet. Among the beers were some dog treats as well, made from the spent brewing grain and some peanut butter. As we were snooping around, pickup trucks were drag-racing from the traffic lights on Rt 28/Rt 3/Hooksett Rd. Yeah, Hooksett is that kind of place.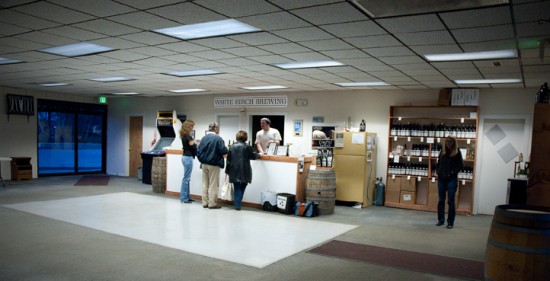 Yup. Toooootally a former car dealership.


So. That was the White Birch experience. If you live up that way, or are making a road trip, stop by.
Beware of bears!