Oh, so now you want to talk to ME huh?
Well I don't blame you. I am quite charming for a tree rodent.




Yes, this exists.


Well, you can fill out this form:
or
Email to SquirrelFartMail [at] gmail [dot] com
or
Twitterz to SFDrinkBlog
SELLOUT STUFFS!
I want your money.
Pay me.
See below for ideas to make that happen.
PRODUCT REVIEWS and SAMPLES
Give me booze!
Squirrel Farts is now accepting solicited product reviews. Send me a bottle and I'll take a pretty picture and talk it up in the amusing tangential manner I've come to produce. Beer, spirits, mixers, whatever. Contact above for details.
Note: I will mention that the review was solicited, hell, I'll even brag about it. Free booze? Damn right. But The Man says I have to say I got it for freebies. It'll even get the official "Free Booze Alert" stamp on it, which is truly a mark of honor. I'm excited about free stuff, so whatever. Now, that doesn't mean that I'll like it, or that I'll give it a good review. But chances are if you read this blog, then we'll get along.
Put it to the test: send me your booze!






ADVERTISING
Buy an ad!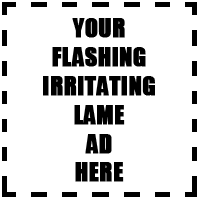 Squirrel Farts is now gingerly accepting inquiries regarding advertising. Place an ad or become an official sponsor of the Squirrel Farts Drink Blog. That seizure-inducing gif could be yours! Contact for further information. Lock in rates now while I'm still underappreciated. Professional design services available. I used to be a designer, so I know what I'm doing. Your ad won't look like that flashing one. Unless you want it to.






BREWERY/ BREWPUB/ BAR/ DISTILLERY/ WINERY/ VINEYARD TOURS and REVIEWS
Invite me over to your place!


Know a cool bar? Have a cool bar? Some new brewery? A hidden distillery? Get in touch and I'll come check it out. I have a long long list of places I want to visit, but am always looking for more. Tell me when to show up and I'll happily come have a drink and poke around. Tell me about your business. If you're making booze, I'm interested.






PHOTOGRAPHY and PRINTS
Buy a print!


Some photos on the site are available for purchase as a digital download or a print. Product photography and even mural-sized panoramas available. Seriously, some of those bad boys can print like 8′ wide. Or bigger. Or smaller. Smaller is always an option. For size and price inquiries, contact me above.






BUY ME A DRINK
Um. Yeah. Have a beer with me. You're buying.
ANYTHING ELSE?
Make me an offer!




FYI Legal Stuff because I am an Amazon Associate:
"Squirrelfarts.com is a participant in the Amazon Services LLC Associates Program, an affiliate advertising program designed to provide a means for sites to earn advertising fees by advertising and linking to amazon.com."