The Monday Hangover:
Other drink adventures of note from the weekend.


As usual, we begin with Friday night drinky-drinks, which due to a week of horrible, rainy commutes required the immediate ingestion of some liquid medicine, namely a shot of whiskey and a beer. When the Lady Friend arrived, it was business as usual with our Rule 37 for the week, the East India Cocktail. She went off into an El Diablo after that, and, since I had the nice bitters out, she suggested I make myself a good Manhattan. Excellent suggestion. Following dinner, we finished off with a bomber of Bear Republic's Big Bear Stout, which was malty and toasted. Very nice, and the Lady Friend enjoyed it thoroughly, as her affinity for stouts grows by the week.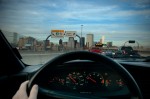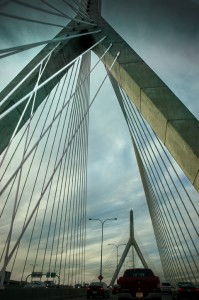 On Saturday, the Lady Friend had a bridal/ bridesmaid dress shopping excursion for Lady Friend's Friend up in Moo Hampsha, leaving me to mope about, generally failing to accomplish anything useful. I almost vacuumed. Almost. The tardbabies at Comcast decided to have a "brief service interruption" for about four hours on Saturday morning, which left me in severe withdrawl, leading to overindulgence once it was restored. While refreshing my Twitter page for the umpteenth time later in the day, I noticed @bullyboybooze were doing a tasting up in Arlington. I informed the Lady Friend, seeing if she would want to stop by on her drive home, and she agreed, having never tasted their vodka or white whiskey. This meant showering and putting on pants, which breaks my Rules of Saturday, but hey, free booze.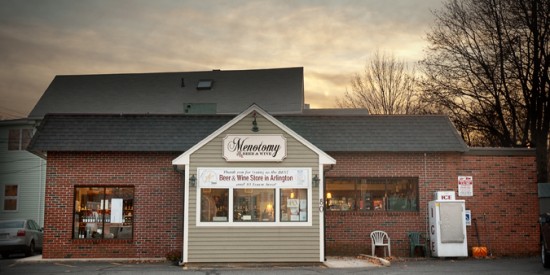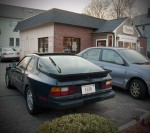 Apparently "Menotomy," an Algonquian word that means "swift running water," was the original name for Arlington, MA, and the name of the liquor store (sorry, "packie") where the tasting was held. That's your fun fact of the day… you can put that in your pocket and carry it around. I got there just around 4, and managed to find a spot in the tiny parking lot. The Lady Friend, arriving minutes later, was not so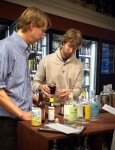 lucky and settled for street parking. We strolled in, and found a small shop with a crowd of people struggling to maneuver around each other, some shopping, some tasting, some just plain standing in the way. Squeezing our way over to the Bully Boy tasting, we waited for some fossils to move aside, and slid into their spot, where Dave Willis, co-founder, did a mild double-take, recognizing me with a happy greeting. He tapped co-founder/brother Will, with the introduction "This is SquirrelFarts!" to which Will exclaimed "SquirrelFarts! I don't even want to know your real name!" When I originally toured their distillery, Dave showed me around, and I didn't get a chance to meet Will.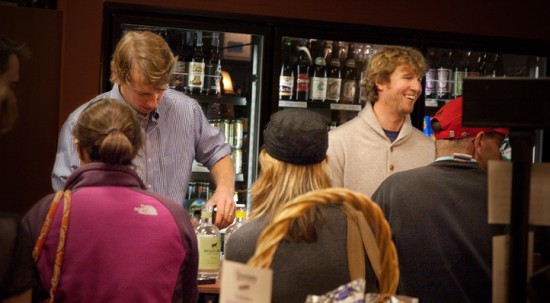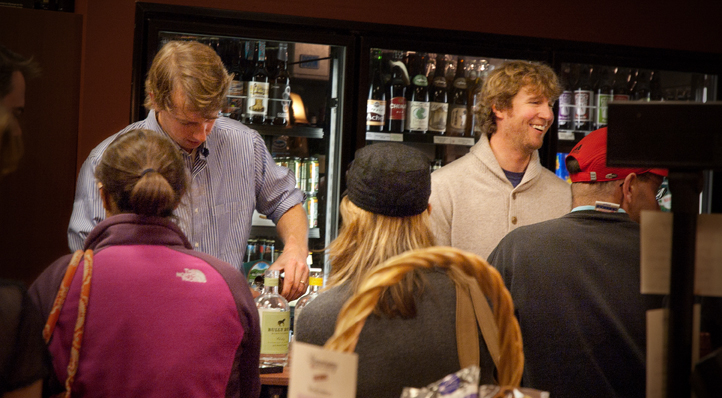 The Bully Boys.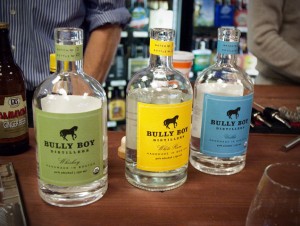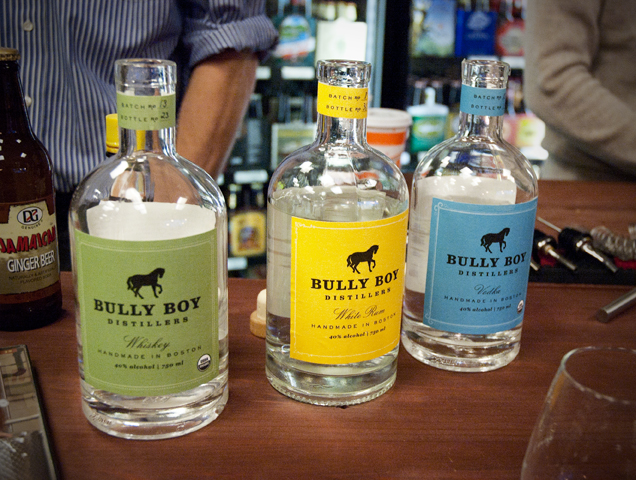 The Bully Boys offered tastings of their three available spirits: a white rum (they enjoyed my tasting notes of "sugar cookies and rainbows"), a white whiskey, and a vodka. Their vodka recently won a gold medal at the 2011 Beverage Tasting Institute Spirits Competition, with the judges describing flavors of "wet granite," which was quite amusing. The Lady Friend choked it down and coughed out "smooth."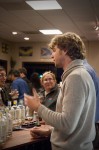 We chatted for awhile and discussed some of the upcoming plans for the BBoys. They've got a couple interns on board helping out, and are in full-swing production, shipping out bottles for the holiday season rush. Their aging rums and whiskeys are still, well, aging, as it's a process that can't be rushed. I'm really looking forward to trying both aged spirits, though Will noted that the whiskey was further along than the rum, which was the opposite of what they expected. We'll see how the casks fare during the cold New England winter, but they expect to have them ready in the spring or summer. There's really no way to tell exactly when.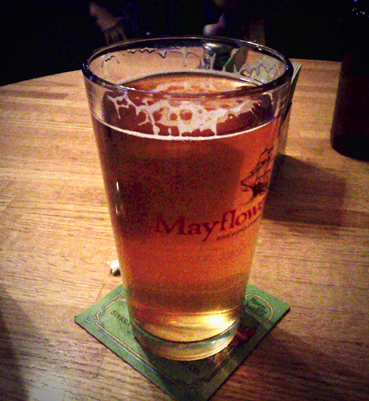 After our liquor geek-out time (the Lady Friend snarked "You and the Bully Boys have such big men crushes on each other." Whatevs.) we had a quick taste of the wine samples available in the other corner of the shop, then picked up a bomber of Slumbrew's Flagraiser IPA, made in Somerville, MA. Arriving back in Braintree, the question of dinner became quite pressing, and we eventually decided to venture to the Union Brewhouse to further our progress on our 99-beer list quest. My selections included Blatent IPA (on tap), a new player to the MA craft brewery game. According to our waitress (whose story checked out) the brewer/ owner, Matthew Steinberg, was head brewer at Offshore Brewing, then Ops Director at Mayflower before starting up Blatent. He now contract brews at Just Beer. The IPA wasn't on my list, but I wanted to give it a try. It nosed with a whole lot of pine, like Pine-Sol pine. My tasting notes read as "Wow. Pine needles. A pine forest. The pine tree air freshener hanging from your rearview mirror." It was tasty.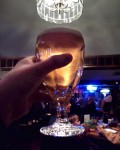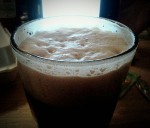 A Belgiany Belgian, Duvel, followed, and I finished with a smooth & creamy Lion Brewing Stout, which was a big ol' 8.8% abv. The Lady Friend tasted it and proclaimed it excellent and fantastic, noting that she was jealous of my selection. It might be because she was working on a Skunky Artois at the moment, but earlier earned my jealousy with her Stone Ruination IPA and Sierra Nevada Celebration ale.

The trip to the Brewhouse wouldn't be a complete without some assclown yelling at the football team on tv, and spotting several people drinking Bud Light and Michelob Ultra. They have over 100 bottled beers and 17 taps, yet these roadkill brains waltz in a think "Hmmm… I'll have a Bud Light!" Ugh.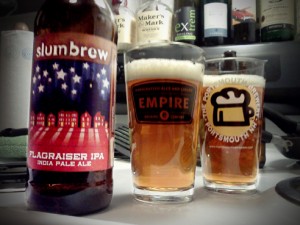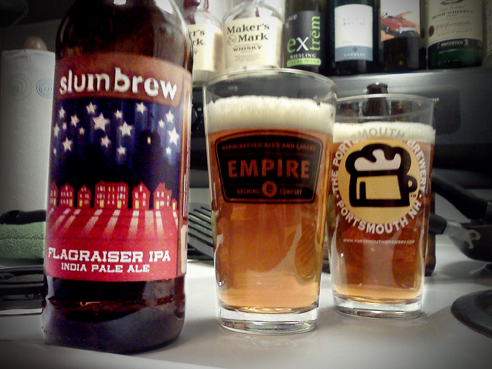 After arriving back at SFHQ, we cracked the Slumbrew bomber, and my drinking companion was a bit confused by the aroma, saying "it smells west-coast-ish" but then "Vanilla? There's a different sweetness to it…" before going with "Ice cream! Milkshake!" I found it had a malty nose, but with a sweetness behind it that was indeed hard to pin down… a creaminess, almost as in whipped cream. She chimed in again with "Strawberries?" deciding that she was "optimistic" about it, and finally squealing that it smelled like "the Strawberry Shortcake doll!" Not just strawberry shortcake, but the doll version of the cartoon character. I didn't have the necessary past experience with said doll to confirm or deny that, but she seemed resolute. The taste? I got a maltiness first, with a slight fruity sweetness. The mid goes to a cucumber/ watermelon watery cleanse, then finishes with some hop pine bitterness. The Lady Friend's thoughts: "Not at all what I expected. A lot more bitter that what I was smelling. Holy moly. I've got some work to do on that one."


Sunday brought a trip to Curtis, since the Lady Friend determined that there wasn't enough beer in my fridge. She likes to get sample 12 packs to taste the range of a particular brewery, and also expand her palate, seeing what she does and doesn't like. I think one of her current favorites is the Ballast Point Imperial Coffee Vanilla Porter, which is pretty good for a girl who, before we met, rarely drank beer, and when she did, drank Bud Light. I'm such a good influence. I should start a beer boot camp. So, while I spent an hour crippled with beer ennui, unable to make a decision (went with a sixer of Avery IPA) she snagged a Saranac winter sampler (she wants the Chocolate Lager and Vanilla Stout) and a pint of Newcastle Brown, which apparently she's never tried. Though it was sunny when we arrived, it was dark when we left Curtis, and popped over to the supermarket to throw elbows with the lunatics that were out shopping. Finally home, it was time for food, beer, and bed. Sleepy time.


Sidenote: While at Curtis, I causally tweeted that it would truly be my happy place if they carried Bully Boy. Sure enough, I started getting tweets from BBoy and Curtis claiming that the talks were happening, so keep an eye out for Bully Boy on the Curtis shelves, possibly in December. Bully!