Well, turkey day approaches, and the Lady Friend found several holiday/ seasonal cocktails to try. This one looked tasty, and she wouldn't call in our dinner order until I chose a cocktail, so the East India was the one to go with. Now, I feel like I have a lot of Dale DeGroff's cocktails on here, but that's because I tend to use his book, The Craft of the Cocktail, quite frequently. It was the first cocktail book I bought, after seeing him on an episode of Modern Marvels (it was the "Distilling" episode), where they discussed the production methods of several liquors, and then cut to DeGroff mixing an example cocktail with each liquor. If I recall correctly, he did vodka (Cosmopolitan), scotch (scotch, neat), tequila (Margarita), rum (Mojito) and whiskey (Manhattan). There was a "Distilling 2" episode that dealt with brandy, gin, and Irish whiskey. Maybe the Irish was in the specific "Whiskey" episode. I don't remember exactly, but they're all cool, if you're a Modern Marvels and/ or liquor geek. I seriously got sucked into watching "Glue" on MM once. It sounds like the most mundane thing in the world, but then it got really cool and interesting. Anyway, DeGroff's book is well-designed, clean, and features lots of good advice and interesting stories from his years of bartending.
So, that's the story. I happened to have another DeGroff recipe on here that didn't even come from the book. But it was tasty. I'm not trying to play favorites, but whatever, it's my blog, so I do what I want. So there. Have a drink.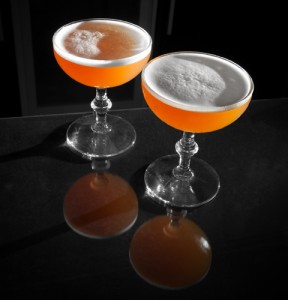 The East India Cocktail
The Dale DeGroff version, not from his book. Plus, I didn't follow the recipe exactly, so there's that.
– 1 1/2 oz cognac (I cheated and used brandy)
– 1 oz orange curaçao
– 1 1/2 oz pineapple juice (he said unsweetened, but I just used the Dole I normally use)
– 1 dash Angostura bitters (I used a couple)
– Flamed orange peel
– Nutmeg
Shake/strain/serve in chilled cocktail glass. Flame the orange peel over the top, and grate some fresh nutmeg on the foam.


So, we got the reciepe from hereabouts, and there is a helpful video as well. It won't embed, so you'll have to go watch it there. A couple of things: as noted in the video, if you give it a good, hard, shake, you should get some nice foam from the pineapple juice. I gave the Angostura a couple dashes, and found that it still got lost in the flavor of the drink, so I gave it a couple more over the top and stirred it in. I actually made two versions of the drink, one with Angostura bitters, and the other with my Fee Bros Whiskey Barrel-aged bitters, which has a lot of cinnamon and spice in it. I'm trying to get the Lady Friend to see the effect that different bitters have in cocktails, and she found that one to be much more flavorful. It's one of my favorites, and really kicks up a Manhattan.
Though it's not in the picture, I did flame the orange peel over the top (and the Lady Friend got to try as well), which means all you smell in this drink is orange. Not that it's a bad thing, but the Lady Friend started to nose it, and I said she wouldn't get anything but the orange. We both enjoyed the cocktail, though I omitted the nutmeg. I don't even know where I would go about finding fresh nutmeg, though I should probably find out, as it pops up quite commonly in holiday seasonal cocktails. Actually, I don't have a grater either. This is getting tricky. It's a tasty cocktail without it, but could use some liberal application of the bitters, or a stronger one to start with.
Now go make it.