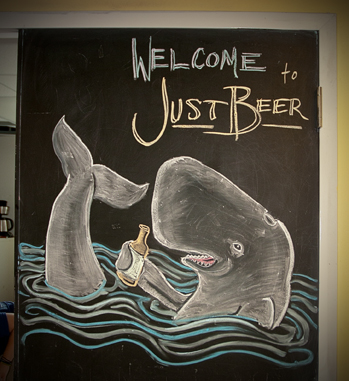 I don't remember where or when I became aware of Just Beer brewery, but it's been in the back of my mind for awhile. Since we had nothing planned for the weekend, on a whim I proposed doing a trip down to the south coast of Mass. The Just Beer brewery is located in Westport, not far from New Bedford, where my coworker lives. He suggested meeting up for brunch at a local diner (which was delish), and also mentioned that there was a winery in the area. Lady Friend is a winer (not whiner), so I threw that into the mix to sweeten the deal, as one brewery starts to look like every other brewery after a few tours. She thought it'd make a good day trip (I'm kind of grossed out at how relationshippy/ couple-y that sounds), so we hopped in her Corolla (named Phantom) and headed south. Hit a massive downpour on the way, and battled the rain off and on for several more hours.

Clouds of DOOOOOOOM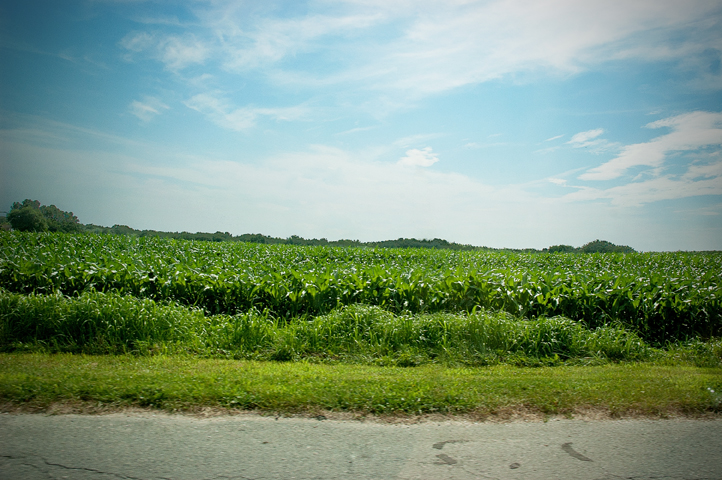 After some diner-riffic vittles, and clearing weather, we drove through Cowville, USA. Seriously, there's a lot of farm down there in Westport. Eventually, we found our destination: Just Beer, which is apparently a farm-based brewery. Makes sense.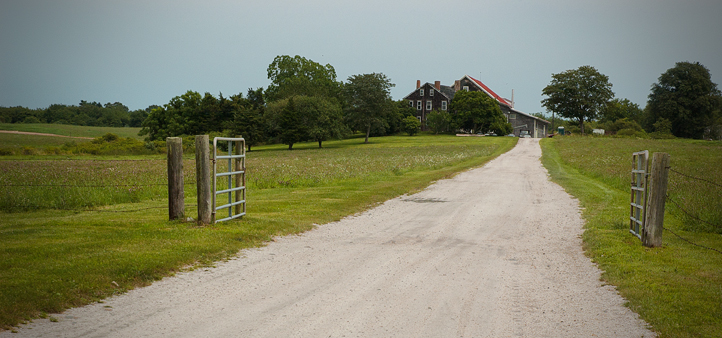 Just Beer. It's that simple.


We arrived around 1:30, half an hour early for the only Saturday tour at 2pm. Wandering past the growing hop vines, we started looking into the retail shop. I snapped a pic, and the girl working the register quipped "Are you going to be doing that the whole time?" I've been in the place for about four seconds, and someone's already busting my balls. I like this brewery.
Since the tour wasn't ready yet, she offered us a tasting of the four beers currently brewed: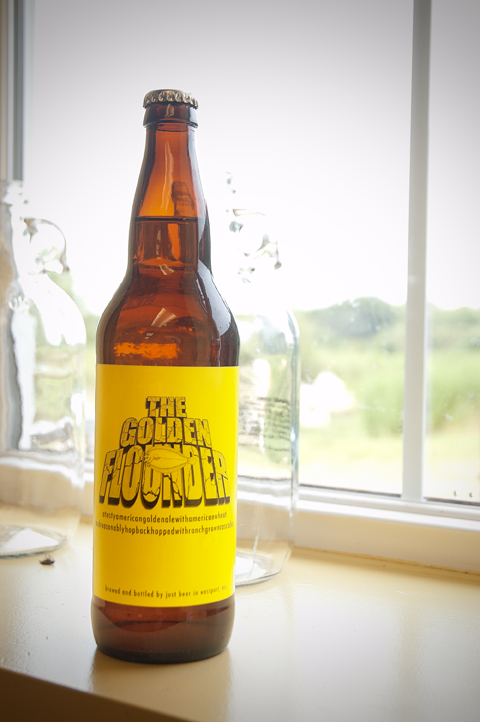 Golden Flounder Wheat Ale
Made from a 30% wheat bill.
Nose: Light, slightly fruity
Taste: Light with a touch of bitter. Very refreshing.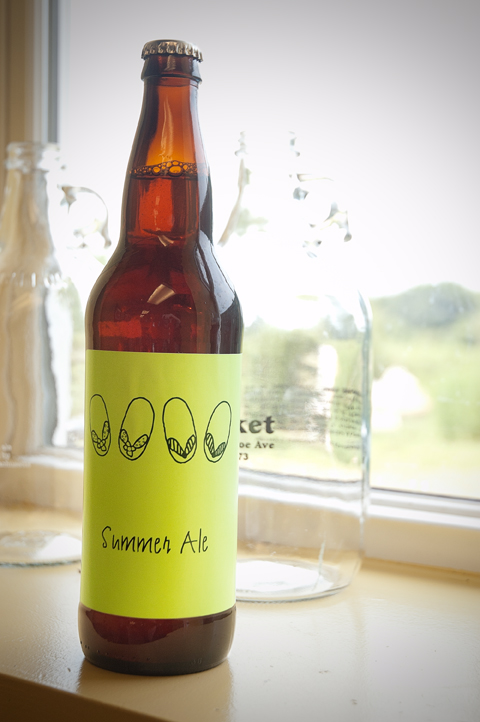 Summer Ale
Darker color than most summer-style beers. They wanted to do something different and more flavorful than (without naming names) the typical lemony, light summer beers. They call it a bronze ale.
Nose: Slight malt sweetness.
Taste: WOW. Hop bitter, completely unexpected for a summer ale. Dry hopped with Sorachi-Ace hops. Nice bitter bite, smooth finish. A surprising pleasure.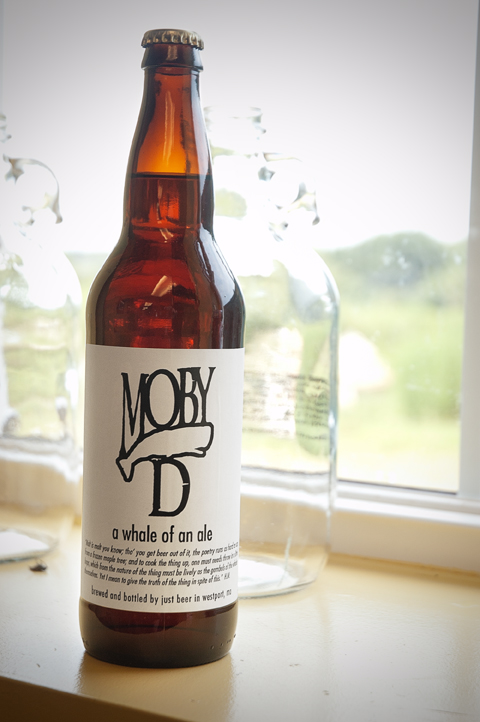 Moby D Pale Ale
This is one of their most popular beers.
Nose: Sweet, fruit.
Taste: Malty and fruity with a slight hop bite. Mild. No overwhelming flavors. Crisp and light.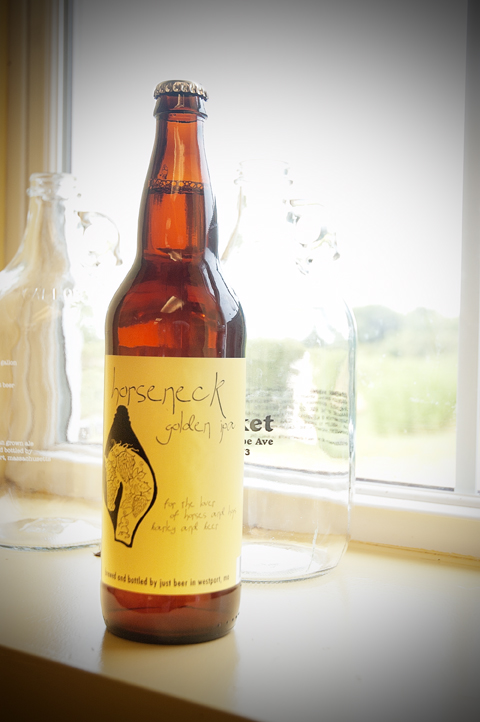 Horseneck Golden IPA
IPAs are my go-to for brewery tastings. If a brewery makes one, I have to taste it. This one uses all Cascade hops.
Nose: Floral hop. Very light aroma.
Taste: Bitter hop. Slight malt, but mostly fresh, almost green, hoppy bite. Good, but would prefer a touch more malt to balance.




I'd say the summer ale was the clear winner here. The Golden Flounder and Moby D didn't have a whole lot of flavor to them, but were very refreshing. The IPA was good, but was a bit on the bitter side. The summer ale, however, was a complete surprise… full of flavor, balanced and tasty. Again, not what I'd expect from a typical summer style ale. I wound up buying a bomber (only $2.50 each!) of the IPA and the summer to share with Irish Lad on a future beer night and get his thoughts.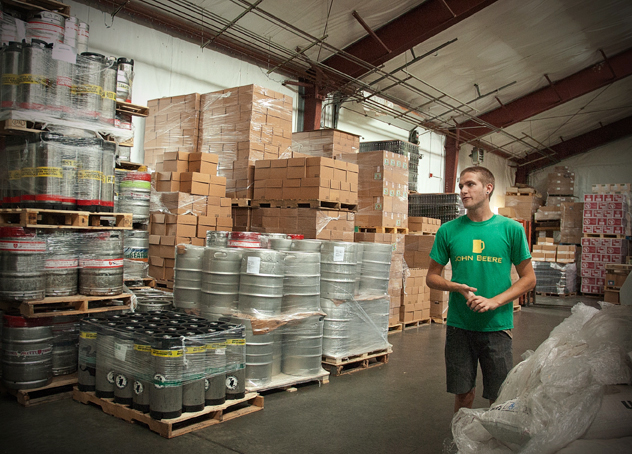 Time for the tour. We started about 10 minutes before 2pm, so heads up if you get there close to start time. They were super laid-back, so I'm sure there'd be no problem joining a tour that's already started. Our tour guide was Sam, who was very easy-going and friendly, wearing his bright green "Just Beere" tshirt. More on that later.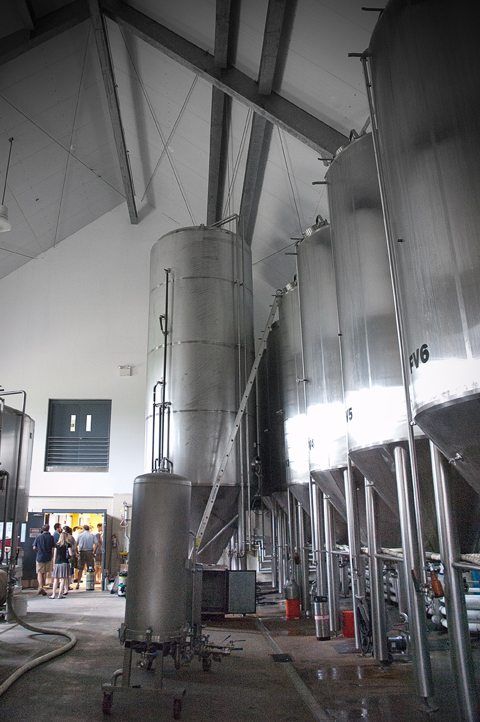 Aside from the usual "how to make beer" speech, here's some of the interesting bits from the tour: apparently this place is actually Buzzard's Bay Brewing, d/b/a Just Beer. There was some sort of dispute with their distributor, so to get out of the contract, they changed their brand to "Just Beer," and began make ales rather than lagers. They plan to bring the lagers back eventually, but ales are easier and quicker to produce, so it's worked out well so far. All of their bottles are pasteurized, so the beer has a longer shelf life. The growlers and kegs are not, so they are a tad fresher than the bombers. I doubt anyone would really notice a difference in the taste, but some purists will tell you that it makes a big difference.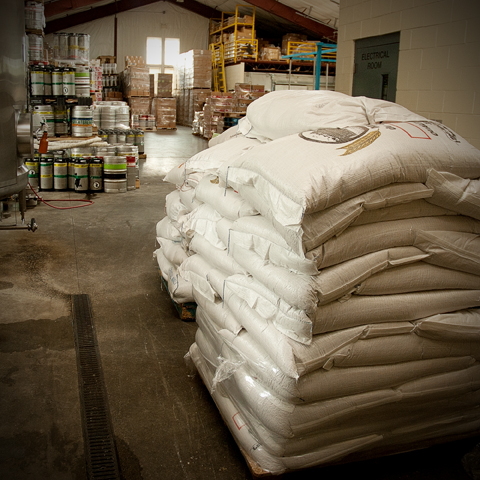 The brewery is part of a 500 acre farm, and is considered a "green" brewery. They source their water from a natural aquifer, originating in the White Mountains of NH. Brewing byproducts, like spent wort, are re-purposed as livestock feed, and brewery wastes are sent back into the fields as fertilizers.







Just Beer will also contract out their equipment to other brewers, especially in the slower winter season. Among these is Offshore Brewing Company from Martha's Vineyard, and Pretty Things, a self-described gypsy brewery based in Sommerville.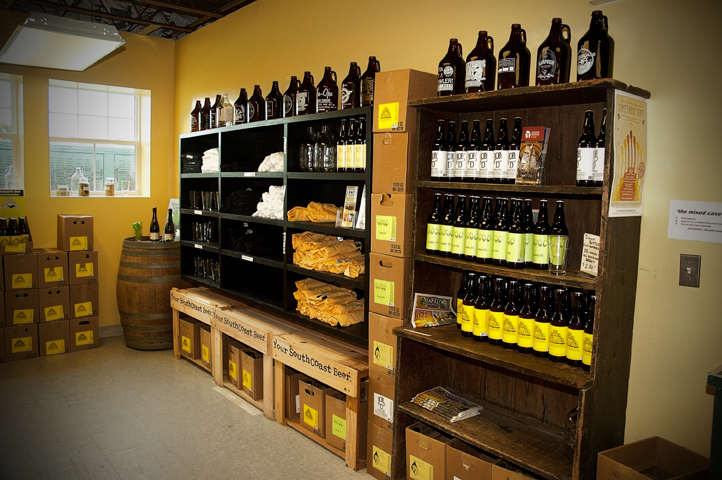 Buy something, cheapskate.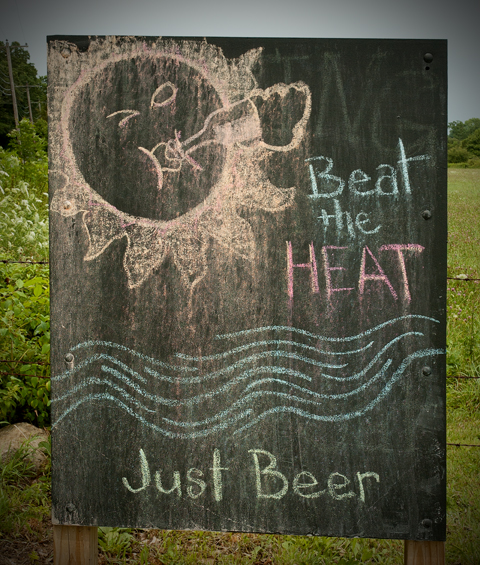 Just Beer was great. A brewery tucked way out in the middle of farm land. You'd never know it was there, if it weren't for the chalkboard signs by the road. The staff were young and enthusiastic, but with just the right amount of sarcasm. Their retail front sells cases for about $25 (a full case, or mix and match) but will also hook you up with a discounted case if you pick it up around back, since it's being sold as wholesale, not retail. It'll run you $20, but only full cases… no mix & matching of varieties.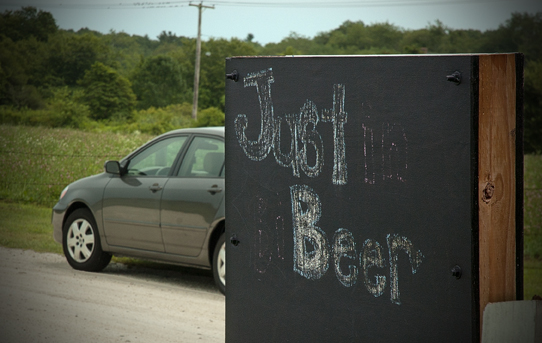 This seemed to be a bewildering ordeal to some of the patrons, but it makes perfect sense to me. I snagged a pint glass for the collection ($4 or so), and two bombers at a fantastically inexpensive $2.50 each. We saw the bombers for sale at our next stop, a winery just up the road, and the price was about double. Well worth going to the brewery if you're planning to stock up.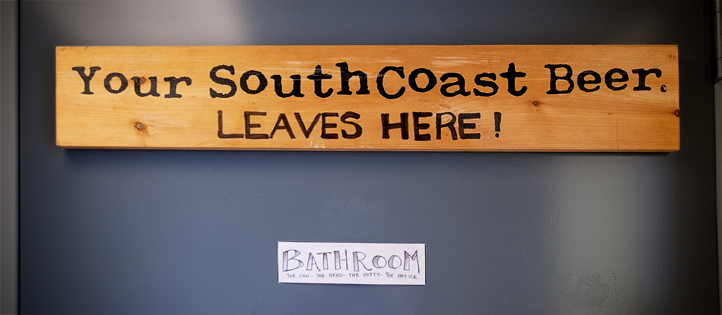 The End …?
The John Beere cluster.
APPARENTLY, at some point, someone at Just Beer decided to have a little fun and make a parody tshirt, with a similar color palette to a certain tractor manufacturer. This tractor manufacturer didn't find much humor in the situation, and sent a cease-and-desist letter from their intellectual properties department, which is now proudly displayed on the brewery door.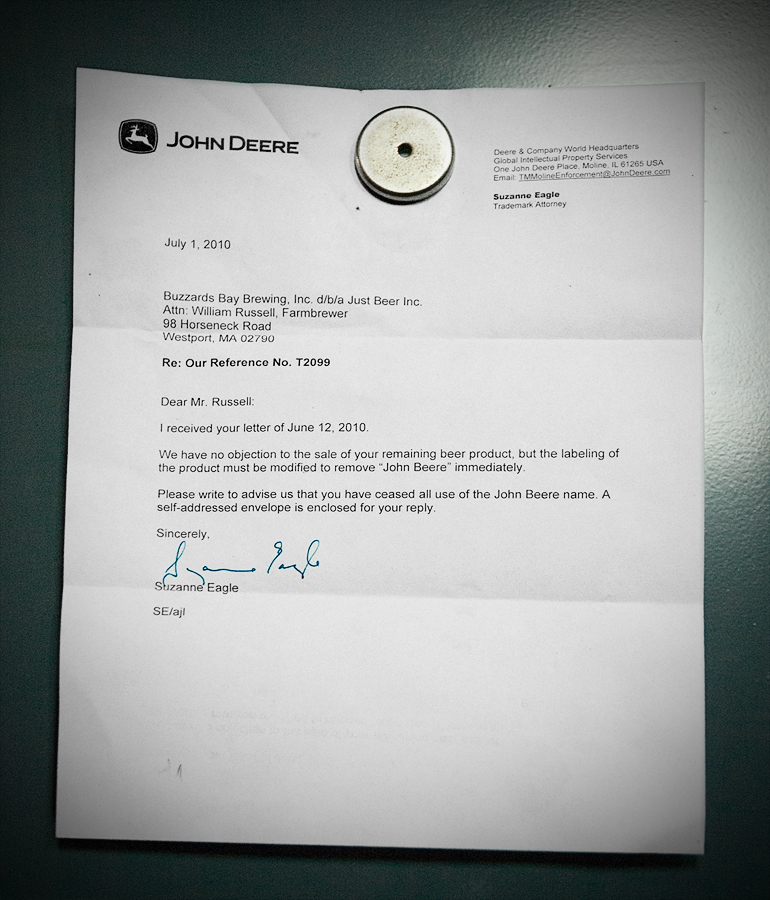 …and on this blog.