YES.
The first of the Bully Boy aged spirits. FINALLY.
Now I get to take you to whiskey school. You might learn something.
Plus, how awesome does "whiskey school" sound?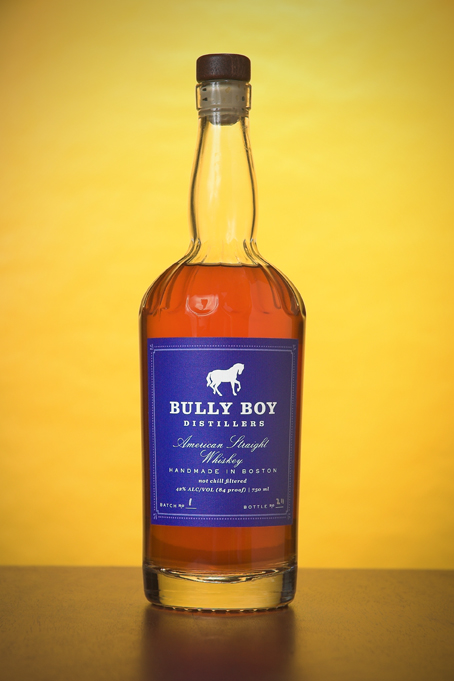 Bully!




So. Bully Boy's American Straight Whiskey. It's a small-batch craft whiskey coming out of Boston by (very tall) distillers Will and Dave Willis. This one has been aging for about two years and change, and is an entirely different recipe from their White Wheat Whiskey. Dark blue label this time, and a taller, longer-necked bottle in contrast to their stubbier apothecary-like containers for the regular lineup. Instantly you know this is a different type of product, though the Bully Boy logo is just as recognizable in white rather than black ink. Let's break down the name: American Straight Whiskey. It's produced in America (well, Massachusetts, which can be very un-American at times YES I'M TALKING ABOUT YOUR RESTRICTIVE LIQUOR LAWS AND LACK OF HAPPY HOUR). Here's the fun part… it's a Straight Whiskey. There's a number of important regulations that go with this designation, so you know what you're getting. Like the term "bottled-in-bond," it's a guarantee from the government.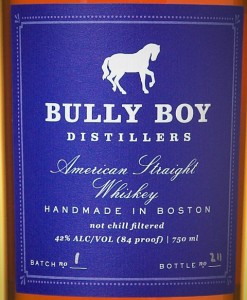 1) It has to be made from cereal grain.
The Bully Boys are using a mash bill that's roughly 45% corn, 45% rye, and 10% barley. Somewhere in there.
2) Coming off of the still, you can't exceed 80% abv/ 160 proof, and can't exceed 62.5% abv/ 125 proof going into the barrel for aging.
3) Must be aged for at least two years in charred new American Oak barrels. Check.
4) No additives (like caramel coloring). Check.
5) Once it's done aging, you can filter it (this one is not chill filtered) and dilute it down to no less than 40% abv/ 80 proof. We're at 84 proof here, so no problem there.
6) IF you wanted to call a whiskey a "straight bourbon" (like Makers Mark) or a "straight rye" (like Bulleit Rye), you need 51% of the predominant cereal grain in the mash bill (51% corn for bourbon or 51% rye for rye). Bully Boy is split pretty evenly on the corn/rye line, so it's neither a bourbon, nor a rye by definition. It's simply a straight whiskey.


There you go. Lesson over.


Back in November I drove down to Boston to attend the official launch party of Bully Boy ASW at the Blue Room in Kendall Square. Will and Dave were both there boozing and schmoozing, and I was mistaken for (and narrowly missed meeting in person) Will Gordon, a like-minded writer and imbiber of various intoxicating beverages. The event was a blast, and I got my first taste of the ASW. Very tasty. The BBoys were also gracious enough to donate a bottle (Batch 1, Bottle 211) for an official SquirrelFarts review, so let's get to it.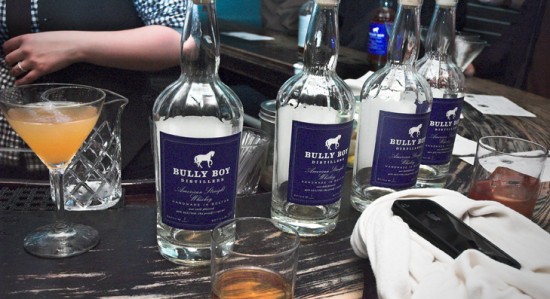 Though there were two cocktail options at the launch party, I went for a sample served neat – whiskey in glass. No water, no ice. We'll start the almost the same way here, but with a few drops of water added.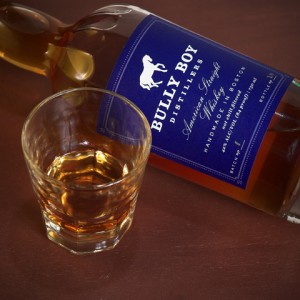 Nose: Caramel. Lots of caramel. Sweet. A slight cinnamon/nutmeg spice. Vanilla. Fruit. Cherry, plum and even fig. Dark syrup, like maple syrup without the maple. There's a heat from the alcohol that singes a touch… don't inhale TOO deeply.
Taste: Bitter, with a spicy snap right from the start. There's a rounded sweetness that helps in the middle, and a nice wash of boozy heat that leaves the gums tingling. A dry oaky finish, and snappy rye spice overall. It leaves your mouth a bit parched and thirsty for more.
My initial reaction at the party was that it nosed like a bourbon, but tasted like a rye. That's the story I'm sticking with here. It's kind of both styles in one whiskey with the corn sweet and the bitter rye spice. Given the mash bill, that makes sense.
I really like it.
Shocking, I know.
I'm not as big a fan of the White Whiskey (the Belgian-like banana/ clove throws me off a bit) but this is MUCH more to my liking. It really is a good split of bourbon versus rye all in the same spirit. I need a cocktail that will work equally well with both styles. This calls for a MANHATTAN.
Like I need an excuse for a Manhattan.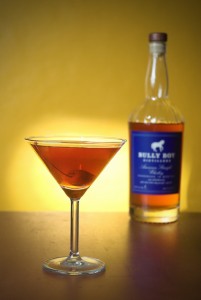 Bully Boy ASW Manhattan
Nothing fancy here, no tricks. Just a normal Manhattan. I like mine at 2:1
– 3 oz Bully Boy ASW
– 1.5 oz sweet vermouth
– 2 dashes Angostura bitters
For the love of Bacchus STIR IT. All spirit here, no need for shaking. Serve in a chilled cocktail glass. Garnish with a cherry.


This is my normal Manhattan recipe to give the BB ASW a fair trial. I like mine at a reasonable 2:1 ratio, with a homemade cocktail cherry. I'm sticking to Angostura here so the whiskey isn't competing with the other ingredients.
Nose: Rounded and smooth. It's almost got an herbal touch, like oregano. Yeah, I know that's really strange, but whatevs. My bar, my blog. I think what does it is the mixture of fruity/winey vermouth and the spicy/sweet whiskey, with the Angostura butting in its cinnamon bark tinctures. There's an almost savory quality as a result, redolent of marinara sauce. Is my nose misfiring? Is that a thing? The whiskey character IS there, but it's taken on a much more subdued, languished savory sensation.
Taste: We're back to normal in the flavor. Once again, the drink starts off with a nice bitter snap, followed by a sweet corn just before the dark grape syrup of the vermouth comes in. The finish is dry, spicy, and warming, and it's hard to separate the contributions of the Angostura from the rye spice.
I rather like it, but it's different from many other whiskies. That herbal aroma is really freaking me out, but the taste is right where it should be.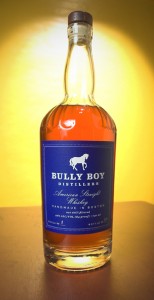 [UPDATE]
I just had to try this one again. There was such an odd aroma profile that I went back and made another Manhattan, this time eliminating such variables as my (past prime?) cocktail cherry, and with a fresh bottle of vermouth. Just in case. This time we're going with a scotch tasting glass (dome-shaped rocks glass, not a Glencairn) to funnel those aromas down and see what the results are.
Nose: Much more normal from what I'd expect in a Manhattan, but STILL verging on the herbal spice. Craziness. It's much more subdued than in the original test, and there are wider sensations of rye spice, cinnamon, syrupy grape, dry wood and/or sawdust, and yet, Italian spices. Oregano, basil. It's not a BAD thing, just very unusual. Somebody in here (corn, barley, vermouth, Angostura… I'm looking at YOU rye) is fooling around. Weird, but neat.
Taste: As before, the taste is much more in line with a normal Manhattan. Dry spicy start, quick rounded sweetness before a warm wave of alcohol; grapey syrup gives way to a crisp arid finish, with a rye bitter mingled into the Angostura dark bark spice. Not as sweet as a bourbon, not as spicy as a rye, but somewhere in between. Lovely.


Overall I'd lean towards using this one in spirit-forward mixes due to its unique nature. It's not quite bourbon, it's not quite rye, but it's very tasty. It's got the best of both going on, and would make a fantastic Old Fashioned. Try it neat to see the duality of the mash bill before you mix it into other concoctions. Sure, I'm biased towards Bully Boy, but they keep making good products. Go snag this one. Here's where you can find it (pdf).


For our Bully Boy rum review click here: Bully Boy Rum
For our Bully Boy vodka review click here: Bully Boy Vodka
For our Bully Boy white whiskey review click here: Bully Boy White Whiskey
For our visit to the Bully Boy distillery click here: Bully Boy Distillery



Squirrel Farts is now accepting solicited product reviews! Send me a bottle and I'll take a pretty picture and talk it up in the amusing tangential manner you've come to expect. Beer, spirits, mixers, whatever. Contact here for details. Note: I will mention that the review was solicited, hell, I'll even brag about it. Free booze? Damn right. But The Man says I have to say I got it for freebies. I'm excited about free stuff, so whatever. Now, that doesn't mean that I'll like it, or that I'll give it a good review. But chances are if you read this blog, then we'll get along. Put it to the test: send me your booze!