Holy crap.
There's ANOTHER craft distillery IN Boston.
!
I had no idea.
I stumbled on an article on BostonHerald.com that described a new distillery in South Boston called GrandTen. An email was immediately sent, and in a short amount of time I received a reply from co-owner Matthew Nuernberger, who graciously invited me in for a visit.
Yes, there's a distillery in there.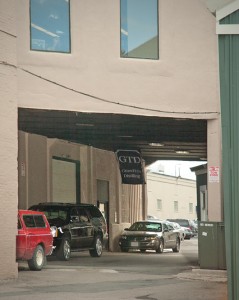 GrandTen Distilling is located on Dorchester (Dot) Ave. in between the Andrew and Broadway T stops. It's easily walkable from each. However, the entrance itself a bit tricky to find. There's the tan "Addison Wellesly" building at 383, but it's all small offices inside. Next door, at 371, there's a series of green buildings, but that's too far. GrandTen is actually located BETWEEN those two buildings, down a driveway and hidden in the shadows of the overhanging building. Did you miss it? Yeah, me too. Several times. It does give it a slight speakeasy feel, where you only gain entrance by knowing where the door is before you go. Once entering (look for the banner hanging overhead) I knew it was the right place when a copper pot still winked at me from across the room. I was just glad to get out of the rather warm and odoriferous waft of industrialized Dot Ave.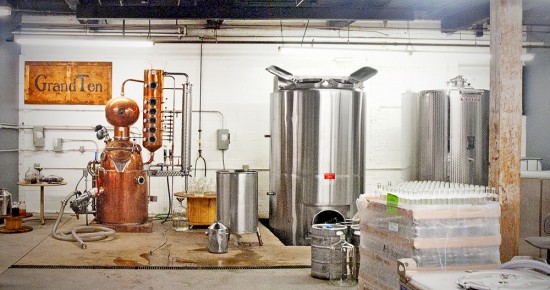 That's more like it.


The distillery is located in a historic Boston building, which was once the home of the South Boston Iron Company, an iron foundry established in the early 1800s by metallurgist Cyrus Alger. Back then, the building sat on South Bay, which has since been filled in, and was one of the premiere foundries of the day. The first gun ever rifled in America was produced at the foundry, and they continued to provide munitions and arms to the US Government through the War of 1812. When steel became the metal of choice, the foundry switched to producing wire, and the spectacle of sparks and molten metal became a must-see tourist attraction for Boston.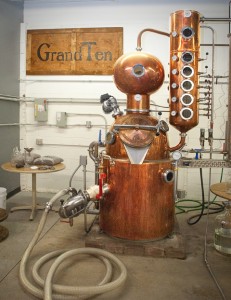 Inside it smelled like the bran/molasses treats my mom bakes for her horse critters. It reeked of molasses. Which meant that there was rum being born. I met Matt, and he showed me around their setup while co-owner Spencer McMinn busied himself by trying to infuse hickory smoke flavor into a jug of vodka. More on that later. GTD runs a 50 gallon pot still, currently electric. It's an "eau-de-vie" still with a larger dome with more copper surface area (copper is essential in distilling; it neutralizes some of the byproducts) and allowing more flavors through the distillation process. Their column is quite a bit shorter than others I've seen, though again, this means less separation and more flavors in the final spirit. They've had it for 16 months, but it's only been operational since November of 2011. As with Bully Boy and Ryan & Wood, GTD had to wait for months and months while their distillery plans were approved, equipment was acquired and installed, though mostly it was all zoning and licensing nonsense. Since GTD falls under stricter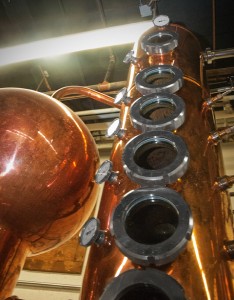 Boston zoning (whereas Bully Boy had some leeway with their industrialized Newmarket location) they waited two months just for their first rejection, and another three months for the appeal. It takes a long time to convince the government that you're a legitimate business making a real product, especially when booze is involved.
The starting point for all the GTD products is neutral grain spirit that they purchase, meaning that they do not mash and ferment their own grains, but begin with a odorless and tasteless spirit. From there, it's distilled with botanicals for their gin, or infused with peppers and smoke for their vodka. The rum is open fermented from molasses and uses a process called "stripping," which means the spirit is essentially distilled twice to give it the characteristics and flavors they're looking for. The neutral grain spirit, or "eau-de-vie" ("water-of-life") method saves time and resources for a small distillery by giving them a base spirit to begin crafting their products from, rather than mashing and fermenting wheat, corn, barley or other grains. Currently, their neutral grain spirit is sourced from New York. It sounds like the sort of thing that might draw some criticism, like using malt extract in place of milling your own barley in the brewing world, but I have no problem with it. The end products are fantastic, so why not save a step?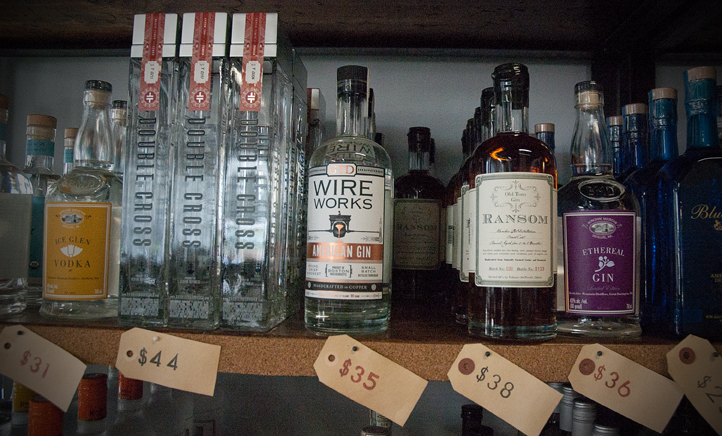 GTD has several end products from their eau-de-vie method, but only one, Wire Works Gin, is currently available, in the mid-$30 range. It's been on select shelves since April, and is making its way into various local cocktail bars. They're working on Fire Puncher Vodka, a chipotle- and hickory smoke-infused spirit, and molasses-based Medford Rum, though this will only be sold as an aged product. They're also playing with a few liqueurs, and there's an applejack aging in the barrel room. Yum.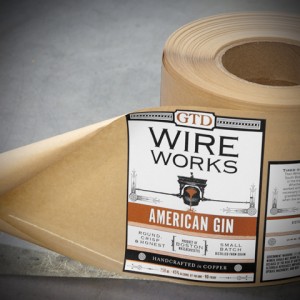 So. Time for a tasting. First up was their flagship product, Wire Works American Gin, named for the foundry's industrial past and sporting a beautiful copper-inked label. The GTD boys wanted to make an American-style gin, not a Plymouth or London Dry, which are more of an alcohol-juniper assault. Typically the alcohol heat and overwhelming juniper flavors punch you in the mouth, but GTD wanted something else. The American-style gin is smoother, rounder, and more complex than their British brethren. Great Lakes Distilling Rehorst Premium Milwaukee Gin springs to mind as a good example of the American style, sweeter and smoother, with some more unique flavors. Ryan & Wood also makes a smooth, citrus-forward gin that I was impressed with.
The GTD boys poured a splash of their offering into a red plastic party cup, and also served up some samples of Beefeater London Dry and Tanqueray for comparison. Sure enough, the Brits were hot on the nose with a big slice of pine, and tasted the same. Wire Works nosed sweet and smooth. The pine/juniper essence is there, but very balanced and tempered. It was a much lighter aroma than the

sickly perfumed London styles. The taste? My notes read "WOW. TASTY!" There's pine, but with a sweetness, different from an Old Tom or genever. There's almost some mint or spruce in there, and leaves a very pleasant tingle on the tongue, rather than the usual hot alcohol burn. It has an excellent mouthfeel, smooth but without being too coating. This is due to a somewhat unique (for gin) ingredient: cranberries. Spencer, a PhD-level chemist by the way, explained that the cranberries were used for their acidity, which creates a smoother mouthfeel. None of the cranberry flavors make it through the distillation, but that semi-gloss mouthfeel is great. As I've said before, gin is not my favorite spirit. I'm getting there, but it's a slow process. I think Wire Works is my new favorite, even better than the Rehorst. It's that good. Amazing.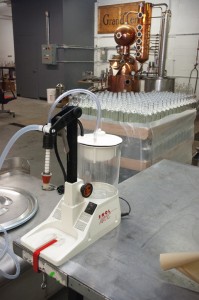 Next, I tasted a test batch of their Fire Puncher Vodka, whose namesake, South Boston firefighter Tommy Maguire, attacked flames with such vigor that it was said he punched the fire with his bare fists. Fire Puncher is a flavored, infused vodka, so don't expect a neutral spirit here. GTD has no interest in making flavorless spirits. Their goal with this one is to make it taste like a campfire, infusing hickory smoke, and two kinds of Chipotle peppers. On the nose, it smells like Mexican food: spicy, but with a smooth sweetness underneath. The taste starts with a smooth green pepper flavor, which moves to a bitter campfire smokiness in the middle. The pepper's spice kicks in, and lingers throughout the finish. It's a spirit that stays with you, but that's not a bad thing. Though this test batch was a bit spicier than they wanted, I thought it was EXCELLENT. There's so much flavor going on that you don't notice the 90 proof alcohol, yet it's not TOO hot and spicy, but rather an almost savory medium hot pepper. This one is going to make a FANTASTIC mixer, though would likely be a great sipper over rocks.


As a special offering, there was a taste of almond cordial that was still in the test phases. At 80 proof, it's made from an almond distillate aged for 4 weeks on toasted oak spirals. This is no sugary amaretto or orgeat syrup: it's the real deal. Pure almond flavors without all the sugar syrup. It noses with a nutty pasta quality and some slight alcoholic heat. The taste is, well, almondy. Mmmmm. Slightly syrupy, but there's no indication of the 80 proof booze. It would also be excellent over ice, or as a sweetener in cocktails. Perfect, as Spencer described their products as being "very cocktail driven." These guys know what they're doing.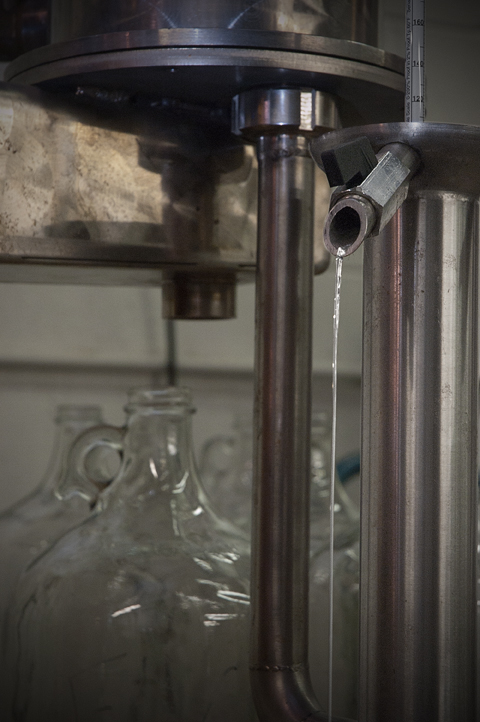 Finally, there was a taste of their Medford Rum coming straight off of the still. It was all at once sugary, molasses, and wonderful. Very much akin to Bully Boy's White Rum, though GTD will be selling only an aged version. A lot of New England distilleries are going the way of blackstrap molasses rums, such as Turkey Shore's Ipswich Rum, another craft distiller on my list to visit. There's a rich history of these rums in the area, as rum was the spirit of Colonial America, until the Brits imposed taxes and the drink of choice shifted to whiskey. Medford Rum is named for the original Medford Rum, which dates back to the early days of Massachusetts. GTD's version, right off the still, was incredibly flavorful, and should be phenomenal once it's aged.


GTD is purposefully naming each of their spirits and delving a bit more into a back story for each one, rather than pushing their distillery as an overall brand offering a gin, a vodka, a rum, etc. It's an interesting approach, and they believe the spirits should stand on their own, appealing to a wider audience. You don't necessarily go looking for GTD gin, but when you see Wire Works on the shelf with the big London gins, it'll be quite a bit more distinctive and unique.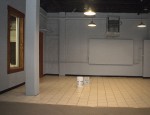 Public tours and tastings will begin sometime later this summer, once their retail and tasting area is constructed. Matt described it as basically being a second business within the distillery, so they'll need some time to get it up and running. And built. They're doing the construction by themselves (there was freshly-laid tile when I visited), but it should be a great attraction once completed.


In case you were wondering about the name, as I was, yes there's a story there too. Matt and Spencer's grandfather (they're cousins… did I not mention that?) was a hardworking guy who enjoyed his cocktails, especially gin. Family gatherings were rousing affairs where the booze flowed freely. Since he had nine grandchildren, they decided to name their distillery GrandTen, as they think he would look upon the business as his "tenth" grandchild, and love the gin it produced. I think it's a great namesake, and with the quality spirits they're making, GrandTen should make the old man proud. Keep an eye out for these guys and buy their booze.