We finally had a bit of winter, though it took until March to get here. After all the cold and wet, I needed a sunny tropical drink to warm me up, as I'm getting rather full of stouts, porters, brown ales, winter punches, toddies, and other winter warmer tipples. This one fit the bill as a rather happily fruity drink for one of the few wet and snowy evenings of the season. And it gave me an excuse to crack open my bottle of Great Lakes Distilling Rehorst Gin, acquired from the distillery on my recent trip to Milwaukee.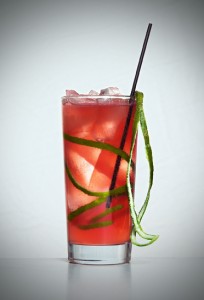 The (La?) Floradora
Found this recipe in my trusty standby, Dale DeGroff's The Craft of the Cocktail.
Dale says that this one is "named after the 1900 Broadway hit that introduced the Floradora Girls, who all were five feet four inches tall and weighed 130 pounds."
– 1 1/2 oz gin (GLD Rehorst)
– 1/2 oz fresh lime juice
– 3/4 oz Framboise liqueur or raspberry syrup (Flag Hill's Raspberry Liqueur)
– Top with ginger ale
This is a BUILT drink, so pour the gin, lime and raspberry into an ice-filled highball glass. Top with ginger ale and a lime piece, and give it a stir with a straw. I opted for a giant tentacle of lime peel. One piece! I managed to double-back with the channel knife. I'm stupidly proud.


All you can smell is fizzy lime on the nose. The taste is carbonic fizz at first, from the ginger ale. A hint of lime tart follows, and is rapidly blindsided by the raspberry. Yikes. That raspberry really dominates the drink. Not that it's a bad flavor, but it completely masks the gin. Well, not entirely. As I type, there's a hint of juniper pine in the finish, a last gasp of spirit evaporating from the clutches of the fruited liqueur. I can see how this would be a chick crack kind of drink: you'd never even know there was liquor in it. It's not bad at all. I wonder if the easy-going Rehorst is just lost in there. Maybe a big bold Plymouth would hold its own. Actually, the gin comes through in a burp. Sorry, that just happened. Yeah.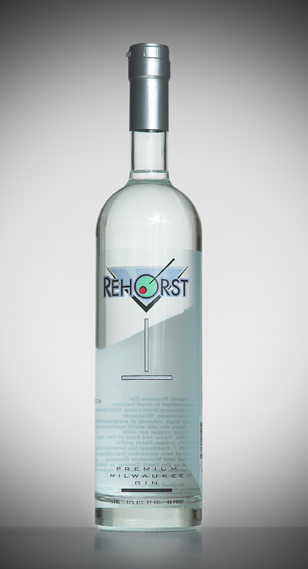 I tasted the Rehorst Premium Milwaukee Gin neat on their distillery tour, and found it to be very mild and friendly, though still full of flavor. I'm continuously working up the gumption to get myself into gin, but the Rehorst is like Gin 101; even a non-gin drinker can enjoy this one. Guy Rehorst, the owner of Great Lakes, jumped in for the tasting portion of the tour, and said the same thing I've been hearing from a lot of craft distillers: he made the gin HE wanted to drink. If you're going to be creating your own line of spirits, you may as well enjoy them. And this one is certainly enjoyable. Like Double Gold medal at the San Francisco Spirit tasting competition (2008) type enjoyable. Two of the more interesting ingredients are Sweet Basil, and Wisconsin Ginseng, which apparently is a real thing. They claim it's like the best ginseng evar, but I'll just take their word for it. GLD even wants to classify the spirit as a "Milwaukee Gin" saying that it's not quite a London Dry, but not quite a Genevere.


Since it got a little lost in the Floradora, I decided to give the Rehorst another go, but in a Negroni: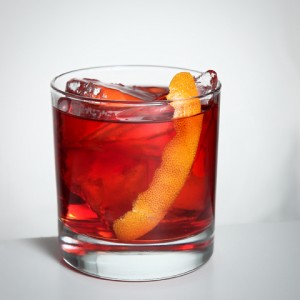 Nose: Sweetish, but with a mild spicy hint. Not hot pepper spice, but more like cinnamon/nutmeg type ground spices. Ginseng, I suppose.
Taste: Gin is much more prevalent than in the Floradora. Almost seems spicy, with a medicinal alcohol kick in the mid. Syrupy Campari glues the drink together, and sweet vermouth rounds out the experience. Could be that famous Wisconsin ginseng that I'm tasting, almost like a ginger. Certainly a hint of spice, though the Campari makes it difficult to nail down. The two combined create a cinnamon sensation. VERY tasty.
After a taste, the Lady Friend noted that she could taste the gin more than in a normal Negroni. She's usually distracted by the Campari, but in this case, she was also able to pick up a spicy note to the gin.


Overall, it's a tasty gin. The spicy notes really add something to the Negroni, without using a more flavorful vermouth (I believe I used Gallo this time; Martini is my usual brand). However, I can see how this delicate gin could get lost in a more powerfully flavored cocktail; don't use it as a substitute for Plymouth gin. It shines in a simpler drink. Granted, the Campari-based Negroni can be overwhelming for a mild gin, but the spicy notes of the Rehorst really add an extra nuance to the mixture.


I don't really buy much gin, but I bought a bottle of this. So there you go. It's good, get some.