Unrest in Portland, ME, turns to protests. A mob forms in front of city hall. The mayor calls for the police, and they fire into the crowd. One man is dead, and seven others are wounded. Neither the mayor, nor the police are ever convicted.
This happened because of rum.
Oh, and it was 160 years ago.


The Portland Rum Riot describes the events of June 2, 1855. Mayor Neal Dow had enacted Prohibition in 1851, which became the nation's first state-wide ban of alcohol, and was thus called the Maine Law. In 1855, Dow decided he needed some "medicinal" rum on hand, and stored $1,600 worth ($32,000 in present value) of rum in the basement of city hall. Local citizens, deprived of alcohol themselves, saw this as Dow flouting the very law he had imposed on them, and they decided to seize the booze. A mob formed at city hall, and Mayor Dow called out the militia, a contingent of 24 light guardsmen. When the mob did not disperse, Dow ordered the militia to fire directly into the crowd. Despite initially refusing, on the second order the militia did fire, and killed 22-year-old John Robbins of Deer Isle, ME. Seven others in the crowd were also wounded. The mob fled, and shortly thereafter Dow was brought up on charges, not for the murder, but for improperly acquiring the rum. He was acquitted, but the damage to his anti-alcohol cause resulted in the repeal of the Maine Law in 1856, some 64 years before a nationwide Prohibition was enacted in 1920. John Robbins was buried in an unmarked grave in Portland's Eastern Cemetery while Dow went on to become a Brigadier General in the Civil War and later, in 1880, the first Portlander to run for President. The violent events of the Rum Riot (and the Beer Riot of Chicago) foreshadowed the gangster-fueled mayhem of national Prohibition, proving that people are willing to kill, and be killed, for their right to imbibe.


Since I live in Portland, I decided to attend several events in remembrance of this incident. Though largely forgotten, it had a widespread impact on Prohibition and the perception of Temperance zealots for years throughout the nation. The Friends of Evergreen, a local non-profit formed to protect and preserve the city's Evergreen Cemetery which contains many notable citizens (Neal Dow is buried there), hosted a number of events throughout Rum Riot week. The first I attended was a ceremony at city hall, under the gaze of Longfellow's portrait in the State of Maine Room. FOE Executive Director Jessica Siraco gave a brief introduction, followed by Mayor Michael Brennan presenting a proclamation of the Rum Riot events, and noting that we must remember the past, and "be certain we won't have a similar situation while I'm mayor." The proclamation reads: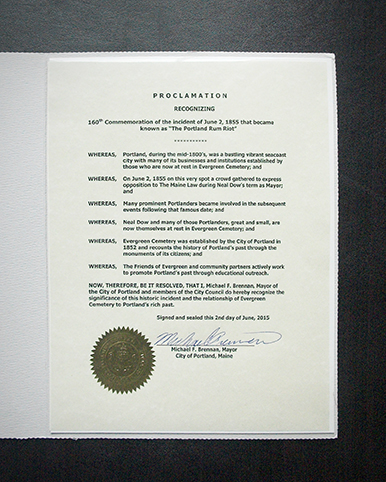 P R O C L A M A T I O N
RECOGNIZING

160th Commemoration of the incident of June 2, 1855 that became known as "The Portland Rum Riot"
**********
WHEREAS, Portland, during the mid-1800's, was a bustling vibrant seacoast city with many of its businesses and institutions established by those who are now at rest in Evergreen Cemetery; and
WHEREAS, On June 2, 1855 on this very spot* a crowd gathered to express opposition to The Maine Law during Neal Dow's term as Mayor; and
WHEREAS, Many prominent Portlanders became involved in the subsequent events following that famous date; and
WHEREAS, Neal Dow and many of those Portlanders, great and small, are now themselves at rest in Evergreen Cemetery; and
WHEREAS, Evergreen Cemetery was established by the City of Portland in 1852 and recounts the history of Portland's past through the monuments of its citizens; and
WHEREAS, The Friends of Evergreen and community partners actively work to promote Portland's past through education outreach.

NOW, THEREFORE, BE IT RESOLVED, THAT I, Michael F. Brennan, Mayor of the City of Portland and members of the City Council do hereby recognize the significance of this historic incident and the relationship of Evergreen Cemetery to Portland's rich past.

Signed and sealed this 2nd day of June, 2015

(Signed)
Michael F. Brennan, Mayor
City of Portland, Maine
*Note: the ceremony was supposed to be in Monument Square, the location of the old city hall and the riot. Rain prompted the move indoors to (current) city hall.
Following this was a talk by historian and former State Representative Herb Adams, detailing the events of the riot in vivid detail while also noting the irony that "the commemoration of the Rum Riot was washed out by cold water." (Despite last week's 80°+ July-like weather, we're back to an April feeling with 50° temps and rain for the first few days of June. Because New England.)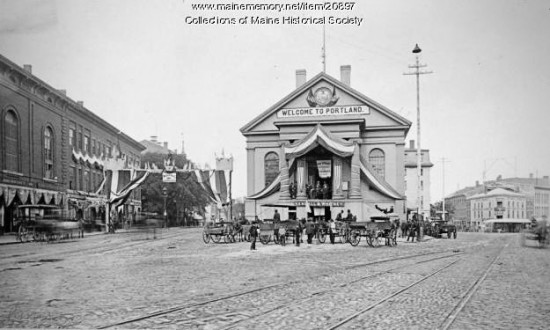 The Old City Hall
Present-day Monument Square, site of the old city hall and location of the riot.


After the ceremony, I struck out on my own Rum Riot tour. The first stop was the scene of the event itself. Old City Hall once stood in Monument Square (then Haymarket Square) in the center of Portland, between Congress and (then) Middle streets. Today, the Soldiers' and Sailors' Monument (Our Lady of Victories), dedicated to the 4,000 Portland men who fought in the Civil War, stands in its place, and is a popular gathering place for locals and tourists, surrounded by restaurants, and the Portland Public Library. The site is in the center of the city and has much history behind it aside from the riot.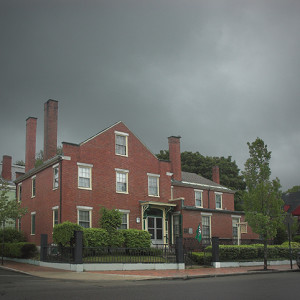 Further down Congress Street is the Neal S. Dow house. Built in 1829, the house still stands and is both a museum to Dow and the headquarters of the Women's Christian Temperance Union (WCTU) in Maine. Dow is called both "The Father of Prohibition" and sometimes the "Napoleon of Temperance" for his unflinching views. The WCTU formed back in the 1870s as a bunch of religious women who wanted to ban alcohol. Sadly, with the growing Temperance Movement, they gained momentum ultimately becoming a political power resulting in their goal: the 18th Amendment enacting national Prohibition in 1920. After 13 violent years which didn't accomplish much towards creating the WCTU's "sober and pure world" (their words), the 21st Amendment repealed Prohibition in 1933. National Beer Day (April 7) and Repeal Day (December 5th) reflect the dates which legalized beer and liquor respectively. Since moving to Portland, I've made it a point to drink a toast on Neal Dow's lawn every December 5th. He won the battle, but not the war against demon rum. I chatted briefly with the woman who was running the museum that day (she said I was just in time for tea) but declined the tour, which costs $10. I told her of my travels that day and she asked what side of the alcohol argument I stood on. I replied "pro," and left shortly thereafter.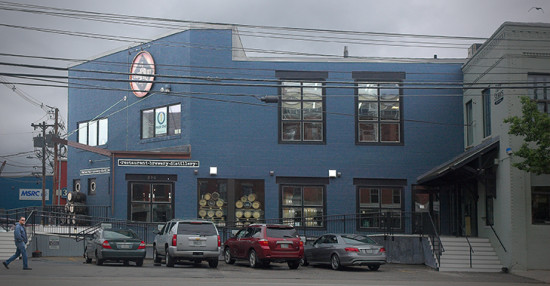 Liquid Riot Bottling Company, Commercial Street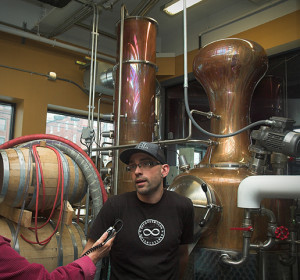 Back down Congress past city hall to retrieve my car, I rolled down the hill towards the ocean, and parked on Commercial Street, the waterfront road that becomes inundated with tourists from Memorial Day until Labor Day. Fortunately the cold, dreary weather kept them scattered, and I found a spot directly across from my next destination: Liquid Riot Bottling Company. Formerly known as In'finiti Fermentation & Distillation, Liquid Riot is run by Eric Michaud, who also owns Novare Res Bier Cafe, a destination craft beer bar just up the road off of Exchange Street. The space on Commercial Street is more of an anomaly, housing a restaurant, brewery, AND distillery all under the same roof. Eric's brother Ian runs the distillery, and gave me a tour of their setup. They're running a 100 gallon steam heated still with separate pot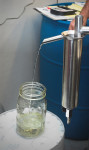 and four-plate column sections. They need three 100 gallon batch runs per spirit, since their stainless open fermenters have a 300 gallon capacity. Though their vodka, white rum, and white whiskey are already on local shelves, their aged products are due to be released later this year after 1.5-2 years of resting in barrels, which fill the small distilling space. For the Rum Riot events, Liquid Riot is collaborating with the other two Portland distilleries, New England Distilling and Maine Craft Distillers, to create a Rum Riot dark rum, utilizing a combined recipe and barrel aging process from all three distilleries. I got to taste some of the 180 proof spirit running off of the still: sugar sweet and hot, clear but for a slight straw tinge.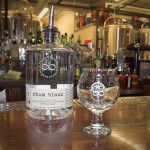 After chatting with Ian for probably too long about the ins-and-outs of distilling, Eric set me up with a taste of their Rhum Blanc, a white rum that leans towards an agricole style. Fermented from mostly sugar cane juice, Rhum Blanc uses a small amount of molasses for sweetness.
Nose: Sugar sweet, vanilla, light floral elements.
Taste: Warm sugary start builds to heat with a dry finish. Slightly yeasty in the end. Not as pungent or grassy as a true agricole style, this is a drier rum perfectly suitable for sipping or mixing.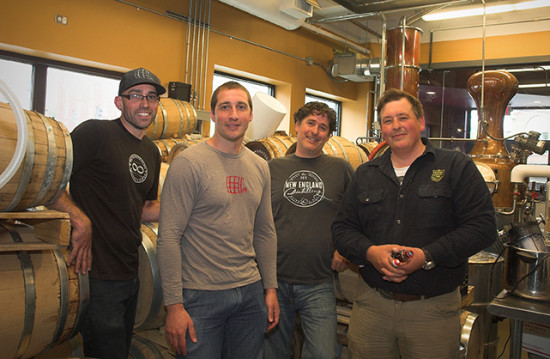 The Distillers of Portland
From left to right: Ian Michaud, Eric Michaud of Liquid Riot Bottling Company, Ned Wight of New England Distilling, and Luke Davidson of Maine Craft Distillers


The final parting shot of the Portland distillers was a good way to finish off my Rum Riot day. Prohibition is truly dead in Maine, the place where it started. Drink some rum; people have died for it.


The Friends of Evergreen do have several more events lined up through the week, including a talk on the history of rum by author Wayne Curtis, and a cocktail party at Bramhall in Portland on Saturday. Visit their Facebook page for more details.