Liquid Riot Bottling Company, the brewery/distillery/restaurant on the Old Port waterfront in Portland, is getting older. And so are their spirits. They've recently released four varieties of barrel-aged spirits, complementing their distillery's portfolio. Three whiskies and a rum join their vodka, white rum, and white whiskey, so the Lady Friend and I went to have a taste.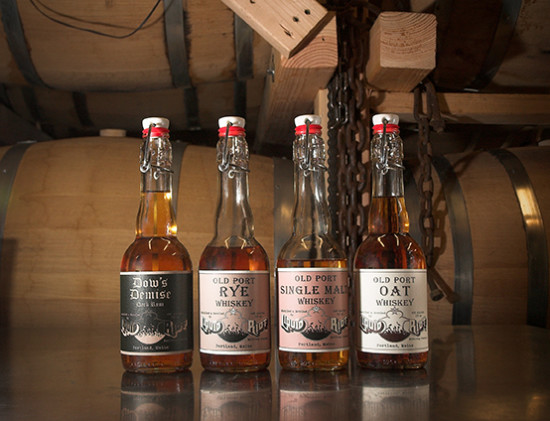 Liquid Riot distiller Ian Michaud was kind enough to let us visit the distillery and taste test the lineup of aged wares. The space is small, cramped at times, but a functioning wonderland of booze making. Since my last visit, barrel racks have been constructed freeing up some floor space… for more barrels. It's a constant game of cask Tetris, but it works.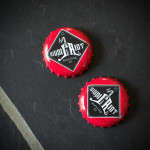 Four aged spirits are now on sale: a dark rum, oat whiskey, rye whiskey, and single malt whiskey. These are 375ml bottles, but are somewhat unique. Firstly, they are not corked but capped with attractive logo-screened red bottle caps. That's great the first time you open it, but then what? Well, the bottles also incorporate Grolsch-style swingtops to seal after the bottle cap is removed. Pretty cool. I haven't really seen this with a spirit before. The swingtop caps make a tight seal – tight enough for carbonated beverages – so they'll work just fine for the spirits. Michaud also mentioned that, per their branding, the 375ml longneck resembles a bottle suitable for a Molotov cocktail. I've seen other distilleries selling rum in a wine bottle, so it's nice to see Liquid Riot putting more thought into a container that will look attractive on a bar.
This first several batches of spirits were aged in 10 gallon oak casks, though the current batches (in progress) are in full-size 30 gallon barrels. With smaller barrels there is more wood-to-spirit interaction, and you don't need to age quite as long, ideal for a small distillery to have an aged product in a few years, rather than five or more. The larger barrels allow for longer aging, which will help mellow the spirits and make a smoother overall flavor. Larger distilleries use this technique and have a huge volume of various barrels ages to choose from, blending to create a consistent flavor profile. Liquid Riot is also beginning to use this process of aging spirits, called the Solera Method, for their dark rum and Rum Riot collaboration rum. Basically, the idea is to have continuously aging spirits to blend into newer spirits. For example, this is the first batch of their aged spirits, so there's nothing to blend. Next year's second batch will blend both this year's and next year's spirits. Batch 3 will be a blend of batches 1, 2, and 3. And so on. Eventually, the consistency of the spirits improve as there are more batches to blend, but for now it's only the first that's ready. The other aged spirits are all single batch: no age blending. This is where it all starts. Let's have a taste.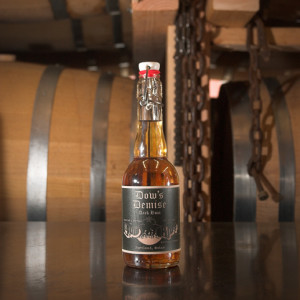 Dow's Demise
Dark Rum | 90 proof
Aged 17 months in used Tuthilltown Bourbon barrels
The name references Portland's "Father of Prohibition" Neal Dow, the mayor who caused a deadly riot. Happily, there are now three craft distilleries and nearly a dozen craft breweries in Portland alone. Suck on that, Neal. This spirit was the first "pilot" batch for the aged spirits, and it's recipe differs from the Rhum Blanc white rum. Where the Blanc is made mostly from evaporated cane sugar, a more agricole style, the dark rum recipe uses more blackstrap molasses. Traditionally, darker rums were made mostly, if not entirely, from blackstrap, as there isn't too much else you can do with that lowest grade molasses other than distill it (or feed it to cows). Dow's Demise is not as heavy as a traditional style, mixing in some of that cane juice from the Blanc recipe.
Nose: Light and sugary. Not as funky as a true dark rum (not as much blackstrap). More like an "aged" rum than a dark rum.
Taste: Warm start, builds to a hot middle. After the burn eases, flavors of sweet floral sugar remain, though not too heavy or sticky.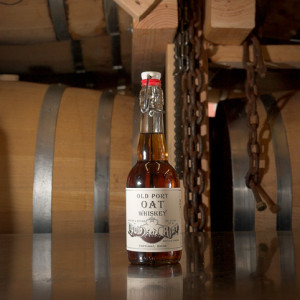 Old Port Oat Whiskey
90 proof
Aged 18 months in new charred American oak barrels
Oat whiskey is an odd thing. It's not terribly common, due to the reluctance of oat grain to ferment. The grain bill here uses roughly 2/3 oat and 1/3 malted barley. Having never tasted an oat whiskey before, I was intrigued. We were able to sample this alongside the unaged version, Old Port White Oat Whiskey.
UNAGED
Nose: Oats! Horse feed, grain, soft bread. Lovely and unique.
Taste: Warm, soft grain flavors. Sweet and… oaty. Bread, oatmeal, and Ireland. Odd, but nice.
AGED
Nose: Sweet oat grain once more, but with cinnamon, vanilla, and oak woodiness. Oaky oats.
Taste: Cinnamon spice up front, with lots of cherry fruit, vanilla, and oak wood. A soft grain flavor as well. This is remarkable. Very nice, and it was the Lady Friend's favorite of the bunch.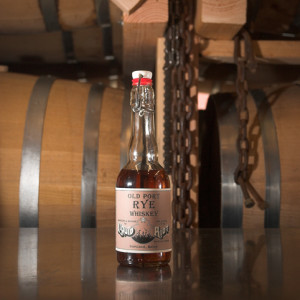 Old Port Rye Whiskey
88 proof
Aged 14 months in new charred American oak barrels
This is an American Rye Whiskey, which by law has some rules for its production, much like bourbon. The grain bill must be at least 51% rye, distilled at >160 proof, and aged in new charred American oak barrels at >125 proof. Age it for at least two years and you can call it a straight rye, though this one is just over a year old at 14 months. The grain bill here is just over 51% rye, with the remainder made up from malted barley, and oddly, a small amount of brewers' chocolate malt.
Nose: Some heat in the nose, aromas of chocolate sweet with a spice. The combination is reminiscent of Mexican mole sauce.
Taste: Medium heat to start, but not too hot. There's a spicy grain snap, which gives way to a coffee roast, dark chocolate bitter. Balances surprisingly well. Finishes with cherry fruit, a touch of vanilla, and oak wood.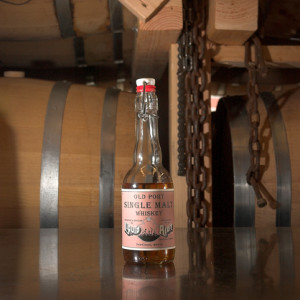 Old Port Single Malt Whiskey
88 proof
Aged 13 months in used Tuthilltown Bourbon barrels
This is the second spirit that is aged in used bourbon barrels. Liquid Riot is working on a bourbon of their own, and will eventually use their own bourbon barrels for aging other spirits. Used barrels have a worldwide market of their own, and it's not particularly cheap to get them. The more materials used in-house, the better, unless you're going for a specific flavor you know you can only get from a certain barrel. This single-malt is a Scotch in everything but name (a protected term: Scotch may only be made in Scotland).
Nose: Caramel, butterscotch, toffee. Delicious nectar. There's a touch of smoke char, but not too overwhelming. No peat smoke, just charcoal.
Taste: Charred smoky flavor transitions to sweet caramel. Barley cereal grain, cherry fruit, and a mild smoke lingering in the finish.


The dark rum was the hottest of the bunch, and will likely benefit from more time aging in the larger barrels. While still tasty, it did still have some of the fire of a younger spirit, despite being 17 months old. The uniqueness of the oat whiskey must be sampled, as it's quite remarkable, and rather unlike any whiskey I've had before. The rye was also unusual, as that small amount of chocolate malt comes through in the flavor. One more rye designation is the labeling of a "straight" rye, which must be aged for at least two years. Though the rye was among the younger of the spirits at 14 months, perhaps the shift to larger barrels will hit the magic two-year mark and add another credential to the label. The single malt is on the lighter end, without too much smoke, and lacking the peat of its Scottish brethren. Still, it's a lovely little sipper, not too hot, sweet and tasty. A summer night Scotch.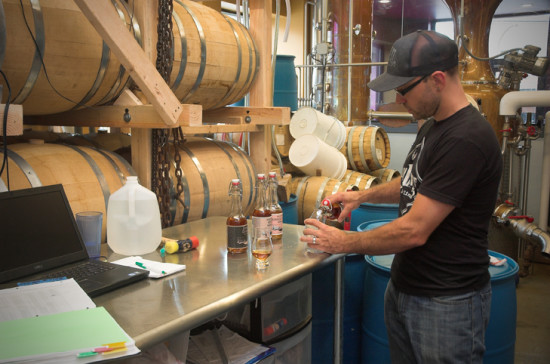 We tasted from "sweet to smoky" and Michaud sipped along, with descriptions and other various tidbits about each spirit in turn. It's always a treat to sample a product alongside the person who crafted it, and the ability to stop and ask specific questions is something I really love. After taking up too much of his time, we thanked Michaud, and the Lady Friend dragged me away before I could make a nest on top of the barrel rack and live in the distillery forever.


The four aged spirits are now on sale. These retail at $34.99 for a 375ml bottle, and can be found at following locations:

Liquid Riot Bottling Company Gift Shop
250 Commercial St, Portland ME

RSVP Discount Beverage
887 Forest Ave, Portland, ME

Bow Street Distributors Clients
(Various)




SquirrelFarts is now accepting solicited product reviews! Send me a bottle and I'll take a pretty picture and talk it up in the amusing tangential manner you've come to expect. Beer, spirits, mixers, whatever. Contact here for details. Note: I will mention that the review was solicited, hell, I'll even brag about it. Free booze? Damn right. But The Man says I have to say I got it for freebies. I'm excited about free stuff, so whatever. Now, that doesn't mean that I'll like it, or that I'll give it a good review. But chances are if you read this blog, then we'll get along. Put it to the test: send me your booze!