The Lady Friend's familial clan has a lakehouse (they're among the New Englanders who refer to such locations as "camp" even though there is a roof over a walled structure, and thus, no actual camping is involved) on Merrymeeting Lake in New Hampster.
No, I hadn't heard of it either.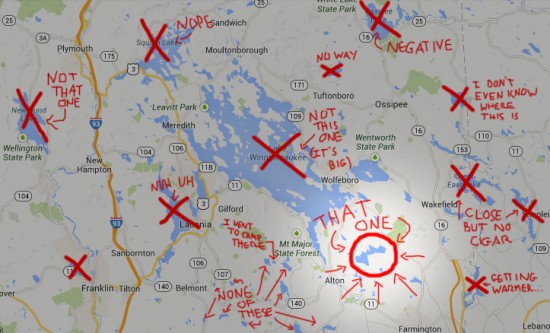 Here's a handy map.


Regardless, if you can avoid the dreaded "daytrippers," it's an excellent place for drinking WAY too much, though the drive home Sunday morning along winding dirt roads with many drastic elevation changes and the Lady Friend at the wheel can be a bit… horrifically ungodlyawfulmurderousvomituplungsandliver. That's the technical term. But I never learn lessons about drinking too much so we packed some beer and cocktails and headed out to the aquatic splendor of central New Hampshire. I didn't pack any bar tools, figuring there'd at least be a lowball glass (there was), some ice (yup), and a shot glass for measuring (there were plenty of those). What I did bring were the two simple ingredients for making a Merrymeeting Stump Puller.




Begin imbibing.


I found this drink in a copy of Mr. Boston, and it was apparently invented by a "Ronald Sperry" for some Boston "Shake Up the World" contest. That's all the detail it gives. The original name was the MONTANA Stump Puller, but I've made a slight ingredient adjustment to make this one a bit more unique to Merrymeeting. Also fitting, the specific area of Merrymeeting where the Lady Friend's relations "camp" is known as Adder Hole. It's the shallower end of the lake, so there's lots of trees in/along the water slowly being absorbed into the watershed. Which means lots of logs and stumps that needed removal over the years, making this drink even more fitting.
This is not to be confused with the "Gull Lounge" on the end of Pete's Sandbar. That stump was quite well-preserved with alcohol until the ice claimed it one winter.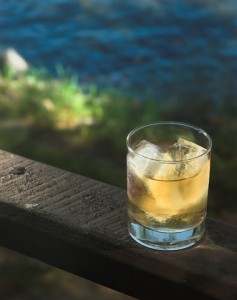 Merrymeeting Stump Puller
Adapted from the "Montana Stump Puller," Mr. Boston 65th ed (2000).
– 2 oz Canadian whisky (Canadian Club Reserve 10yo)
– 1 oz Dr. McGillicuddy's Mentholmint Liqueur
Yeah.
Dump it into a rocks/Old Fashioned glass over ice and give it a stir. The original recipe called for creme de menthe, but I don't have any. Then again, the original called for this to be served in a shot glass, but it makes 3oz. They didn't say if this was a double, or if it should be split into two shot glasses, so I'm not too worried about not following their instructions to the letter.


Yes, that's "whisky" with no "e." It's Canadian.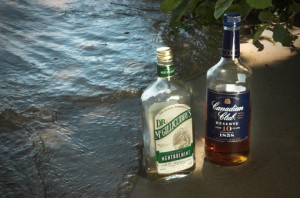 There's three reasons for using the Dr. McGillicuddy's here. First, I don't have any creme de menthe. No, this mentholmint liqueur isn't a perfect replacement, but it'll do. Secondly, the Doctor holds a place of honor in the Lady Friend's clan's liquors/liqueurs of choice. Apparently it's quite popular to sip during ice fishing. Or regular fishing. Or yardwork. Or hiking. Or grocery shopping. They're quite fond of it, is the point I'm trying to make. I had never tried it until meeting this group, and I jumped right in. It's like liquid candy canes mixed with alcohol and happiness. Thirdly, I wound up with a nice big bottle (and a little pocket-sized sipper) of the Doctor at their last Yankee Swap. I contributed some very Mainely gifts of Allen's Coffee Brandy and a 2-litre of Moxie. Uncle Ron was quite pleased to get it.


Into the cocktail we go. Start with a sniff.
It smells… not good. Like toothpaste and caramel gasoline. The sugary mint is pretty powerful in here, and that Canadian whisky is just… antiseptic? Yeah. Let's hope it tastes ok.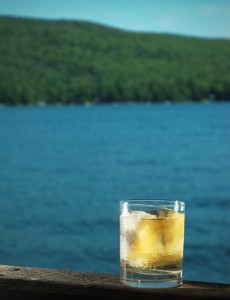 Oh.
Oh my.
That's… not bad.
In theory, I was expecting this to be like a cheap version of a Mint Julep. All the ingredients are there. Well, sort of. There's whisky (Canadian Club is no bourbon), mint and sugar (thoughtfully provided in one go, thanks to the Doctor), and ice. It is a bit heavy on the sugar/mint side, and there's a wash of the whisky malt and alcohol warmth towards the finish of the drink. It's really not bad. Not GREAT, but not bad.


I mixed one of these "upta camp" and there was even a bottle of the Doctor nestled in the freezer among the ice cubes and frozen vegetables. I supposed I didn't need to bring my own bottle along. The Lady Friend's father reluctantly had a taste, then seemed to warm to it a bit more with each sip. After our cruise around the lake, he happily made another one for himself. He's part of a crew that heartily enjoyed their cocktails back in the day, though they preferred Wild Turkey to the blended Canadian stuff. They even made a club about it.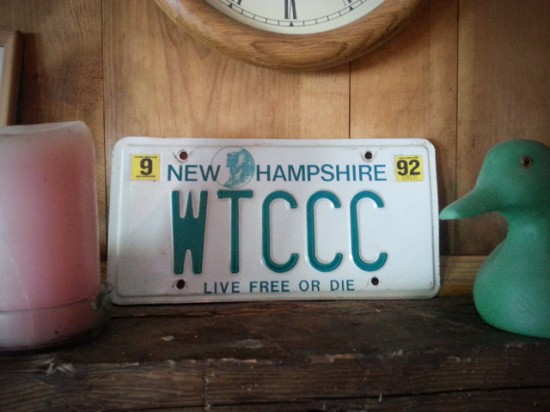 No, seriously. That's the Wild Turkey Canoeing and Climbing Club.


Simple to mix, with only two ingredients, and one of them is the Doctor. This would probably be better with a better whiskey, but you'll have more of a flavor battle against the mint. However, given the fact that the Lady Friend's father tried a couple of them, it seems like the Merrymeeting Stump Puller is officially endorsed.