Uncle Bob doesn't mess around.
There's been a trend in root beer flavored adult beverages lately, and some of them are pretty good. The only problem is, they just don't have ENOUGH booze for my go-go drinking lifestyle. ENTER THE BOB'S. I saw these bottles come up on my Instagram feed, and had to investigate. A root beer flavored whiskey sounds great in theory, but could also drag you down to the depths of insulin panicking sugar levels and the fire of a thousand cheap grain alcohols. I'm willing to take that chance. So I contacted Uncle Bob's, and they sent me a bottle with its primary hued label.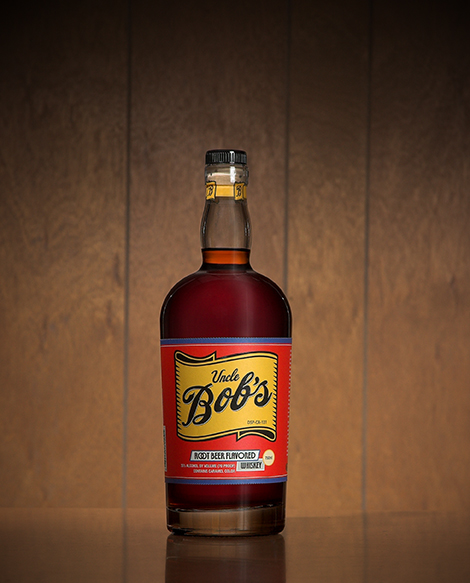 It's gloriously colorful.


Uncle Bob's Root Beer Flavored Whiskey is produced by Founders 49 Distilling and Whiskey House, a division of the LeVecke Corporation. LeVecke is a wholesale distributor, bottler, and spirit rectifier based in Mira Loma, California. They are an independent family-owned company since their founding in 1949 as a beer distributor. Currently, their annual sales exceed $100 million, and they produce over 2,500 spirits and cordials. This is the other side of the liquor industry: not small batch, not craft products, but an industrial producer of spirits. It's pretty interesting. LeVecke produces private label spirits for liquor stores/retailers (if you've ever seen "Kappy's" or "Atlas" brand bottles on the shelf, they generally come from a rectifier like this) and contract bottling for the bigger distilleries, handling their overflow. For example, if Jim Beam needs to produce more of their Honey flavored liqueur but don't have the space in their production schedule, they can ship the ingredients to LeVecke for production, blending, and/or bottling. With 2,500 different types of products in the lineup, there's a lot of different flavors offered. Like root beer flavored whiskey.


Uncle Bob's Root Beer Flavored Whiskey "blends aged Whiskey with natural Root Beer Flavors" to create a 70 proof (35%abv) spirit. It's been marketed to the college-age crowd who are growing weary of Fireball's dominance, but still want something "tasty" to drink out at the bars, because college kids are awful at drinking real booze. However, the younger drinkers do posses a crazy brand recognition and word-of-mouth advertising value to spirit producers, and apparently Uncle Bob's has been a hit, especially in Wisconsin, because of course. But just because college students drink it, doesn't mean it's any good. So let's have a taste.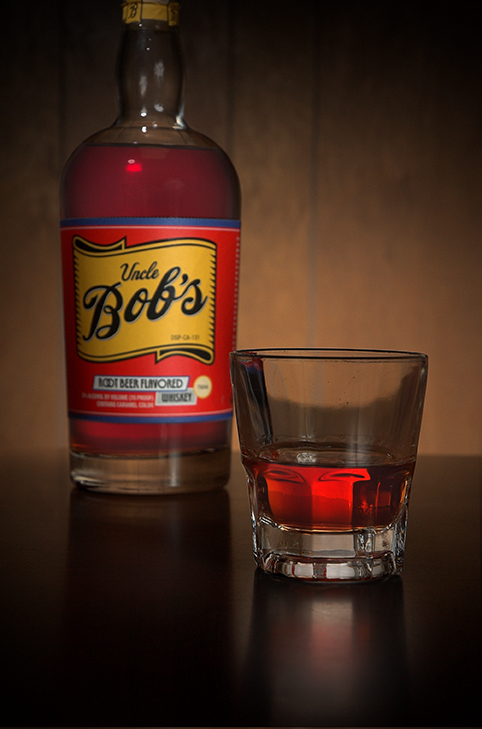 Uncle Bob's Root Beer Flavored Whiskey
Appearance: Pours a deep ochre brown color, with thick sticky legs. I suspect there's lots of caramel coloring in there to hit the right hue. Initial impression is that it will be too syrupy.
Nose: Floral and spicy. Vanilla, sugar sweetness, sarsaparilla, birch bark, anise, and an underlying alcohol heat. It smells just like root beer, with a touch of booze, though not anywhere near as hot and brash as expected. Very pleasing.
Taste: Syrupy, but not as much as expected. Warm start builds to a medium heat, especially on the front and sides of the tongue. Sweet vanilla, tangy licorice and birch bark flavors, with a sticky, lingering finish. The alcohol is warm but not hot; Fireball has a similar amount of alcohol at 66 proof, but "tastes" hotter, due to the cinnamon. Here it's warm and creamy, rather than hot and spicy. Plenty of sugar and stickiness, but like the heat, not as much as expected.
It's… actually pretty damn good. It smells like root beer with little booze, and tastes the same. That's not a bad thing at all (assuming you like root beer to begin with). They really nailed the root beer flavors, and struck an excellent balance between sugar syrup, alcohol, and flavoring. It's actually a bit surprising, as products like this are not generally known for their balance and attention to detail. Whoever created this recipe spent some time on it, as it very easily could have gone too sweet or too hot. Well done.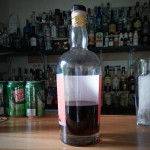 This bottle traveled upta Camp over Memorial Day weekend, and came back fairly wounded. The Lady Friend's father quite enjoyed it, and he too was surprised by how tasty it was, reminding him of purchasing Hires Root Beer extract syrup to mix their own soda when he was a child. I agree: it's just as if you poured a bit of whiskey into a glass of root beer. Immediately thoughts of root beer whiskey floats spring to mind, an after meal digestif taken neat, or sipping on the rocks as a dessert drink by a campfire. It's a little too sticky for high-noon style drinking, but perhaps in a tall glass with ice and a splash of soda, this would really be refreshing. The root beer flavoring has enough complexity on its own that you don't need to look for the whiskey notes, which come through as a nice warm glow.
Maybe the college kids are on to something.


Uncle Bob's Root Beer Flavored Whiskey is currently available in the Northeast in Massachusetts, New York, and Rhode Island. Other states of distribution include CA, WA, NV, TX, OK, LA, KS, NE, SD, ND, MN, IA, WI, MI, WV and four additional states by the end of the year. Average retail price is $19.99 per 750ml bottle.







Squirrel Farts is now accepting solicited product reviews! Send me a bottle and I'll take a pretty picture and talk it up in the amusing tangential manner you've come to expect. Beer, spirits, mixers, whatever. Contact here for details. Note: I will mention that the review was solicited, hell, I'll even brag about it. Free booze? Damn right. But The Man says I have to say I got it for freebies. I'm excited about free stuff, so whatever. Now, that doesn't mean that I'll like it, or that I'll give it a good review. But chances are if you read this blog, then we'll get along. Put it to the test: send me your booze!