Yikes.
I didn't know what I was getting into with this cocktail. I just wanted something simple, but this one comes with a lot of history. I'll try to make it brief.


The Hanky Panky Cocktail is an old one, coming from the famed American Bar at the Savoy Hotel and head bartendress, Ada Coleman, wonderfully described in this LUPEC post. As for the cocktail, here's the story, in her words:


"The late Charles Hawtrey… was one of the best judges of cocktails that I knew. Some years ago, when he was overworking, he used to come into the bar and say, 'Coley, I am tired. Give me something with a bit of punch in it.' It was for him that I spent hours experimenting until I had invented a new cocktail. The next time he came in, I told him I had a new drink for him. He sipped it, and, draining the glass, he said, 'By Jove! That is the real hanky-panky!' And Hanky-Panky it has been called ever since."
~Wiki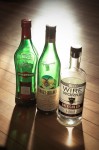 Since it was an official Savoy cocktail, it got put into Harry Craddock's (who was the head bartender at the Savoy after Ada) also-famous Savoy Cocktail Book. And since it's in the Savoy Cocktail Book, it's covered over on the Savoy Stomp blog, which attempts to go through the entire book, drink by drink. There's also some further info over at Cold Glass, where the use of particular vermouths is discussed. Like the Historic Core Cocktail, I think this one would really benefit from a big, flavorful vermouth like Carpano Antica or Punt y Mes. I have Martini & Rossi. Work with what you have.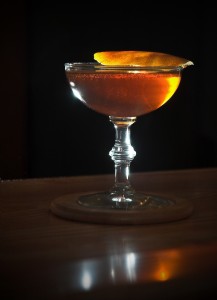 Hanky Panky
Originally from Ada Coleman's American Bar
Recipe from Harry Craddock's Savoy Cocktail Book
– 1 1/2 oz gin (GTD Wire Works)
– 1 1/2 oz sweet vermouth (Rosso)
– 2 dashes Fernet Branca

Stir (no juices involved) and strain into a chilled cocktail glass. Garnish with an orange peel. Don't skimp on the garnish with this one… it'll make a difference.


Sooooo… it's basically a Sweet Martini with some Fernet in it. Ok then. Not my usual type of thing, but let's give it a try. I'm using GrandTen's Wire Works American Gin in this one to ease off the juniper a touch. Savoy Stomp suggests using "a gin with some spine" but I'm not the biggest fan of the London Dry juniper bombs. Plus, Wire Works is awesome.


Nose: Yup. Smells like orange. Must be all those orangy oils I spritzed over the top. Will have to reevaluate after sipping some off. There is a botanical gin quality below the orange… astringent, juniper, and a sweetness. There's the barest hint of menthol/mint from the Fernet Branca, but it's buried deep down.
Taste: Rounded pine and juniper. Herbs. Mint. Medicine. Eucalyptus. A boozy quality, but not burning… more warm than hot. Bittersweet and mouth-puckering, yet rounded out by the vermouth. Dry, herbal finish with woody spruce notes.
Whoa.
That's an interesting tipple. I was worried that I either put too much or not enough Fernet in this one. It's powerful stuff, and the recipe specifies two drops. I put the barest splash – a splish really – into the mixing glass and it comes through very well without overwhelming the drink. The Wire Works does get a bit weak in the mixture, which is what Savoy Stomp was referring to… you need a bigger gin. I'm still pleased with the Wire Works, as I think it creates a softer drink, but others might want that slap of pine from a London Dry style. Quite sippable.


Let's see what SHE thinks: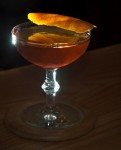 "I still get orange peel in the smell, but I smell the juniper fragrance. Hmm. I'm initially shocked at how sweet and smooth it is. I get sort of a grapey sweetness balanced very well with that juniper floral… hmmm. It's not bad, it could probably use just a touch less sweet vermouth, but that's a very easy way to take gin. You want to appreciate a good gin, and I think I got a little too much of the vermouth. I wouldn't say it's bad, but I think it dominated. I forgot about Fernet Branca! …I don't get much of that. Maybe I would pick up more of the Fernet if the vermouth wasn't as much."