Cocktail time!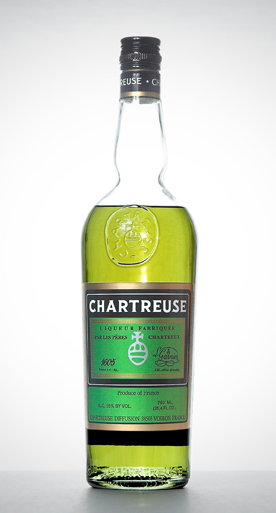 The Lady Friend received a bottle of green Chartreuse from her parents for Christmas, so we needed to put that to use. Right away. Chartreuse is interesting stuff: it's an herbal liqueur from France, was originally made by monks, and comes in a couple different versions. There's a yellower, mellower version, a super expensive fancy version called V.E.P. (Vieillissement Exceptionnellement Prolongé or "really old"), and the standard green version. Fun fact: Chartreuse is the only liquor/liqueur to have a color named after it. What color is Chartreuse? It's Chartreuse. Outside of France, you're most likely to come across Chartreuse in a Prohibition-era cocktail that has been somewhat revieved, the Last Word.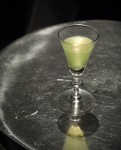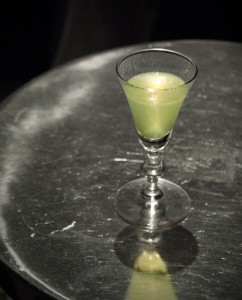 But I've already had a Last Word before. Several. Two occasions in particular are noteworthy: one at Drink when the Lady Friend and I went on our first date (yup, took her drinkin'), and another on Repeal Day in 2011 when Ted, bar manager at No. 9 Park, sent over a round for us after hearing that we were out celebrating the drinker's holiday. The Last Word is tasty, but what else can you make with Chartreuse?
The Lady Friend intended to find out just that. She wound up on a site called Kindred Cocktails, which looks like a fantastically awesome resource for future cocktail quests. I don't recall what Chartreuse-inclusive recipe she wound up making, but she also found one that looked like a winner for me. It's called the Historic Core Cocktail, and seems to have been invented by a bartender in L.A. named John Coltharp in 2008. Apparently, it was part of a cocktail competition where bartenders had to create cocktails that represented the different parts of the city. Coltharp wound up with the "Historic Core" and started mixing some fun stuff, namely rye whiskey, applejack and Chartreuse. Sounds right up my alley. It also made it into a cocktail book called Left Coast Libations, and the recipe on Kindred Cocktails was attributed to that. Much like this other author, I was kind of excited that I actually had the correct ingredients on hand, except the Carpano Antica vermouth. I generally use Martini & Rossi Rosso because a) it's easy to find and b) I don't go through vermouth quickly enough to justify buying the nice stuff. Vermouth tends to last for about a month after opening if you keep it in the fridge. Rossi isn't as lively as Carpano Antica or Punt e Mes, but it's more affordable for a consumable until I can find smaller bottles of the nice stuff.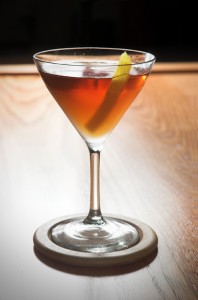 Historic Core Cocktail
By John Coltharp.
From Kindred Cocktails and Left Coast Libations
– 1.5 oz rye whiskey (Rittenhouse)
– .5 oz apple brandy (Laird's)
– .5 oz Chartreuse (green)
– .5 oz sweet vermouth (Rosso)
– Generous dash bitters (Fee Bros. Whiskey Barrel Aged Bitters)
No juice in this one, so STIR it, and serve in a chilled cocktail glass. Garnish with a lemon peel after squeezing the oils across the top of the drink.


Did you see that? TWO ingredients that are bottled-in-bond, and therefore, 100 proof: the Rittenhouse and the Laird's. Chartreuse is no slouch either, with a 110 proof sucker punch.The recipe calls for Angostura, but with the rest of the team bringing their A-game, I figured I'd let the Fee Bros Whiskey Barrel Aged Bitters come out to play. Go big or go home. Except I am home. Does that mean I don't have to go big? Wait, what?
Never mind.


Nose: Predominantly apple. With booze. Strange, because there's only a half ounce of the Laird's in there. Powerful stuff. I can see the lemon oils swirling across the surface, like 10W 40 on asphalt after a rain shower. There is a bit of lemony essence, but mostly apple. And booze. Did I mention the booze? Yeah, it's there. Not searing hot in the nostrils like a snort of acetone, but a warm warning. I might be getting a tinge of darkness, from the whiskey and bitters, but it's hard to detect. A very very slight vegetative musk lurks in there too. Those herbs are up to no good.
Taste: BY THE CROWN OF ZEUS. Whoaowmunummeowzlebub. That's a-spicy meat-a-ball. Lots of heat in the flavor: some alcoholic burn, some herbs and spices. This isn't the Colonel's secret recipe however. Very complex, with a lot going on. I'd take another mouthful to try to walk through the electrical storm of sensations, but I think half of my tongue is numb. My gums are tingling too. They won't stop. Making another approach. Roger, Squirrelfarts has the ball.
Ok.
Ow.
Alcohol.
Ow.
Herbal Chartreuse.
More of it.
Whiskey, dark, syrup.
Apple.
Astringent alcohol.
Tingle.
Tingle.
Tingle.
Spices. Cinnamon, bark, leaves.
Anise; Licorice.
Astringency eases off.
Dark spices left. Slight syrup. Apple sweetness.
Fresh cut grass? Seriously. Where did that come from?
Brown sugar.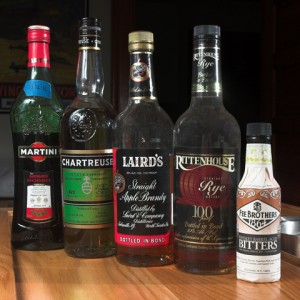 Wowsers.
I think I like it. I'm not sure. I do know that after about a third of this drink, I'm starting to feel the booze kick in. Warm happy warm booze. Make no mistake: this is a potent drink. 2oz of 100 proof liquor, 1/2oz of 110 proof Chartreuse. Oh, and a little vermouth. Yowza.
Oh I totally have to inflict this on the Lady Friend. This should be good. Standby.


"*furrows brow* I get mainly the Rittenhouse. I was searching for the Chartreuse. I get a little herbal essence towards the end, but it mainly tastes like a Manhattan to me. A little bit of sweetness, I guess from the applejack, but I don't get a lot of the Chartreuse in that. I would assume it would be like a Pernod-rinsed glass. I was figuring that Chartreuse would be like Pernod, like a little would go a long way, and it would overpower a cocktail. Now I'm excited to use it. It adds just a little dimension."
I suggested that she take a good mouthful instead of the dainty little sips she usually employs.
"Hmmmm. I guess I could see almost a 50/50 split with the rye and the Chartreuse. It's a lot of flavor. It's three big boys fighting. I don't get the apple so much. The other two are a lot bigger. I do get a little bit of apple sweetness though. It's not LOST, but the other two are much more prominent.
It's good though."
"For the amount of alcohol that's in there, it's actually quite palatable."


I think she's associating the alcohol heat solely with the Rittenhouse, which I found to be a secondary player in this cocktail, despite the ratios. Sure, there's a whiskey presence, but the addition of strong straight apple brandy, and an herbal Chartreuse kick, creates a complexity that sideswipes my precious rye. It is tasty, though a pricey cocktail. Not that these are particularly rare ingredients, but they are decent bottles that may not be found on every bar. If you do have them, give this drink a try. Very complex and wild. Whoa.