Sometimes Teh Interwebz works out the way it's supposed to.
A couple weeks ago I did a post on the Historic Core Cocktail, which was pretty wild. I happened across another blog in the research, Tempered Spirits, and its author commented back with a suggestion: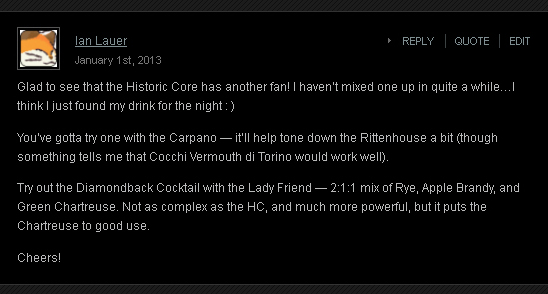 Sounds awesome. Boozy, but awesome.


Always open to suggestions, I decided to give it a try. I suspect it's going to be another big boy drink, with those two bonded liquors, and the 110 proof Chartreuse. Kindred Cocktails came to the rescue again here with a little more information. Apparently, there are two versions of this cocktail, one with yellow Chartreuse, and one with the more powerful green (I like to call it Chartreuse2 ). The history is spelled out pretty well on this other site, but the gist is that yellow Chartreuse was originally used until Murray Stenson of Seattle's Zig Zag Cafe (a well-known craft cocktail mecca) put some green in the mix to liven things up. It's also listed on this OTHER cocktail site from way back in 2005 when Hollaback Girl was a thing. The green-utilized recipe become adopted as the modern version, so that's what I'm going with.
Also, yes, we have no bananas yellow Chartreuse.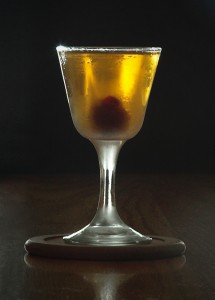 Diamondback
Suggested by Tempered Spirits
– 1 1/2 oz Rittenhouse Rye whiskey
– 3/4 oz Laird's Straight Apple Brandy
– 3/4 oz Green Chartrueuse
All booze.
Stir this one until icy cold. Serve in a chilled cocktail glass of your choosing. A cherry is suitable for the garnish, though optional. Having a personal cache of homemade cocktail cherries, I opted to include it.


Nose: A decently complex nose snorter. Sweet herbal notes like licorice/anise, laundry detergent, fancy guest soaps and potpourri waft above. Below there's a warning warmth of alcoholic strength, cooking the nostrils, and hints of brown sugar with apple sweetness. The herbal Chartreuse dominates the aromas here, and you can smell the booze below.
This is either going to be fantastic or vile.
Taste: Alcohol sour, though the cold helps to numb. Bitter herbs and cinnamon spice warmth spreading from the outer edges of the tongue inwards. Fresh green herbs, alcohol heat tingling the tongue and gums. Cinnamon spice again, or is it a tangy botanical of sorts? A lovely hint of apple sweet cruising placidly in the lower currents. The top end is heat, hot coals, a slow burning fire. Rye snap and alcohol sting, and the herbs turn to a floral sensation as the heat passes. Sweet, sugary sensation, I suspect from the liqueur, but with a powerhouse of flavor. This one is complex. This one is boozy. This one is EXCELLENT.


Let's see what SHE thinks:
"Smells like a sweet apple/caramel. I smell caramel apple mixed with like a whiskey smell. I don't get Chartreuse. I don't get anything herbally… from the smell I get mainly the whiskey, but with a little apple."
I think her nose is on the fritz. Let's move on.
"Alcohol burn. Hmmm.
…
I'm waiting for something.
…
…
I get an herbalness to the finish. Oooh. Now I really do. But that took awhile."
Huh. I think her mouth is broken too.


So, apparently we have wildly differing views on what this drink smells and tastes like. She smelled caramel apples and didn't notice the Chartreuse at all. Where I found lovely complex layers in an alcohol-fueled oven, she tasted nothing but booze and some slight herbs in the finish.
I dunno what to make of that.
But I say it's a fantastic cocktail.