This one comes from a rather whimsical old book from 1972 that I have in the collection called the "Quick Guide to Spirits."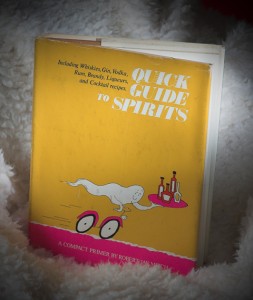 …and there's a picture of a ghost!
Anyway, according to the book, this one comes from the Four Seasons in New York, and reads "John Covas, another dean of drams, named this after Camille, a lamb." Um. Ok then. I didn't really find much else about this cocktail, other than other sites posting the same recipe, though apparently there IS an actress named Camilla Belle.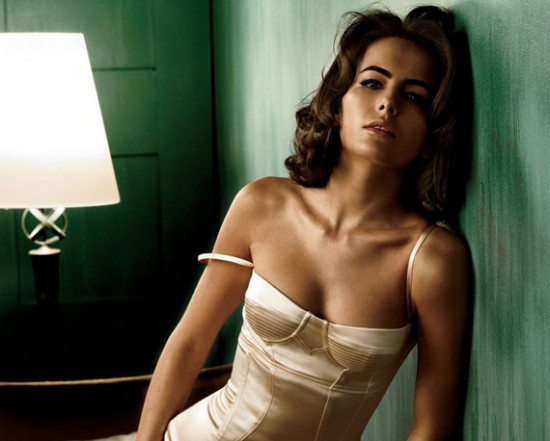 Why, hello there.


That, however, is neither here nor there, and the two are entirely unconnected, since this book dates from 1972, and she was born in 1986. Yes, I know, it's depressing. The drink itself is pretty simple, with only two ingredients. I like each of the ingredients (bourbon and Campari) but I'm a little concerned about a drink consisting of only those two. It does remind me of the Boulevardier, though that one at least had sweet vermouth in it, as in a Negroni. He didn't mention how to prepare it, or what type of glass to serve it in, so I'm making a few executive decisions here. Other recipes suggest a cocktail glass, but I'll take it like my Negronis: on the rocks.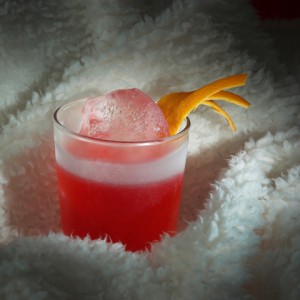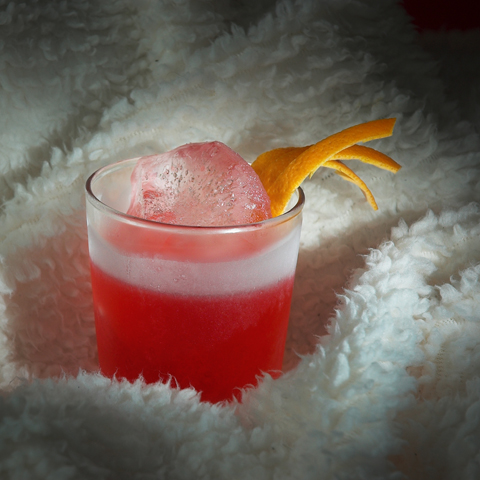 Bell of Camille
From Robert Jay Misch's Quick Guide to Spirits
– 1 1/2 oz bourbon (Old Crow Reserve)
– 1 oz Campari
Uh.
That's it.
STIR in an ice filled mixing glass. Use a julep strainer to, well, strain into a cocktail glass, or, as I prefer, a rocks glass with a travel-sized iceberg in it. I garnished with an orange peel sliced thrice.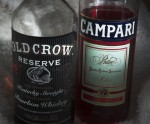 Well, it smells like Campari and bourbon.
Well, it tastes like Campari and bourbon.
Yeah. Pretty much. The aroma has a decent chunk of orange to it from that swath of peel I garnished with, and the Campari bittersweet is of course, rather dominant. It's hard to pick up any of the bourbon, though there's a subtle hint of dark sweetness lurking in the shadows.
The taste is all at once WHANG BANG ZOOM Campari and ZING BOFF FIZZ bourbon. The two actually meld together quite nicely. The herbal Campari dries out the palate while the sweet bourbon adds its complement of brown sugar, molasses, and roasted caramel corn. The two have a bit of back-and-forth, but it's a discussion, not an argument. Neither one wins and they both make a lot of good points.


The Lady Friend's take:
"I still get hit with Campari first, as I always do, but that's actually a good balance. Towards the end I get that whiskey Old Crow… tasty actually. I like that. I think it's well-balanced. A lot of drinks you make with Campari are WAY too Campari. And of course that quote's going in there. Stop typing!"
And then she walked away.


I rather like this drink. It's perfectly simple to make (provided you have Campari) and that Old Crow Reserve goes well with EVERYTHING so far. And I've used it a lot. Yum. In a cocktail glass this would make a good sipper, but I like the sturdy feel of a rocks glass with large amounts of solidified water. The orange peel adds a nice touch, and it certainly wouldn't hurt to flame it over the surface of the drink. Well played, ghost book.
(Call me, Camilla)