I had entered a couple photos in a local art show Friday night, so our cocktail night was a bit delayed. Lady Friend started with wine at the show, then switched over to beer for dinner at the Union Brewhouse, where we each checked two more brews off of our 99 bottle list. She's doing her list in reverse alphabetical order, and went with a Unibroue La Fin du Monde, which she enjoyed greatly. Another trip to Montreal may be necessary to stop by the brewery in Chambly. Her second was a pint of Blue Hills Brewery's Okto Brau on tap (which was quite good… it didn't taste like most Octoberfest beers. It really did have flavors of autumn somehow. Finished with a cereal sweet taste that I can only describe as Halloween candy Kit Kat bars. Seriously.) I crossed Haverhill Brewery's IPA off my list (they're one of our future drink destinations) and had a Harpoon IPA, which is never a bad choice.
So, after dinner, we adjorned to SquirrelFarts HQ, aka The Drinkatorium, aka The Cocktail Cave aka Hōm Bar. All names awaiting trademark certification. Lady Friend decided to stay on the beer train, and ignore the hallowed tenets of Rule 37. I had picked out a new drink earlier in the week after stumbling across one that sounded good in one of the drinking blogs/ articles I follow: about.com's cocktail section. The article is here.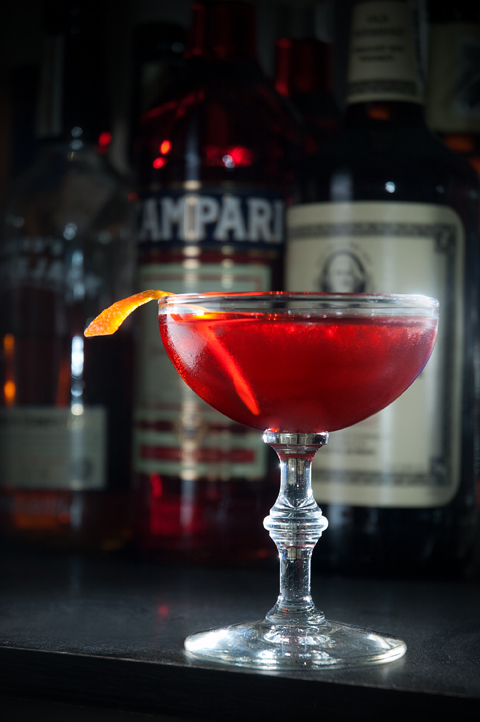 The Boulevardier


1 1/2 oz bourbon (I substituted rye)
1 oz sweet vermouth (Martini & Rossi)
1 oz Campari


Combine ingredients in a mixing glass with ice and STIR.
Strain with a julep strainer into a chilled cocktail glass.
Garnish with orange twist.
Have a sip and exclaim "Ah, Paris!"
…even though it's made with American bourbon, and Italian Campari.


Clearly, it's similar to the Negroni, pouring bourbon instead of gin. It wasn't bad, but the Campari overwhelmed the whiskey, even with an extra 1/2 ounce of liquor in the mix. Perhaps a bolder rye (I used Old Overholt) would be more willing to stand up to the Campari's amaro insolence. I think I'll try this one again, easing up slightly on the Campari. The whiskey added a smoothness to the drink not found in a regular gin-based Negroni. I used rye, wanting a little more bite, suspecting bourbon's sweetness would be washed away by the powerful bittersweet in the Campari. A variant of the recipe, the 1794 Cocktail, seems to be just what I'm looking for.


It turns out, the Boulevardier is a bit of a classic, and older than its Negroni sibling. During Prohibition, cocktails really grew into their own, and expat bartender Harry McElhone started Harry's New York Bar in Paris. Since Campari, an Italian bitter liqueur, was widely available in Europe, a number of cocktails included it as a big flavor boost. Although this cocktail appears to be a whiskey version of a Negroni, (equal parts gin, Campari and sweet vermouth) Campari was unheard of in America at the time, and would not appear until about 20 years later following WWII. Harry's cocktail was named for a monthly magazine called, of course, The Boulevardier, as it was the signature drink of the magazine's publisher. More on this can be found in the short article by Ted "Dr Cocktail" Haigh at Imbibe Magazine, found HERE. Go read it, then make a Boulevardier for yourself.


Actually, go have a Negroni. It may be newer, but it's tastier, and still a classic.