Well, we did Harpoon Brewery, so it was about time for a post on Boston's other big brewery, Samuel Adams. Strap in, this is a big one.




Now THAT looks like a brewery.


I'm going to go ahead and assume most people have heard of Sam Adams. It's one of the largest domestically-owned breweries, either just ahead of, just behind, or tied with Yuengling, depending on your source. They each produce around 2.5 million barrels of beer. That's nothing compared to the 10 million Miller cranks out in Milwaukee alone, but it's a lot more than the 125,000 bbls from Harpoon Brewery. However, Harpoon is the largest brewery IN Boston, a point I'll explain later.
Samuel Adams Boston Lager, the flagship beer, was born in founder Jim Koch's kitchen in the mid-1980s. Well, kind of. What he brewed was Louis Koch Lager, an old family recipe; Koch's family had been brewers before Prohibition. He rebranded it as Samuel Adams, named for the "brewer and patriot" of Colonial America, and publicly released the beer on Patriot's Day in 1985. Then it started winning awards. Lots of awards.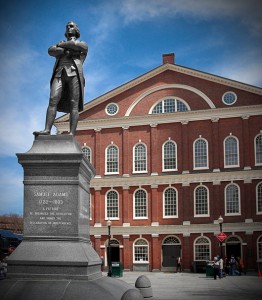 Sam looks pretty smug about that.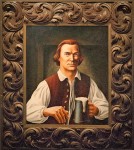 Basically, Jim hit it at the right time. Craft beer was just starting to take hold in America in the mid-80s, and Sam Lager was a powerful tasting beer compared to the macrobrews on the market. However, it was still drinkable, and tasty enough to convince people to give it a try. Boston Beer Company, doing business as Samuel Adams Brewery, has been cranking ever since, all the way to 2.5 million barrels in 2011. The trick is, that beer isn't coming from Boston. Sam Adams owns two other breweries in Cincinnati, OH and Breinigsville, PA; the facility in Boston is only for R&D and tours. That's why Harpoon is the biggest brewery in Boston, though Sam is much bigger as a whole.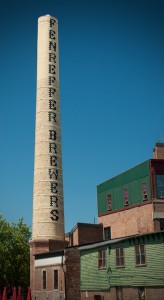 So, let's get to the tour. First of all, Sam is located in Jamaica Plain, a neighborhood of Boston south of the city (not to be confused with South Boston). The Boston Beer Company facility resides in the old Haffenreffer Brewery, which was in business from 1870 to 1965. They started up in JP because of the Stony Brook aquifer, which provided them with fresh water to brew with. Haffenreffer's remaining legacy (aside from the smokestack that reads "Fenreffer Brewers") is Private Stock malt liquor, which is currently brewed by MillerCoors, though the family also had ties with Narragansett Brewery. The current site is only a part of the previous brewery complex, and old solid brick buildings are scattered throughout the area. It's a few blocks from the Stony Brook T stop (on the Orange line) but the past couple times we've been able to find street parking in the area. Occasionally you can score a spot in the Sam lot, but I wouldn't count on it.
The tour is free, with a suggested donation of $2 to local charities. Get there EARLY, especially if it's nice weather, if there's a local sporting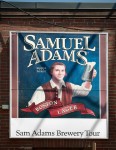 event, if it's a holiday, in spring, in summer, in fall and sometimes winter. Given the national familiarity with the Sam Adams brand, it's a popular Boston attraction, even if you have to go to the wasteland of JP to get there. I've been several times, but this time we got up there nice and early, and scored a spot on the 10:20 "Nobel Pils" tour. After showing ID, you get a hand stamp and a beer label which acts as your ticket and corresponds to the time of your tour. While our tour was the Nobel Pils label, the next one might be Alpine Spring or Cherry Wheat. Just a simple way of keeping people on the proper tour. Naturally, the later you get there, the more the tours fill up, so around noon they might be booking the 2pm tours. Plan accordingly.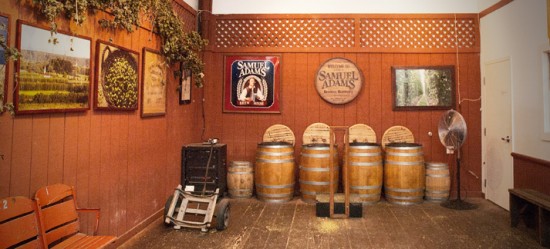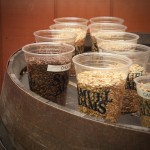 The first stop on the tour is in the back where our very chipper tour guide, Katie, gave a brief history of the brewing process and passed around samples of hops and barley. Breakfast! Sam is big on their connection to Reinheitsgebot, the German beer purity law of 1516 which states that beer can only be made from water, hops and barley. Back then, they didn't know about yeast yet, so that didn't make the cut (it was later added into the law). Sam uses two-row barley (Harrington and Metcalfe) because it's "plumper and juicier" and they can get more fermentable sugars out of it. The barley is toasted mainly in three varieties: pale malt, for lighter beers, caramel 60, which gives Boston Lager a darker amber color and slightly toasted flavor, and chocolate malt, for their darker beers, such as black lager and chocolate bock. The primary hop used is Hallertau Mittelfrueh, a noble hop from Bavaria. Each year, Jim travels over to Germany to personally check out the hop crops. Sam's water source isn't JP's Stony Brook, but rather the Quabbin Reservoir that supplies all of Boston's fresh water, though Sam also filters onsite.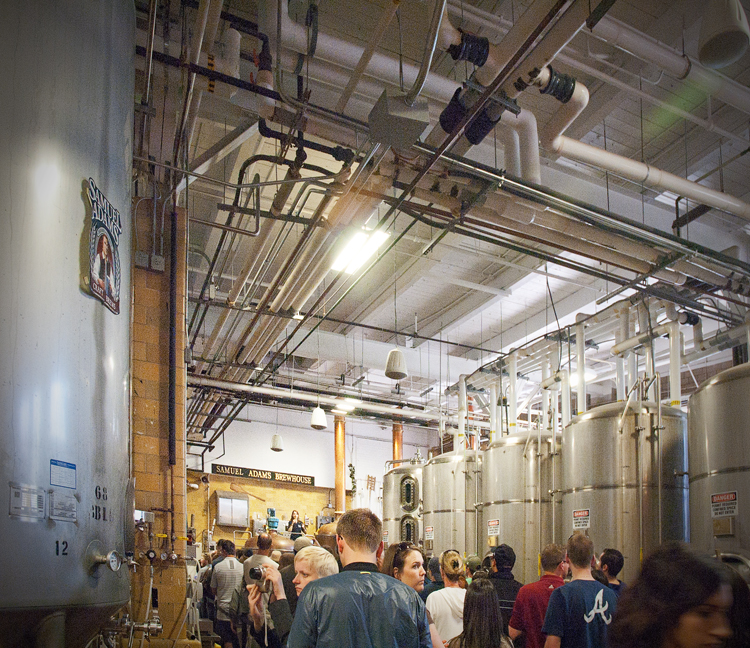 Once the barley had been munched, and everyone's hands reeked of hop, the group moved to the second portion of the tour, the brewhouse, flanked by towering fermenters and conditioning tanks. It's here that the beer is brewed, fermented, conditioned (Boston Lager takes five weeks to condition) and kegged. There is no canning or bottling in the small Boston facility, and
the kegs go to one of three destinations – local bars, beer competitions, or the tasting room. Here's a handy tip: when the group moves into the brewhouse area, hang near the back. You'll still be able to hear, because the tour guides are miked, but once their little speech is done, it's an about-face into the tasting room. By staying near the back of the brewhouse, you'll be first in line for the tasting room.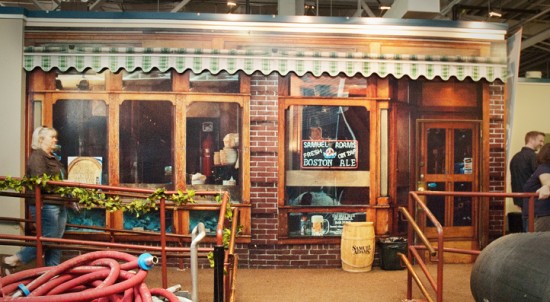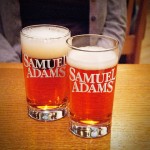 On the way into the room, you'll get a 4oz tasting glass, with one of the qualities of beer tasting printed on it, like aroma, color, and taste. Pitchers are poured and passed down the tables, starting with the Boston Lager, an amber, medium-bodied ("heavier than water, lighter than cream") brew. Tour Guide Katie went on to tell us of Sam's commitment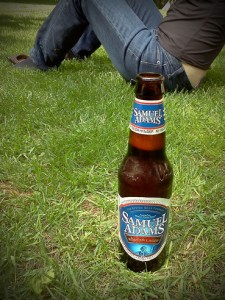 to fresh beer, which in all honesty is important. Sam gets a "best by" date on the side of the bottle, and will buy back beer from retailers if it's past that date. The old beer gets dumped, although once a year it goes into a dunk tank with Jim Koch in the hot seat. The quote was that "Jim would rather put himself in old beer than put old beer in you." The importance of this struck home the very next day, when I "borrowed" a Sam Lager from my dad's stash in his basement, only to find out it was dated "Best By April, 2010." Two year old Sam Lager. It's still drinkable, just not very good. The hop character is COMPLETELY gone, leaving a malty sickly ale flavor behind. It tastes like mediocre homebrew. Fresh Sam Lager however is mighty tasty. Incredibly flavorful compared to most light pilsner-style lagers from the macrobrewers.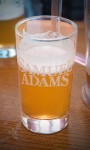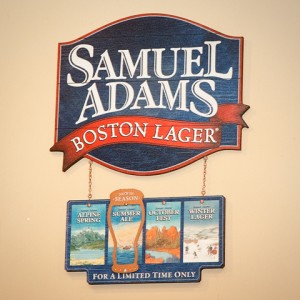 The next sample is generally the current seasonal, which meant that Sam Summer was on tap. It's an unfiltered weizen (wheat) beer flavored with lemon peel and Grains of Paradise. Seasonal beers aren't my favorite, and Sam Summer is no exception, even though that statement might put a bounty on my head. It's got a fanatical following in Boston, but I don't really like lemony beers. I'll take the lager any day. I like hops, not fruit in my beer. One question from the crowd was something I'd been wondering: are the seasonal recipes tweaked? Many people, including myself, feel that some of the seasonals, especially the summer and winter offerings, taste different year-to-year. The "official" answer was that the recipes are not tweaked, though there may be variances in the crops, like lemons. So… the taste DOES change. They were also quick to point out that you can't "remember" a flavor accurately, but I suspect there's a fair amount of variation going on. This year's summer, for example, is not quite as lemony as I recall.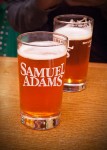 The final sample was a new offering, Boston 26.2 Marathon Brew, which was created in conjunction with Sam's sponsorship of the Boston Marathon this year, and served on tap only in Boston. This one doesn't conform to Reinheitsgebot, as it contains coriander and kosher salt. It's a 4.5% abv session beer with a light, fruity aroma, and tangy, fruit taste with a candy-like finish. There's a gummy-snack fruitiness going on in there, but overall tasty. Might make a refreshing way to rehydrate after running 26 miles.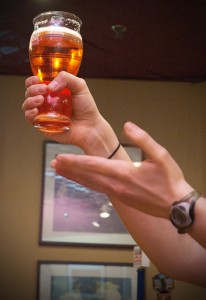 While tasting the Marathon Beer and thinking how happy I was to not be running a marathon, Katie launched into the story of Sam's "perfect pint" glass. Jim was over in Germany, in a bar (shocking!) and ordered a beer. The server came back and said they couldn't give him that beer because they were out of the proper glass for it. Anyone who's been to a decent beer bar in Europe can attest to that: it's a big deal over there. Ever wonder why there are so many beer glasses with brewery logos on them? It's because the breweries contract companies to produce glasses specifically for their beer, which are shipped to bars for serving. The proper beer goes in the proper glass. Jim saw this and thought "Why don't I have a glass for MY beer?" So he contacted a company in Lexington called TIAX to design a glass for Boston Lager. Two years and many free "sample" kegs later, they developed the Sam Adams glass.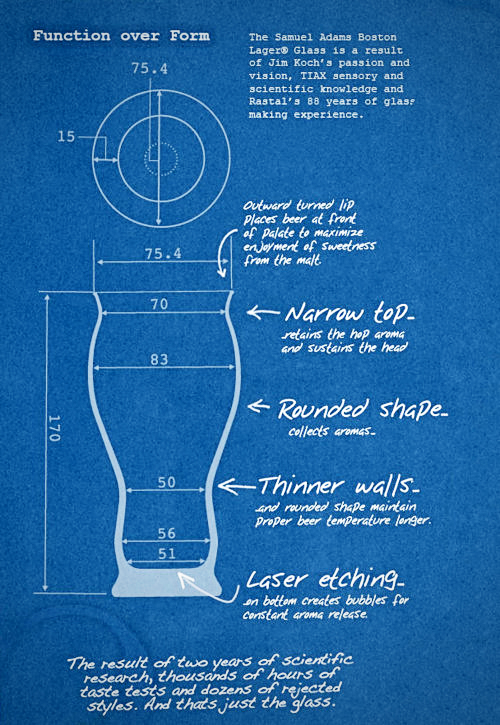 Science!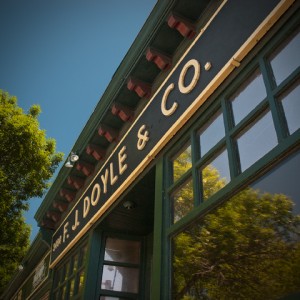 With the final sample quaffed, the tour was over. You get your tasting glass rinsed out, and exit through the gift shop chock full of Sam gear. But the adventure doesn't have to end here. For the past several years, the brewery has been running a promotion with local JP establishment Doyle's Cafe, which was the first bar to carry Sam Adams in the city of Boston. So they've been buddies for awhile, even though Doyle's has been there since freaking 1882. It's an Irish bar full of history well worth stopping into for a pint, and Sam makes it even easier: there's a trolley that runs from the brewery to Doyle's for free (it also makes a stop at the Stony Brook T station). If you order a Sam Adams beer (they were $6) at Doyle's and show your hand stamp or ticket from the brewery tour, you get to keep the perfect pint glass. Highly recommended.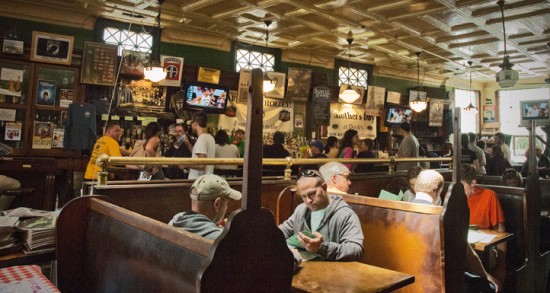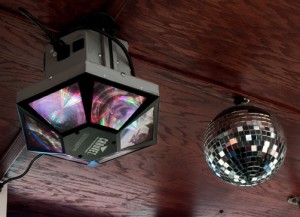 Be prepared: Jason, the driver, runs a party trolley, complete with lasers, disco ball, fog machine, bubble machine, brass poles, music blasting, and pumping the brakes to make it bounce. We started off with a Neil Diamond singalong to "Sweet Caroline" followed by "Cracklin' Rosie" before arriving at the bar. An order of potato skins, two Sam Adams Latitude 48 IPAs and free glasses later, the Lady Friend and I reboarded the rolling dance party to the strains of "Fire Burning." Over the pumping beats, Jason, a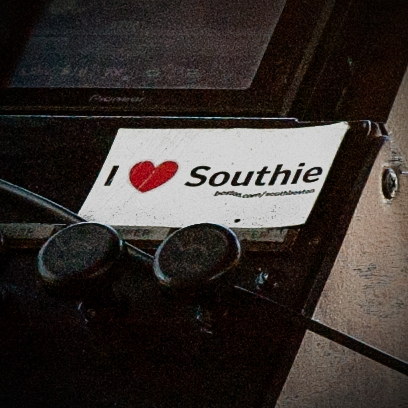 Boston tour guide for 15 years, shouted out some fun facts such as "30 years before they thought of Fenway, they were partying at DOYLE'S," and "DOYLE'S has the best chowdah in the city. I eat chowdah like cereal in the morning," and that Doyle's burgers are "…a cut above Five Guys," which drew jeers from the crowd and a comment of "That's a bold statement!"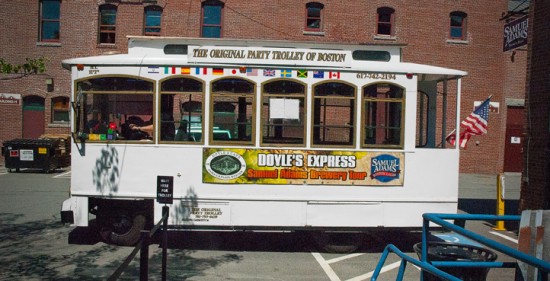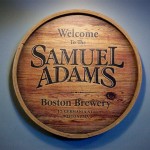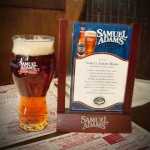 So, the Sam experience is a giant draw for good reason. One of the biggest craft brewers in the country in Boston's backyard, with an informative (free) tour and samples. The tie-in with Doyle's is a highly recommended experience of its own, and will get you a souvenir pint glass to keep with your tasting glass. I personally feel that Sam brews their beers as crowd-pleasers, and while they have a WIDE variety of brews, they're mostly stepping stones into the different styles. While I love the Boston Lager, their Campfire Rauchbier (smoked beer) has just a hint of smoke, especially compared to a REAL rauchbier, and their Latitude 48 IPA is like a hoppy version of the Boston Lager. I always feel they could do so much more, but that would be at the risk of hurting sales. You don't get to 2.5 million barrels of production by alienating people, and there's plenty of smaller breweries pushing the boundaries so Sam doesn't have to. As long as Sam keeps making good beer, I'll forgive them. Go take a tour.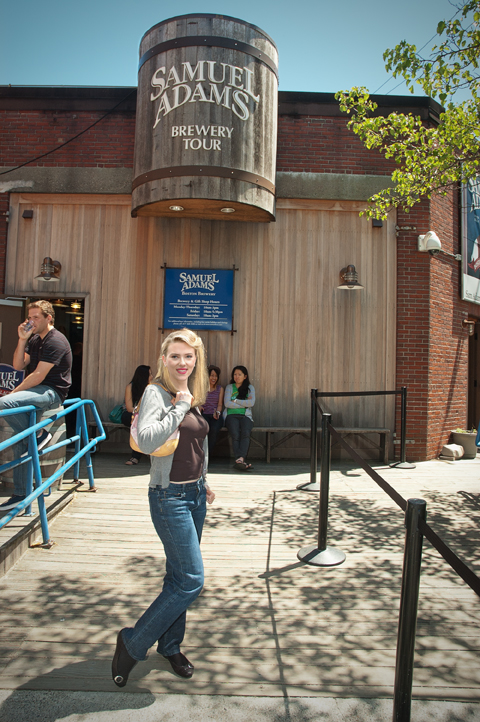 The Lady Friend approves.