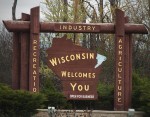 Yet another travel series that I never seem to finish. This one tells the tales of our Milwaukee adventures in late March of 2012. We went there to do some serious drinking. Oh, and also Trevtastic got married. Yeah, some girl actually married that boy. But still, it was a good excuse to show the Lady Friend the various drinking landmarks of Milwaukee, so that's what we did. Wistful wanderings in Wisco. Part 1 is here.
Yah dere hey.


Here we go.
This is one of the reasons I wanted the Lady Friend to come to Milwaukee.
Well, this and Trev's wedding.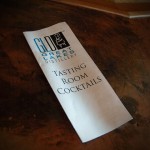 I think I visit here every time I come to Milwaukee. It used to be that you'd enter around the back, right into the warehouse portion of the building, where the actual distillery is set up, but these days they've got a brand spankin' new retail shop and tasting room up front. It's pretty snazzy. Still, on larger tours, the "old" tasting room down on the production floor is used. We entered the new tasting room, and thankfully the paint-and-drywall smell had faded since my last visit, though there was a mural still in progress. The Lady Friend and I sidled up to the bar and ordered a cocktail. GLD highly encourages having a cocktail along on the tour. It helps you pay attention. Since the Kinnickinnic Whiskey was back in stock (they were completely drained last time) I led off with a simple Whiskey Sour. I have no idea what the Lady Friend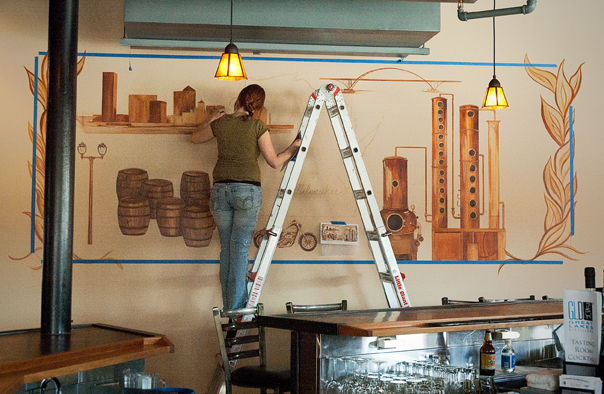 went with, though I suspect it had grapefruit juice. There are a number of cocktails available across most of their spirit lineup for about $5-$7 if I recall, though they might make you one off-menu if you're super nice and they know how to make it. Michael led off as our tour guide this time, and the Lady Friend and I, along with one older couple, grabbed our drinks and headed down the stairs to the production floor.




I hate saying "this is where the magic happens" but a lot of good stuff is born here.


First, the history. GLD was officially started back in 2004 by a video-tech guy named, well, Guy. Guy Rehorst. He realized that there were NO distilleries in the state of Wisconsin, so he started his own. Due to licensing, permits, and just building the place, it took until October of 2006 to get their first bottle out the door (it was vodka). Since GLD began, eight more distilleries have sprung up in Wisconsin, with eleven more on the way. The craft distillery market is starting the same sort of building boom that craft beer had about 10-15 years ago, and currently they're growing at the rate of about one new distillery in the US every month. By 2015, it's projected that there will be 500 distilleries in the country, which means like craft beer, there's going to be a lot more choices on the shelves. Which is awesome.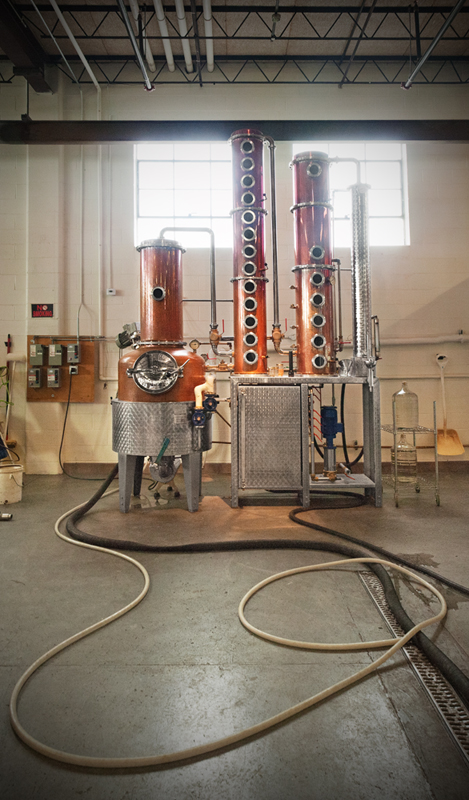 Distilling itself is fairly simple. You take, well, ANYTHING that ferments, and boil it. Alcohol has a lower boiling point than water, so the alcohol turns to vapor. Then you cool and condense it back down into a liquid, and you've got booze. Probably some pretty rough and firey stuff, but still booze. As Michael said "A child could do it. It's also a felony." Depending on what you make, there are at least a few rules in place. Vodka must be distilled at a minimum of 95% abv (right out of the still… it gets diluted down to usually about 40% abv/ 80 proof). Whiskey must be made from 100% cereal grain (wheat, rye, barley, corn… you get the picture). Brandy must be made from 100% fermented fruit (usually grapes, but also apple, pear, peach, cherry… lots of choices). Gin must have juniper berries in it somewhere. Rum must be made from 100% sugar cane (cane sugar or molasses).
Once you've got your spirit, sometimes you need to age it. For that you need a bonded warehouse, as described in my Ryan & Wood Distillery post. The government technically owns this part of your distillery, and you have to pay them excise tax when you take liquor out of there. It costs GLD about $3 per bottle to take their own liquor out of the warehouse to sell. This factors in to "you get what you pay for" when it comes to cheap booze. If a bottle of cheap vodka costs $6, you know $3 is automatically going towards the government for excise tax. Another $1 goes to distribution costs, another $1 to the retailer, and prob about $1.50 for the cost of the bottle. What's left for the cost of actual ingredients? (Actually, in this scenario, it adds up to -50 cents.) The point is, a lot of smaller, craft distilleries have higher prices due to better ingredients, among other overhead costs, and the government always gets their cut.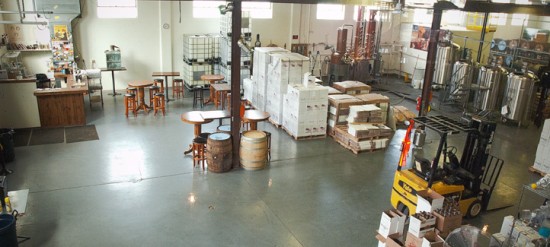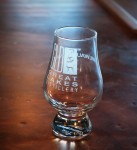 Now that we know how to make booze (and pay the government to make it nice and legal) it was time to go taste the stuff. Since there were only four of us in the tour, we went back upstairs to one of the tables in the tasting room. Michael went through each spirit, and we got a pour in a nice little Glencairn tasting glass, a very classy touch. We tasted the year-round spirits, though there are several smaller batches produced, including a unique Pumpkin Spirit, made from Lakefront Brewery's Pumpkin Lager, and a line of brandies (Grappa, Kirschwasser, Pear/ Eau-de-vie, and Apple).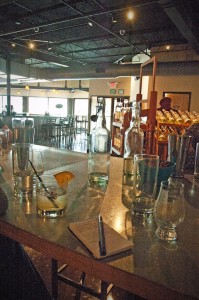 Rehorst Premium Milwaukee Vodka Red Wheat Vodka
Nose: Sweetish. Medium heat in the nose. Very neutral.
Taste: Medium heat in the taste. Good mouthfeel with decent smoothness. Neutral and pleasing.
Rehorst Premium Milwaukee Citrus & Honey Vodka Flavored Vodka
I hesitate to call this "flavored vodka" due to the mess of cotton candy, blue raspberry, whipped cream, and other silly flavored vodkas out there. This one is made with actual lemons (the distillery staff gets to zest endless piles of lemons by hand) and Wisconsin-sourced honey. GLD actually distills the flavors together, rather than simply adding them to the spirit. No sugar is added after distillation.
Nose: Lemon Pledge and honey sweet. Very aromatic.
Taste: A tad hot, but perfectly nice. Sickly lemon, like cleaning fluid. Not overly sweet.
Rehorst Premium Milwaukee Gin "Milwaukee Gin"
GLD thinks that their gin doesn't fit into either the London Dry or Dutch Genever categories, and calls it simply "Milwaukee Gin." They use a very mild juniper berry, and add cinnamon, anise seed, coriander, orange peel, lemon peel, Saigon cassis, cardamon into their botanical mix. Then the twist: sweet basil, and Wisconsin ginseng. I think it's an excellent gin. You can read more about my thoughts here.
Nose: Mild pine, sweet spruce. Sugary pine smell, with a mildly hot nose.
Taste: Sweet pine, with spiciness. Very nice. Has a little zing to it, but in an interesting way.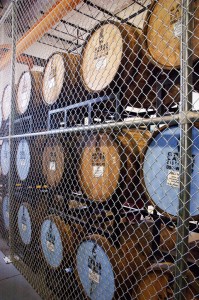 Kinnickinnic Whiskey Blended Whiskey
The Ojibwe word "Kinnickinnic" means "mixed" or "blended" usually referring to tobacco, but in this case is a blended whiskey made from a straight bourbon, and a 4-year-old malt whiskey produced at the distillery. They were out of this on my last visit, but Guy was incredibly gracious and got his last bottle out of his car to give us a taste. Since then, they bottled another batch, so I got another taste this time around.
Nose: Hot alcohol on the nose (it's 86 proof and unfiltered). Mild sweet bourbon lingers below the heat.
Taste: Hot, with a slight spice. Rye? Smooth vanilla from the aging. Very Scotch-like, but lighter like an Irish whiskey.
Roaring Dan's Rum Maple Rum
All rums need a pirate mascot, and GLD's is no exception. "Roaring" Dan Seavey was a pirate on the Great Lakes with all kinds of adventurous shenanigans. The color varies batch-to-batch, as it's a single barrel product (they don't mix the barrels together). Wisconsin-sourced maple syrup used, and bottled at 90 proof. This was the first bottle I bought from GLD.
Nose: Sweet, sugar maple. Hot in the nose. Sugar cookies.
Taste: Warm burn, then sweet maple washes over. Finishes hot and alcoholic, which keeps it from getting overly-sweet. Yum.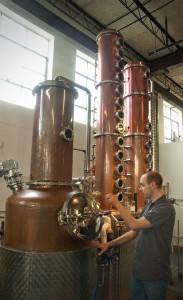 Amerique 1912 Absinthe
GLD is one of the few domestic distilleries I can think of that makes an absinthe. I won't get into the troubled history of the spirit here, but it was banned in the US in 1912 for various reasons, and has started to make a comeback with legalizations and the cocktail craze. It's an interesting liquor, with a crazy story, and GLD makes two versions: Verte (green) and Rouge (red). I brought back a bottle of the Rouge after this trip.
Absinthe Verte (diluted with water, no added sugar)
All-natural color from chlorophyll.
Nose: Licorice. Black Twizzlers. The Lady Friend recalls Good n' Plenty. A lingering sweetness.
Taste: Very pleasant. Anise taste, but drinkable after the louche. Very light alcohol kick.
Absinthe Rouge (diluted with water, no added sugar)
All-natural color from hibiscus.
Nose: Sambuca-like anise aroma. Hot alcohol, but with much more sweetness.
Taste: Licorice, but much sweeter. Almost a touch spicy. Very nice, if you like licorice (I don't). Very drinkable even if you don't particularly like anise flavor. It impressed me enough to buy a bottle.
BONUS!
Guy had suggested that we try their new Apple Brandy, though it wasn't on the tasting. We went over to the bar and Michael totally hooked us up with a sample.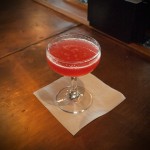 Apple Brandy
Made from 100% Wisconsin-sourced Heirloom apples. Spends 3 years in aged bourbon barrels so that GLD can "put bold flavors in cups." Well said.
Nose: HOT alcohol nose with a tart apple aroma.
Taste: HOT. Sweet apple, obviously, but complex. There are layers of both sweet and tart that flow underneath. But this is one of the more alcoholic tasting of the spirits. Still, quite tasty. The Lady Friend even bought a bottle of it.
Then he made us a Jack Rose! And yes, GLD does make their own grenadine. I asked. The drink nosed a bit hot, more so than a Laird's applejack version, but had an amazing flavor. Very apple-y, with a tart cider start, sweet sugary mid and tasty clean apple finish. Wonderful.




Retail area where you can buy bottles and bottles of awesomeness.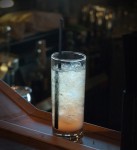 We spent the rest of the afternoon sitting at the bar, sipping cocktails, and chatting with owner Guy Rehorst, whom I had met on my last visit. He's a really nice guy, and will tell you basically anything you could want to know about the distillery, or just the industry in general. I've been a big fan of the spirits he's made for the past several years, and make it a point to stop by every time I'm in town. It's great to see a craft distillery making some great products. I like a lot of variety with my drinking, and largely gloss over the big brands, as I do with beer. Instead of Bud/ Miller/ Coors, the liquor industry has Pernod Ricard, Bacardi, and Diageo. Heavy hitters. The good news? GLD is in the works to enter the Massachusetts market, and hopes to be in Boston-area shelves by the end of the year. Keep an eye out for some more tasty choices. Highly recommended.