The Monday Hangover:
Other drink adventures of note from the weekend.


Well, given the holiday, our drinkventures actually started Wednesday night with a Very Special edition of our weekly Rule 37 drinks: Champagne Night! We made four different champagne inclusive cocktails with great success and a proper use of a value-priced bottle of sparkling wine.
The Lady Friend ventured up to Moo Hampsha for various family Thanksgiving shenanigans (apparently Squirrel Farts was a popular topic of discussion) and returned Friday afternoon in time for us to venture over to Bin Ends and their weekly beer tasting. This week was Sixpoint Brewery out of Brooklyn. We met @SaraSixpoint, the New England rep, who was pouring samples of the Sixpoint lineup. We tasted The Crisp (lager), Sweet Action (cream ale), Righteous Ale (rye ale), Bengali Tiger (IPA) and Diesel (hoppy stout). All were excellent, and the Lady Friend wound up buying a pack of the Diesel (they come in 4-packs of 16oz cans). We also scored some Cava (Spanish sparkling wine), some German sparkling, and a bottle of Hayman's Old Tom gin, partially because I've been looking for a bottle of Old Tom to try, and partly because it had a little black cat on the label. Old Tom gin was very popular in the 18th century, and is sweeter than the London Dry style (Beefeater, Tanqueray, Bombay). Because of its sweeter taste, it works better in a Tom Collins (no need for extra sugar) and has a smoother, rounder flavor. Later in the evening, I tried it with a Negroni, and it worked well, with a bit of a sweeter taste, as expected. The Lady Friend was intrigued enough to try a Tom Collins, and seemed to enjoy it, but then moved on to a Michael Collins (Tom Collins with Irish whiskey instead of gin).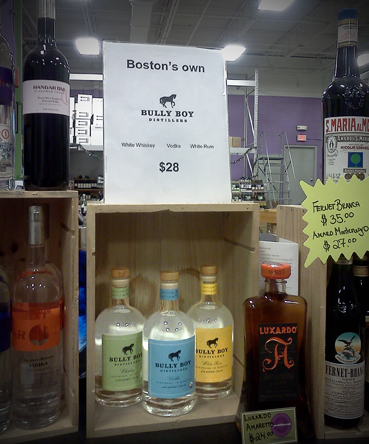 Also, Bin Ends now carries Bully Boy.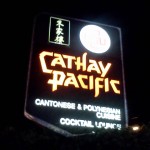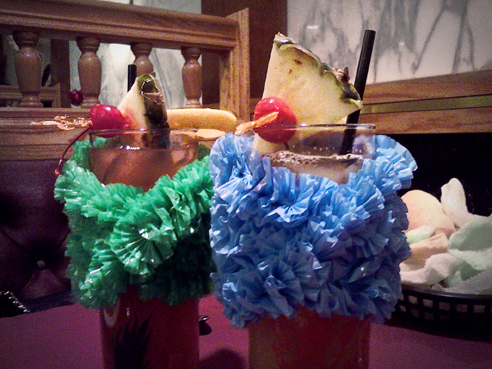 Before our ginventures, we hit up Cathay Pacific in Quincy for some Chinesey "Polynesian" food and, the main event, tiki drinks! While this place is no Kowloons, there aren't many other places around for tiki drinks. Plus, it's fantastically cheesy, and the karaoke bar is a sight to be seen. You have been warned. The drinks aren't the best in the world… they're what you'd expect from a place trapped in a time warp like this one: a bunch of fruit juice, sour mix and cheap rum. That said, they're still tasty and festive. The reviews on this place are pretty hit or miss, but I've never had a problem here. It's a bit pricey, but worth it for an occasional change of scenery. Plus, tiki drinks! I started with a Suffering Bastard then moved to a Fog Cutter, and enjoyed both. The Lady Friend went with a Navy Grog, which tasted like bubblegum, and closed with a Zombie. Apparently the one at Kowloon is much better, as she remarked that she had a buzz halfway through that one, whereas the Cathay Pacific version didn't do anything.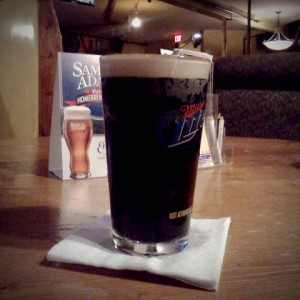 Since we were already out, we figured it'd be good to keep the ball rolling and headed over to the Fat Cat Restaurant in Quincy, which had been recommended to me by several people. Apparently they have fantastic Mac & Cheese and a cocktail list. Now that I look closer at it, they have some good beer offerings (including Boulder Beer's Mojo, one of my favs), but, as was pointed out by the Lady Friend, all of their cocktails are vodka. FAIL. (Also, they misspelled "cocktail" on the menu. I don't think I'll be going there after all.) I managed to acquire the bestest parking space evar directly in front of the place, yet when we went it, it was jammed. All the space at the bar was taken up by people eating, so we couldn't even get near it. Screw that. Instead, we went down Hancock Street to The Half Door, an Irish pub, and ordered beers. I had a Guinness, since that's what you drink in an Irish pub, and the Lady Friend finally got to try a proper black and tan (half Guinness, half Bass pale ale), which she recently kept confusing with a Black Velvet (half Guinness, half champagne). Then it was back to SFHQ for the aforementioned gin cocktails and sleepy time.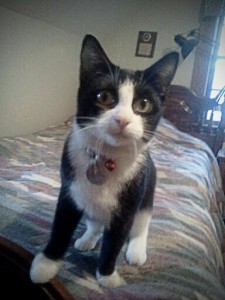 Caturday brought a trip to NH to hassle Monstro the cat and pick up Elsa's snow boots at the SF Homestead. The Lady Friend had a lunch in downtown Portsmouth with family, then we hoofed it over to her parents' house to see their new kitten, Maggie. This little furball was a bouncy ball of crazy, and was particularly interested in sitting near, then on, then beside, then IN my pizza box. Fortunately the slices were in my hand at the time, and she tentatively stretched out a little white paw trying to snag a taste of whatever deliciousness I was holding. None for you, moocher!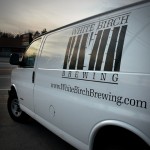 From there, we ventured over to Hooksett for a tasting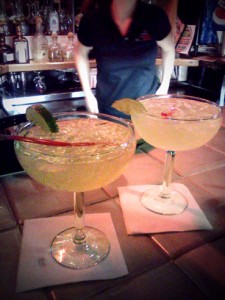 at White Birch Brewing (more on that later) and back down 93 to home base. By this time foodening was becoming necessary, and the Lady Friend chose La Paloma's in Quincy, where apparently she used to go quite frequently. Naturally, several margaritas were involved, though the prodigious use of sour mix really, well, soured the experience. Again, it was to be expected from this sort of place, and they were tasty, but not as good as El Serape in Weymouth Landing. But few places are. When I was taking a picture of the margs, I think the 21ish-year-old bartender thought I was trying to take sneaky pictures of HER. Sorry, not the case. I mean, what interest would I possibly have with a young, attractive female bartender? Um. I should stop talking.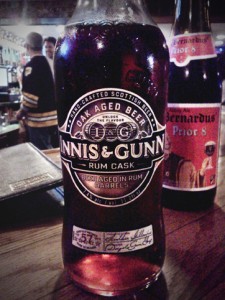 Anyway, the Lady Friend splurged on the ULTIMATE 'RITA which tasted pretty much the same as the others, except for a slightly increased orange flavor, apparently from the Patron Citronage. After a margarita of my own, I sipped on a Pacifico lager with dinner, and by the end of the meal, she was quite bouncy and raring to go, much like the kitten. So, we headed over to the Union Brewhouse to get another beer crossed off of our 99 bottle list. Mine: Innis & Gunn Oak Aged Rum Cask Scotch Ale. Tasted like caramel vanilla. A desert beer. Waaaaay sweet. The Lady Friend went with a St. Bernardus Prior 8 Belgian that tasted like wet rubber to me. I was not a fan. We sipped our respective beers, surrounded by the Bud Light swilling masses that frequent the Brewhouse, until finally returning home to SFHQ, for a Newcastle Brown nightcap. Roasty toasty with just enough malt. A lovely end.