With the success of last week's champagne (sparkling) themed post, I thought I'd keep the trend going and try another theme to our cocktails for this week. I kept bumping into recipes involving cream, so that seemed like a good excuse for a couple of drinks with a common ingredient. Cream features in many classic drinks, especially around the holidays. The Lady Friend assisted with some high-speed photography, and we got to work. Her drinks used light cream; I went for the full-bore heavy whipping cream. First up was her drink, the Agave Kiss.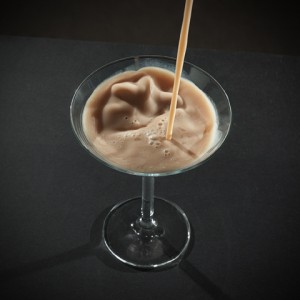 Agave Kiss
– 2 oz tequila
– 1 oz white crème de cacao (we used dark; didn't have the white)
– 1 oz cream
– 1/2 oz Chambord (we used Flag Hill raspberry liqueur)
Shake, strain, serve in a chilled cocktail glass. Garnish with raspberries. When using cream in a recipe, be sure to shake it extra hard to get a nice, frothy consistency.


This probably would have been prettier if we had the white crème de cacao. I only had the dark, which, combined with the cream, gave the drink an opaque tan color. This would be a theme throughout the rest of the drink selections. Taste-wise, it was pretty good. The tequila isn't too strong, but is in there, just subtly. I'm not big on tequila and usually find the Lady Friend's drinks a bit overpowering flavor-wise. Tequila doesn't always play nicely. This one was chocolaty, creamy, and had a nice raspberry finish. This WOULD be nice with a raspberry garnish, but we didn't have any on hand. The Lady Friend stated "I got tequila in my burp!" Such an elegant young woman.


My turn next. I went with a classic, the Brandy Alexander. It's a takeoff on an earlier version made with gin, and simply called the Alexander. The brandy version makes a very nice dessert drink or nightcap.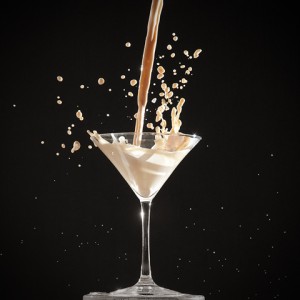 Brandy Alexander
– 1 oz brandy/cognac
– 1 oz crème de cacao
– 1 oz cream
– dust with nutmeg
Shake nice and hard, especially if using a heavy cream. Strain and serve in a cocktail glass.


This was absurdly tasty. My wobbly notes from that night read "OooooOOOOOoooohhhh so good. Creamy like a chocolate milkshake. With booze. AWESOME. WANT MORS." Apparently, I enjoyed it. It really did taste like a chocolate milkshake with a hint of booze. I made a triple batch to have extra for photographic purposes, but we didn't spill nearly as much as I expected, so I wound up drinking two and a half of these. Very tasty, but that brandy lurks under the surface waiting to sneak up on you. It's a classic. Here's the master, Chris McMillian to show you how (with two other cream drinks).





By the way, if you haven't seen his elaborately prepared version of the mint julep,
it's well worth watching. Check it out
here.


While I was slurping the last bits of foamy creamy goodness from my cocktail glass, the Lady Friend started in on her next tipple, the Parisian Blonde. I found this one long ago on Modern Drunkard Magazine, but she, being a Francophile, had to try it for herself.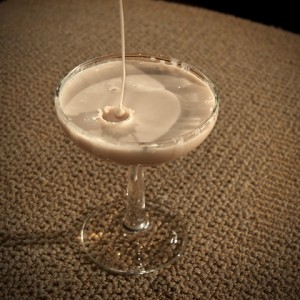 Parisian Blonde
From Modern Drunkard Magazine's Concerned Cad archives: "Another fine trick is to tell the patron on the next bar stool that you will introduce him to a blonde from Paris if he buys you a drink. If he agrees, and he probably will, tell the bartender to put this one together. (Don't tell him the name, it tends to spoil the fun.)"

– 1 oz gin (Bombay London Dry)
– 1 oz dry vermouth
– 1/4 oz creme de cassis
– 2 oz cream
"Shake with ice, strain into a cocktail glass and serve.
Accept the drink, salute your benefactor then drink it down like there's a fire in your belly. When he asks when he can meet the French blonde, give him an odd look and say, 'You just did, chum. She liked me better.' Once again, run, do not walk, to the nearest exit."


This quite amused me, and I've wanted to try the recipe for a long time, but never got around to it. The Lady Friend HAD to beat me to it, and here's what she got after taking a slurp:
"UGH. I HATE that drink."
"I want a redo."
"I refuse very few, but that's not for me and it's not worth drinking."
"This is the first Rule 37 where I'm done with one sip."
"Chalky."
"All of the bad points of cassis."
"It just doesn't highlight cassis. If you have cassis in a Diablo or white wine it's like a partner. But this brings out the bad qualities of cassis. I want another [different] drink! I'm done with cream!"
I tasted it and, sure enough, it's waaaay creamy. The other flavors get lost. We even used the light cream with this one. There's a hint of floral taste, but it's buried under the dairy. Just too much.
The Parisian Blonde did it for us, and after dumping it we went back to old standbys; a margarita for she and a beer for me. Two out of three is good enough. Now what am I going to do with the rest of this cream?