Rule 37 Bonus Round: Champagne!
Well, sparkling wine.
The Lady Friend had acquired a quite economically priced bottle of Australian De Bortoli Sparkling Brut (Family Selection) from Bin Ends, on our last visit. Perfect for mixing cocktails. So we did, for a Very Special Wednesday Cocktail Night.
I started with a Spritz! which is a happy little word that requires an exclamation point to follow it.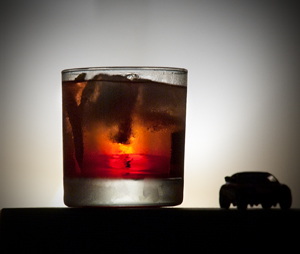 Spritz!
– 1 1/2 oz Campari
– Prosecco (I used the sparkling we had on hand. Didn't have any Prosecco)
Um. It's pretty simple. Dump the Campari into a rocks/old fashioned glass over ice and top with the sparkling. I used a flamed orange peel rather than the suggested orange slice.




I got the recipe from one of the blogs I follow, the Savoy Stomp, which used to be called the Underhill Lounge. The author took a trip to Italy, the land of Campari, and did a few posts about it. This one happened to catch my eye. You can watch a video of him making it (along with an Americano) on his site here: What I Learned in Italy (Part 3).
As for the taste… Wowsers! It's like they're fighting in my mouth. The bitter Campari and the sweet wine are rastlin, and there's no telling who is going to win. Certainly an interesting drink, and one worth trying. If you're not a Campari fan, the sparkling helps take the edge off, though if you ARE a fan, there's still plenty of flavor.


The Lady Friend arrived at SFHQ about 45 mins earlier than expected, so instead of finding me washing the dishes, she walked in to me sitting on the couch snacking on some BBQ chips. While I then attended to sorting out the kitchen, she started off with a Saranac Chocolate Lager and wanted to try one of those Manhattan things I'm always drinking. She's not really used to the boozy cocktails, so I started her off with a lighter whiskey, Redbreast, instead of my preferred rye. Redbreast is a pot-distilled Irish whiskey (one of the only pot-distilled ones left) and the bottle was a gift from the Irish Lad and Wifey last year after I completed my black belt test. It's quite good… much better than many standard Irish offerings, and I really don't use it enough. The Lady Friend is getting interested in the difference between bitters, and the Manhattan is a good showcase. She got Angostura with this one. Finishing that, she moved on to her Rule 37 cocktail, the Long Hello.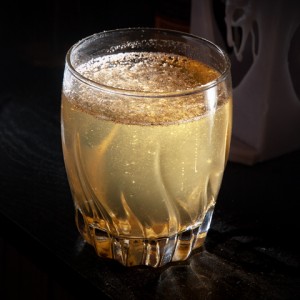 The Long Hello
– 3/4oz apple brandy (Laird's Applejack)
– 3/4oz St Germain
– 1 dash Fee Bros Whiskey Barrel Aged bitters
– Champagne to top
– Grated nutmeg garnish
Shake the brandy, St. Germain, and bitters, and strain into a cocktail glass. Top with champagne. Dust grated nutmeg over the top as garnish.
Apparently, she liked it, claiming it was "by far the most fall drink we've had, and besides the Bourbon Bramble, it's my favorite this fall." Ok then. Simple enough. I did manage to find whole nutmeg (turns out it IS in the spice aisle) and I think that helped the flavor quite a bit.
Onto my next drink.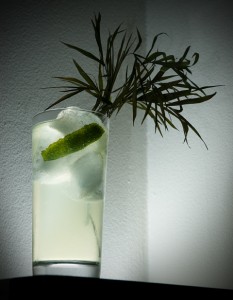 The Typhoon
– 1oz gin (Bombay)
– Dash of Pernod
– 1/2oz fresh lime juice
– 4oz (top) champagne
– Lime Twist garnish
Shake the first three ingredients and strain into a cocktail flute. Top with champagne. Garnish with a lime twist.
I found it was a bit more liquid than expected, so I used a collins glass. The Lady Friend found this recipe somewhere, and it came with this bit of info: "At first glance, this cocktail may seem elegant and refined, but within the bubbly is a monsoon of flavors and a potency that suggests you hang on to that palm tree before you have another." Strap yourselves in, we're in for some chop.
Taste: Whoa. Strange. Definitely a tart lime taste, and a whole buncha licorice. I think I added more than a "dash" of Pernod. It was more like a splash. Sparkling adds a bubbly bite to the whole deal. Really interesting.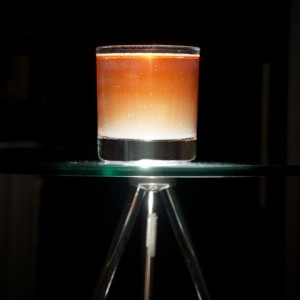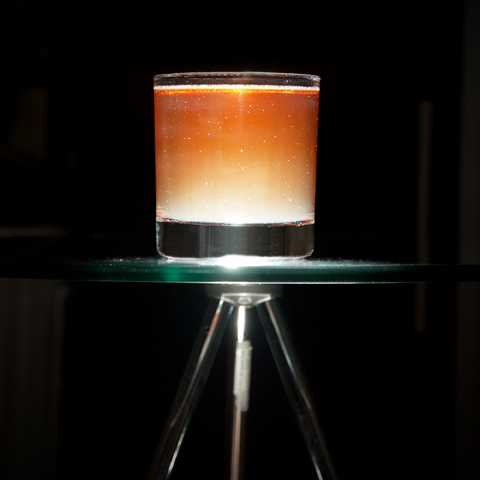 The French Revolution
From Gary Regan's "The Bartender's Bible"
– 2oz brandy
– 1/2oz framboise (Flag Hill raspberry liqueur)
– Top w Champagne
This one was for the Lady Friend. I believe this one was simply built in the glass. She made it, so I didn't see what happened. Dump in the brandy and framboise, top with champagne and give it a stir. [UPDATE: The book says to stir the brandy and framboise in a mixing glass with ice, then strain into a champagne flute and add the wine.] The Francophile in her couldn't resist the name, or an excuse to use her raspberry liqueur. I think we were watching some episodes of It's Always Sunny in Philadelphia by this point, so I didn't hear how the drink tasted.


There you go. Four new recipes to try with a bottle of sparkling. Have at it.