Yup. Still Friday.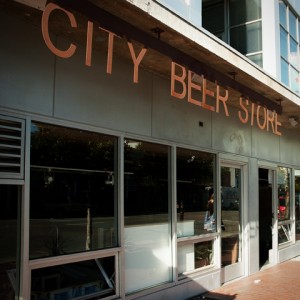 So, we hit Magnolia for a delicious lunch and tasty beers, then the Alembic for a superb cocktail. With Ke$shia Ho joining in, we were off to the City Beer Store. It's a beer store. In the city. BUT, (important detail) they also have a BAR, so you can drink while you shop. It also means you could sample something before deciding to buy a bottle. Or, you can enjoy your newly-purchased bottle right there. ! ! ! Why. Don't we have this. In Boston. Question mark. I mean, besides the fact that they're so puritanical and immature that they won't even allow happy hour here. But, we were in SFO, and in a beer store, so there were no thoughts of Assachusetts except choosing what I was going to bring back with me. Good stuff on tap too… Dogfish Head 120, Stone Double Bastard, Russian River Pliny the Elder… things like THAT. ON TAP.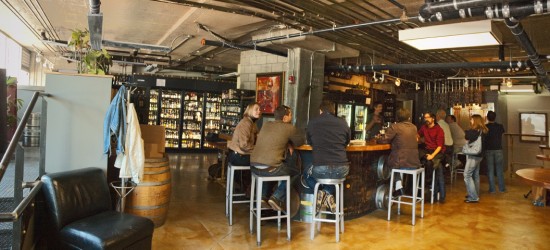 Part industrial basement, part craft beer wonderland.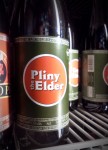 So, while the Lady Friend and Ke$hia chatted and sipped on some Pliny the Elder (yes east coast… they had Pliny ON TAP) I was let loose in the store to browse the hundreds and hundreds of craft beer bombers. Apparently, City Beer had just completed a renovation, but as it's kind of concrete-and-beam place to begin with, it didn't make much difference to me. I guess they went through a much-needed expansion to make room for more beer. I spent about 20 minutes just browsing before enlisting the help of Stephanie, the clerk who was way too helpful. I pitched it to her as "Ok, pretend you're from the east coast. You can't get many of these beers there, so where should I start?" to which she replied, "Uh, I AM from the east coast, originally." I forget where, but I want to say it was one of the Carolinas. So, we set about playing a beer scavenger hunt of sorts. They had tons of Russian River's Pliny the Elder, a legendary dIPA and a beer I was specifically going to obtain, as well as a selection of their Blind Pig IPA. I had never SEEN these beers before; I had only read about them. Joyous.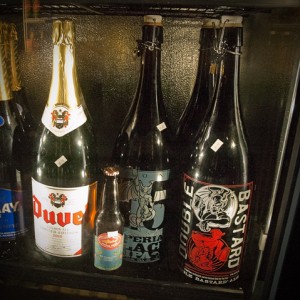 Among the other selections were beers from New Zealand (Epic Brewing) and Alaska (Midnight Sun Brewing), and some more familiar Ballast Point, though I had never seen their Sculpin IPA around Boston before. Stephanie suggested some beers from Alpine Beer Company outside of San Diego. She said they got several cases in the day before, and it was flying off the shelves, so grab some now. I grabbed some because I didn't expect to ever see it again. The Nelson golden IPA was delish, and I have yet to try the bottle of Pure Hoppiness. They also had some IMMENSE bottles of beer, at 3+ quarts (96+ oz), which I didn't know existed, with a Grolsch-style cap and a $90 price tag. For a sense of scale, that's a normal 12oz Dogfish Head in between some Andre the Giant bottles of Duvel and Stone. I have no idea what the size of that bottle is called, but I'm going to call it "A Juggernaut," as in "barkeep, bring me your finest Juggernaut of ale, post haste!"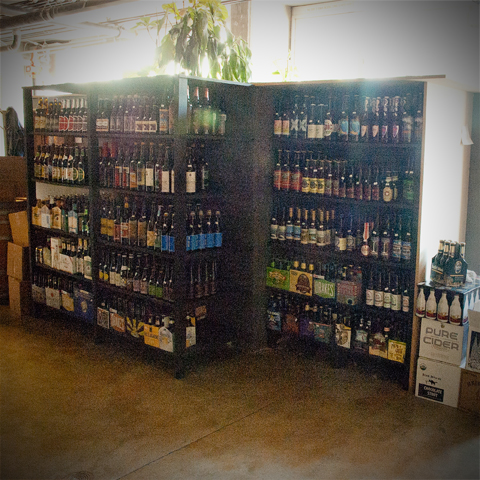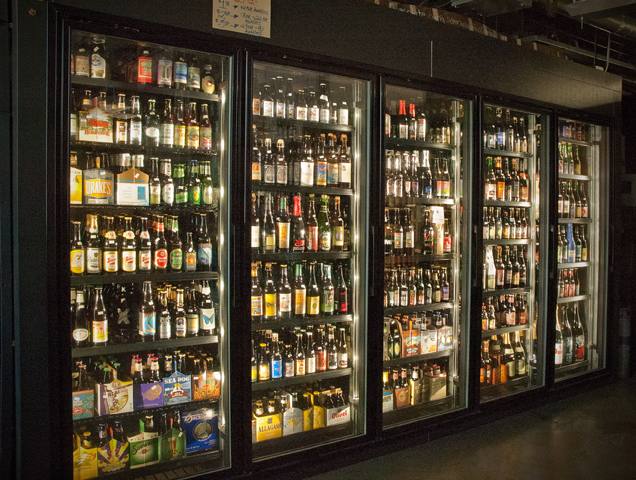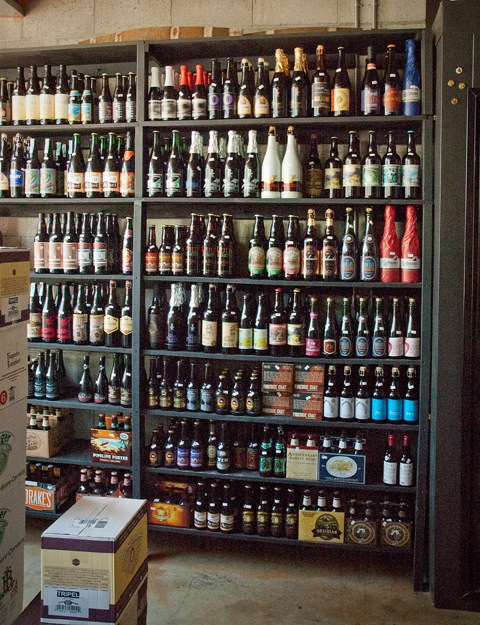 Once the selections were finally made, Stephanie rang up the total, and I packed them for shipping, which was an adventure in itself, though all eventually arrived safe and intact. Precious cargo.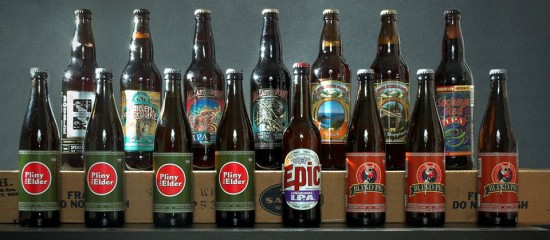 Precious cargo indeed.


With the grand beer acquisition completed, Ke$hia drove us downtown to her bar, Blu Restaurant,(apparently there's one in Boston too) as she was starting her shift. Blu has a very open feeling, with floor-to-ceiling windows overlooking Market Street. When we were there around 5, the sunlight was streaming in the windows with an orange glow, offsetting the dark, glossy, marble bar. We plunked down at the end of the bar and Ke$hia poured us a Speakeasy Big Daddy IPA. It had a slight hoppy nose, with an equally slight hoppy bitter taste up front, but then delved into a nutty, almost peanut flavor. Quite odd, but pretty good. From there, we actually squeezed in a Rule 37 cocktail, an original by Ke$hia, The French Blues.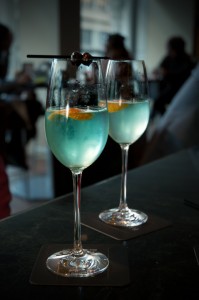 The French Blues
– 2 oz gin (Bombay Sapphire)
– 1/2 oz lime juice
– 1/2 oz simple syrup
– small handful of fresh blueberries
– sink 1/2 oz blue curaçao
– flamed orange peel garnish
– fresh blueberry garnish
– champagne to top
Lightly muddle the blueberries in a mixing glass and pour in gin, lime juice and simple syrup. Shake and strain into a champagne flute. Sink (opposite of a float) blue curaçao to bottom of glass and top with champagne. Garnish with flamed orange peel and blueberries.
So, with the gin, lime, simple syrup and champagne, it's a relative to the French 75, using lime instead of lemon. The blueberries add an interesting element, but not much flavor. Overall, I found it decently boozy from the amount of gin dumped in, but otherwise nice. I think the ratios could use a little tweaking to bring it into balance, and wind up with something interesting. The elements of the curaçao and flamed orange add even more citrus into the mix. You could even do a his & hers pairing by making a blue one as shown and a pink version using Chambord or other liqueur in place of the curaçao, and perhaps a raspberry garnish.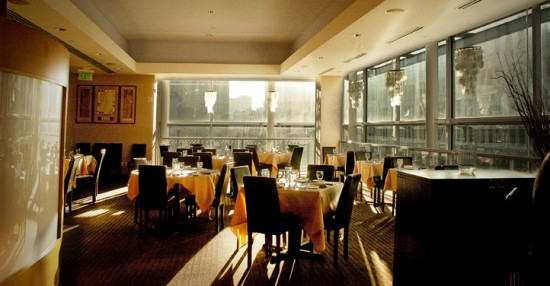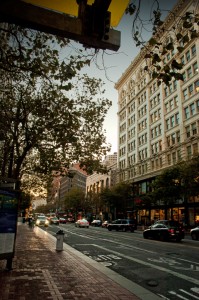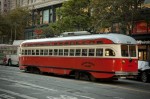 The drinks were tasty, but we had to run to meet JJ and her husband for dinner at a deep dish pizza restaurant called Paxti's, apparently pronouced "Pah-chees" (yes, we went to SFO and had Chicago-style pizza). Here our troubles began. We got on the right bus, but in the wrong direction, which took us on a half hour sightseeing detour only to wind up exactly where we started. After another 20 or so minutes of travel in the correction direction, we speedwalked the two blocks from the bus stop to the restaurant. During all of this, the Lady Friend got increasingly distraught about being late, causing JJ to hate her forever, or something like that, and suffered a mini-meltdown on our quest. It would have been fun to yell "get a hold of yourself, soldier!" and pull a Patton, but I'm secretly a nice guy, despite what you read. After regrouping, we arrived at the restaurant, looking about in confusion, as JJ was nowhere to be found. Patxi's? Yeah, they have several locations. We were at Hayes Street, JJ was at Fillmore, 2 miles away. The Lady Friend looked like she was going to curl up on the curb and stay there forever, but I could only laugh at the absurdity of the whole thing.
We hailed a cab and sped over to the correct Paxti's encountering some of the steepest hills I've seen on the way. Seriously, who decided to put a city here? It's no joke. Upon arriving, we found JJ and husband, who were no worse for wear, had ordered a couple pizzas while waiting for us so that it would come out of the oven promptly. The Lady Friend calmed down enough to order a Bear Republic Racer 5 IPA (on tap!) and I had a Lost Coast Downtown Brown, which was roasty-toasty and delicious. The pizza arrived and was A-MAZ-ING. Seriously, go there. It was everything deep dish should be, and really made me realize that there's a distinct lack of decent deep dish in Boston.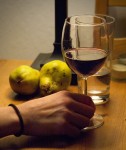 After stuffing ourselves to the gills, we caught a (correct) bus back to the apartment. I thought we might rally and hit up another place, since it was only 8pm, but once JJ pulled the cork on a bottle of wine, the dread settled in that this was the end of the night. I should have struck out on my own to find some local establishments distributing intoxicating liquids, but instead sat there and listened to the two hens clucking about everything under the sun. Le sigh. Really really should have gone exploring. And by exploring I mean drinking. Because the next day was the dreaded wine day, and it would be a long one.