I'll try to break these up a bit more for readability and sanity. Mostly my sanity.


Also, we've just gotten to Friday morning, so Sissy, you're going to have to hold tight.
We'll get to your part.
Eventually.
Maybe.



Friday's first booze stop and lunch destination was the Magnolia Pub and Brewery, which, from the reviews I'd read, was highly recommended for both their food and beers. We hoofed it through the little "Panhandle" park and uphill to the corner of Haight and Masonic, dangerously close to Hippieville. However, it was around 11 or so, and the flower children weren't out in full force yet, though a couple street urchins lounged about on the sidewalks nearby.
Once inside, we found refuge from the great unwashed hordes lurking on the streets, and discovered a rather aged decorating scheme to the pub. Antique patina-ed mirrors, a mosaic tiled floor, dubiously murky ceiling stains, chalkboard menus and lots of dark, heavy wood create an old-timey steampunk vibe that was a refreshing change from the shiny new brewpubs that lack the charm of their time-ravaged brethren.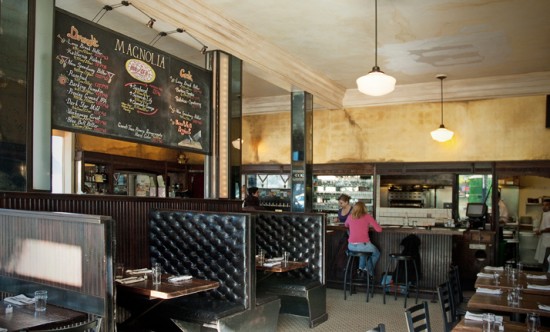 Pictured: character.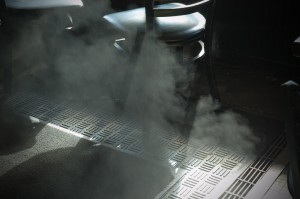 Two things immediately hit us in the face when we walked in: steam, and the overpowering smell of barley malt. The temperature in the place had to be at least 75°, which felt tropical compared to the crisp autumn climate outside and entirely fogging the windows. If there were any doubts about this place being the real deal, the boiling wort under the floor made a persuasive argument. We sat at the bar and ordered a couple beer samplers from the bartender, Sal, who was extremely friendly, and looked like he was Zach Braff's cousin. There were nine house-brewed beers on draft that day, so the Lady Friend and I split the list to get a taste of each. The flight includes six beers of your choice, which come in a unique, triangular-shaped, wooden tray of sorts, and your selections are thoughtfully written down on a little postcard. There were some interesting brews here, outside of the standard pale ale/ IPA/ stout offerings of most brewers.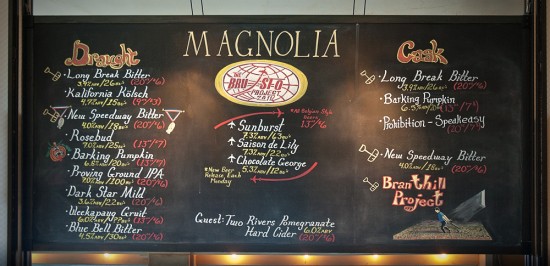 Plus, they've won some medals. BEER medals.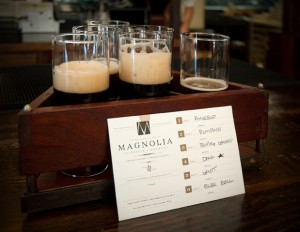 Rosebud Belgian Ale
Nose: Similar to my bottle of Meletti Amaro. Sweet, with some eucalyptus and menthol.
Taste: Fizzy, carbonic bite. Mild, soothing flavor. A little cinnamon, a little wheat. Sweet.
Barking Pumpkin Pumpkin Ale
Poured VERY dark, almost like a stout. Very dark ale.
Nose: Pumpkin spicy with a roast quality. A sickly sweet roast that the Lady Friend pegged as "pecan pie." Molasses.
Taste: Pumpkin spice start, eases to a bitter roasted bite in the middle.
Proving Ground IPA
100 IBU! Hopped with Simcoe, Stirling, Cascade and Washington.
Nose: Lovely hop! Citrusy sweetness.
Taste: Bitter, then sweet, then bitter, then sweet. A hectic jumbled start, eases to a resinous grapefruit bitter that lingers. Frenzied and awesome.
Dark Star Mild
Nose: English style malty bitter, like an English bitter ale. Roasted with some slight chocolate underneath.
Taste: BITTER roast on tongue. A strange sweetness I couldn't put my finger on. Not milky, but some vanilla, with a mocha coffee finish. Couldn't quite pin down that sweetness though. Intriguing.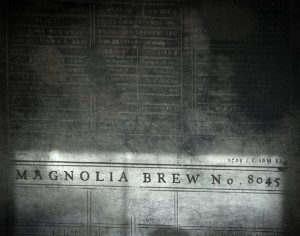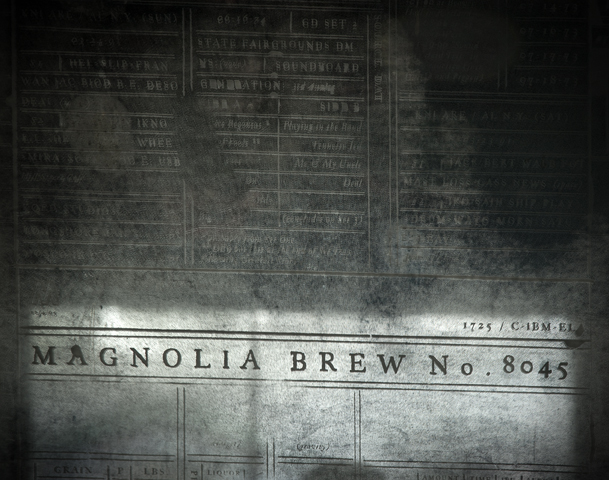 Weekapaug Gruit
Had to ask about this one… a gruit is an herbal mixture for bittering beer without using hops. This one contained yarrow, rosemary, chamomile and anise.
Nose: Herbal. Eye-opening. Again, eucalyptus and cough medicine, as in an amaro. Roasted malt underneath.
Taste: Sweet. Herbal succulent. Lady Friend got potpourri, while I went with amaro, and Sal agreed with me on this. Very strange, and would be a good digestif. Don't know that I would enjoy a whole pint, but very glad I tasted this one.
Blue Bell Bitter
Nose: No discernible nose. SLIGHT cereal sweet, though there was quite a bit of barley aroma in the air which made our nosing rather difficult. The tall highball style glasses helped funnel some scent out of the beers, but even with a good swirl, I couldn't get anything out of this one.
Taste: Nice hop bitter start. Eases to a watery malt wash. Nice and mild. Very drinkable.
She-beers:
There was a bit of overlap in the lists, and we both had the Rosebud, Barking Pumpkin and Proving Ground IPA. These are the other three that were in the Lady Friend's flight.
Long Break Bitter
Nose: Nice citrus hop. Lady Friend got some apple. Poured with a nice yellow straw color.
Taste: Mild hop bite. Carbonic. Clean. Light and refreshing with a hint of lemon.
New Speedway Bitter
Nose: Sweet. Light barley – not like a heavy malt aroma. Cereal grain, fruit.
Taste: Cereal sweet. None of the heavy malt syrup.
Kalifornia Kölsch
Nose: Cereal sweet. Typical Kölsch, with a slight pils staleness.
Taste: Slight sharp bitter, but otherwise light and clean.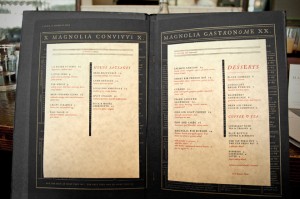 Somewhere in the midst of our tasting, we perused the menu, which was very artfully designed and crafted. Seriously, it was really nice, without being over the top. Totally fit with the rest of the aesthetic of the pub… an elegant vintage style with a patina of dust and years of service. The menu fare itself was apparently brand new, as they had recently changed their food offerings. I delighted in a fried chicken sandwich, which was moist, lightly fried and tasty, served on a soft, fresh baguette (we literally saw the bread guy carrying in bags of baguettes) with gooey melted cheese and salty fries. It really was excellent. Fresh and delicious. They Lady Friend decided to test out the gastropub leanings of the place, ordering a grilled cheese made with goat cheese, mushrooms and kale.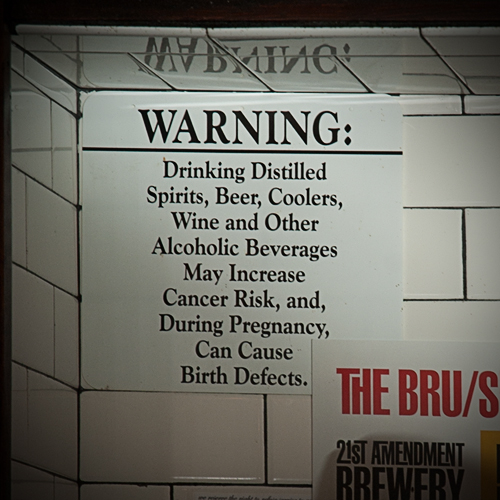 We both immensely enjoyed our meals, and eavesdropped on the bar staff's conversations involving one of the customers across the room. Apparently, the customer had ordered a Snakebite, which is a half-and-half concoction of lager and cider. There was a mild debate amongst the staff as to how to make it, with one of the servers arguing that it specifically had to be half pilsner. It was a moot point, as the bar won't even serve it. They will give you two beers and let you mix it yourself, but for reasons that weren't quite clear, they won't make it for you. It probably has been shown to cause cancer and birth defects, just like everything else in California. These stupid signs were in every bar, and I was surprised the next day when there wasn't a placard in the shower telling me that water increases the risk of drowning.
Silly regulations aside, Magnolia was fantastic. Of course, we were there for an early lunch, so I have no idea what the usual scene is like, on a Friday night for example. They really did live up to their gastropub claims, without being douchy about it. Our bartender Sal was very friendly and helpful, and unless they're pumping in fake steam and barley smell, it's a true brewpub. Go there.




Sidenote: For New Englanders, you CAN get a Snakebite at the Coat of Arms pub in downtown Portsmouth, NH. After you've had a few, go across the street to the infamous Gilley's and get some wonderfully greasy diner food served in an old dining cart.