This is Part Five of an ongoing series chronicling the Maine Beercation of late July, 2011. To start at Part One, click here.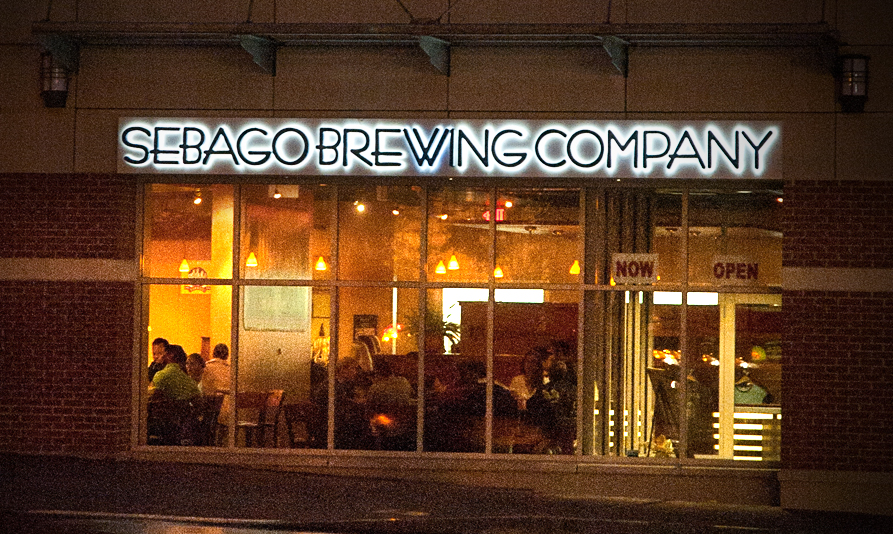 I say See-bay-go, you say See-bah-go


I had stopped by Sebago Brewpub a couple years ago while interviewing for a job in Portland. It was on the corner of Market and Middle streets right in the middle of downtown/Old Port, and looked the way a brewpub should… dark wood, a proper bar, fermenting tanks lurking behind glass along the side of the dining area. However, as Lady Friend and I discovered, they had moved to a new location, on Fore Street, several months ago. This… was a bit disappointing.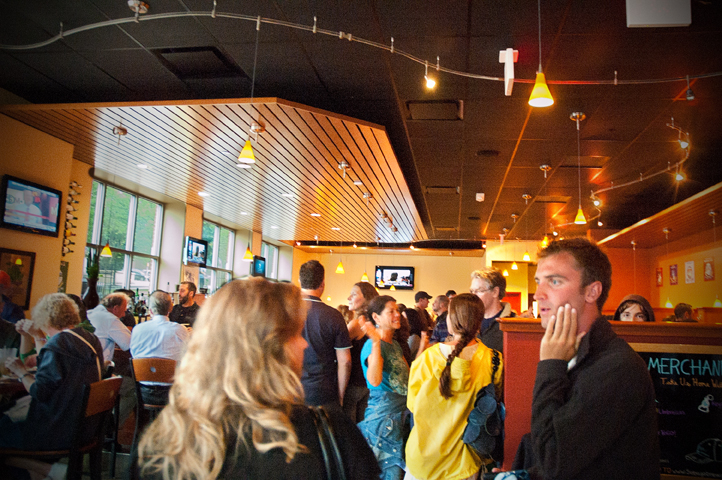 Um. Not very brewpubby.


Their new location is all shiny and new, with lighter wood, brightly painted walls, and silly track lighting. The dining sections take up the majority of the space, but there is a decently long bar. I'm guessing they were doing well enough to abandon the old location in favor of this space. Good for them. I'm not saying more business is bad; I'm just of the opinion that the old location had a lot more character, and this one looks too new and manufactured, like a Boston Beer Works. I know that Sebago has several locations, but this new space LOOKS like it's part of a chain.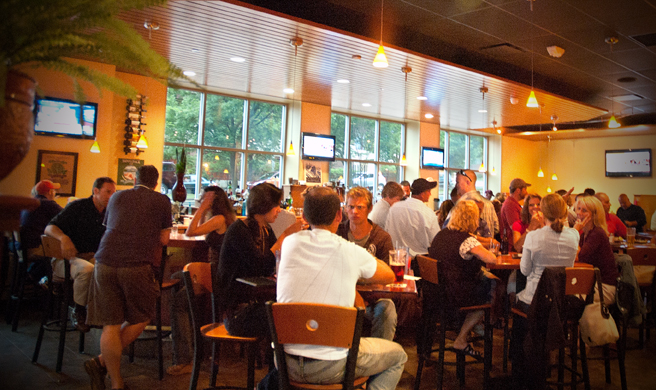 Is there a bar back there somewhere?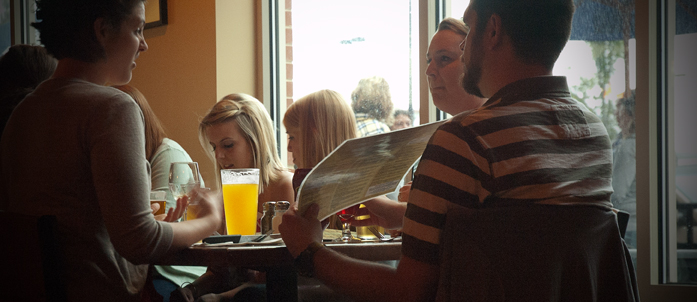 This was a bit disappointing, but I'll get over it. At least it means that business is good, and people are buying decent, local, craft beers, so I'll let it slide. We asked the hostess for a table for two, and she said it'd be an hour wait. Yikes. I mean, it was Friday night, and the place was hopping, as evidenced by the interior photos above. We put our names in and headed to the bar with the idea of having at least one beer, and bouncing to another place for food if we didn't feel like waiting. I spotted a breech in the wall of bodies at the bar and sent Lady Friend scooting over to secure a beachhead. I was staring at the taps, trying to decide what to order, when someone tapped me on the shoulder: it was Rob, the brewer from Gritty's I had met at lunchtime. We chatted a bit about who works where, and how everybody has worked for Shipyard Brewing at some point, and I ordered a Citra Hop IPA that was on tap, not part of the normal lineup. Lady Friend snagged a blueberry ale, and as we were paying for the drinks, the hostess came up and said a table was ready. It had been about five minutes of the original hour wait estimate. Cool. We hadn't understood why the wait was an hour in the first place, when we could see several empty tables.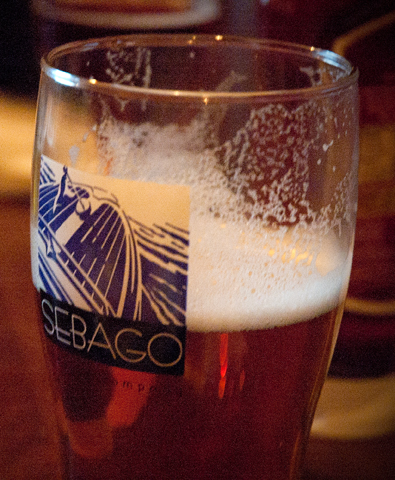 We sat and started to taste our drinks. My Citra Hop IPA nosed with floral hop and a citrus aroma. The taste smacked of apple/tree fruit, a bit more sharp and/or tart than Irish Lad's homebrew version, and drier. There was a smooth, malty undertone that didn't so much counteract the hop, but added a counter-melody, playing along with the predominately fruit/hop flavor. It was good. Her blueberry was tasty, without being too sweet. A lot of fruit-flavored beers tend to wind up tasting like a mild ale with fruit syrup flavoring dumped in. Sebago's version didn't seem to have that problem. Lady Friend really enjoyed it, saying it was her favorite blueberry beer that she's encountered so far.


We ordered dinner, and it was perfectly tasty. More importantly, we had to get a flight of beers for a tasting. There were five in a flight, decently sized at about 4 oz, and 10 varieties to choose from. Ours consisted of the five standard offerings: ale, IPA, brown ale, red ale and stout.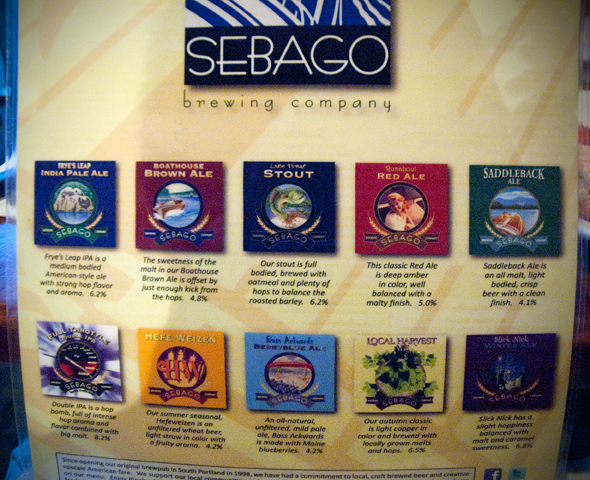 Saddleback Ale
Nose: Faint fruit/wheat. Faint.
Taste: Malt. Cereal grain with a touch of bitter.
Boathouse Brown Ale
Nose: Roasted and malty
Taste: Roasted and malty. (I know, very original). Sweet. Slight copper tang, but then finishes malt sweet.
Lake Trout Stout
Nose: Roast. Coffee beans.
Taste: Creamy mouthfeel. Bitter roast, but not unpleasant. Hint of vanilla sweetness. VERY good.
Runabout Red Ale
Nose: Very faint. Slight fruity malt, but hard to tell.
Taste: Starts fruity sweet, changes over to copper/metallic. Finishes copper bitter, but there is an interesting point in the middle of the taste when the sweetness starts to mix with the copper bitter. Unfortunately, the copper keeps going and leaves a sour taste after a nice transition.
Frye's Leap IPA
Nose: Floral hop with a sweetness behind it
Taste: Syrupy mouthfeel. Starts with hop bitter, finishes medicinal. Alcohol. Middle has tart apple, and a bit of earthy flavor. Terrible finish. Too harsh. Like the red ale, there's a lot of interest in the middle transitional flavors, but then gets ruined by a bad finish.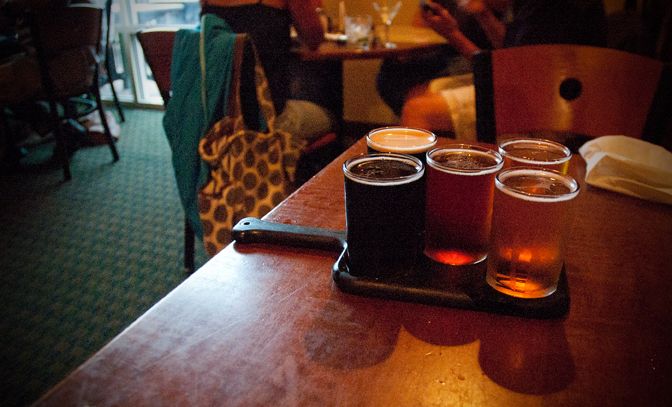 So, Sebago was a mixed bag. I miss the character of the old location, but if they're doing business well enough to open this new space, good for them. The food was good, standard burgers-and-fries type pub grub. The beers were tasty overall, with a few disappointing finishes. However, the Lake Trout Stout stood out as the clear winner in the batch we had… a nice roast, smooth mouthfeel and pleasant experience start to finish. Lady Friend saved half for an after dinner treat. I was horrified to see a table of four behind us with only one member drinking beer. There was actually some dbag drinking a martini. In a brewpub. I bet it was vodka.
Next up: Novare Res Bier Cafe