Modern Drunkard Magazine's articleThe 86 Rules of Boozing, by Frank Kelly Rich states:

Rule 37. Try one new drink each week.

The Rule 37 series of posts chronicle my attempts to accomplish this feat every week. For the recipes of R37s past, click the Htf do I make these drinks? tab.




Our normally serene cocktail night this week was usurped by a visit from the Irish Lad and Wifey. Natually, SFHQ was in a slovenly state of affairs, and needed some rigorous attention before accepting visitors into its depths. I had made my usual stop at the liquor store for some beer browsing (I didn't MEAN to buy anything! It just sort of happened!) and dashed over to the supermarket for some citrus fruits, which further cut into tidying time. The Lady Friend arrived, and we determined that our Rule 37 requirement would best be filled before the arrival of the guests. She had several printouts of cocktails that appealed to her (many seasonal ones), and we each chose one from her lists. Once the kitchen situation was sorted, she prepared hers: Berry Nutty on the Rocks – 1 oz whiskey, 1 oz amaretto, 1/2 cranberry juice, garnish with fresh cranberries (we didn't have any). Finally, after pushing the last of my junk into the closet to deal with at some unspecified time in the distant future, I prepared a quick photo set, and mixed my cocktail.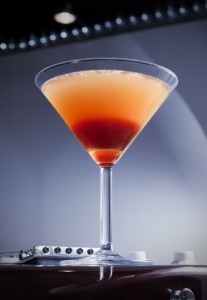 The Red Raider
– 1 oz bourbon (Knob Creek)
– 1/2 oz triple sec
– 1 oz fresh lemon juice
– 1 dash grenadine.
Shake over ice and strain into a cocktail glass.
I'd make up something witty, but there really isn't much about this one that lends itself to double entendres.






So, for a drink called the RED Raider, it turned out a rather pale orange hue. I helped that out with another generous dollop of grenadine for some color, which settled into tasty goo at the bottom of the glass. The drink in general tasted pretty mild… the bourbon was lost in the lemon, and there was a touch of the triple sec dry mouthfeel. I think some more bourbon would help this one out in the future, but the layer of grenadine at the end was certainly tasty.


With our cocktail requirements met, I switched over to a Negroni, and we entertained the visitors with further imbibitudness. Wifey started with a extremely-dirty vodka martini containing no less than four large olives, until I pointed out that an even number of olives is thought to be bad luck, at which time it became five. She then concocted a number of her "Wifey-ritas" composed mainly of pineapple juice, vodka, Malibu rum, and Bacchus knows what else. Like Narnia, you can't get there the same way twice. I think there was some mango juice involved at one point as well, though my maraschino cherry supply went unscathed. The rest of us switched over to beer, and started with a New Zealand lager, Steinlager Pure, I discovered earlier that day. From there we tasted a Monk's Cafe Flemish Sour, a Blue Hills Brewery OktoBraü, a Sly Fox Route 113 IPA, while Wifey raided the last of the Mike's lime and berry malt bevs stashed in the back of my fridge. Not a bad night of boozing.