Ok. So I'll admit that the cocktail end of these ramblings have turned mostly beer-centric with many brewery/ brewpub tours n' tastings.
But I'm running this show, and beer is tasty, so here's another brewery tour.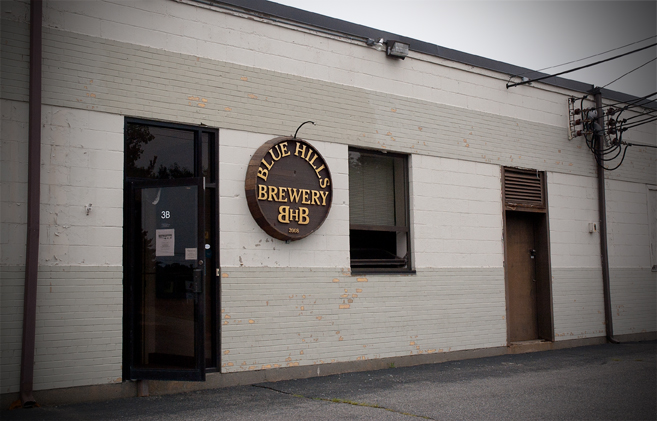 Another glittering brewery frontage.


Blue Hills Brewery is located in Canton, MA near the Blue Hills, which is 7,000 acres of conservation and recreation land, including the Great Blue Hill, which the Native Americans called "Massachusett." Very handy. Anyway, when you're going to the brewery, heads up: it's in a small industrial strip, and we drove right past it, despite the use of a GPS. Apparently, they HAD a sign that they put out on tasting days, but the town wanted to charge them a fee each time it was displayed. Nice.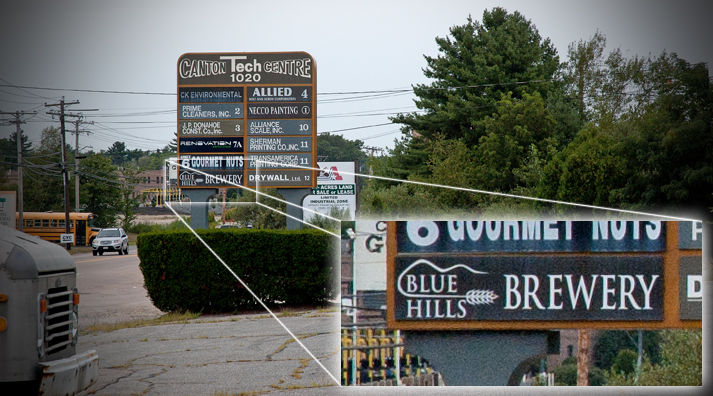 This is the current sign. Enlarged to show texture.
Once we found the brewery in the illustrious "Canton Tech Centre," we went in for a tasting, which is held 2-6p on Saturdays. The average crowd is typically anywhere from 25 to 100 visitors, and when the Lady Friend and I arrived there were several people finishing up. We hung back a few minutes before settling into their newly-vacated seats at the small bar. The owner/brewer, Andris Veidis, was pouring from bombers, so we started right in.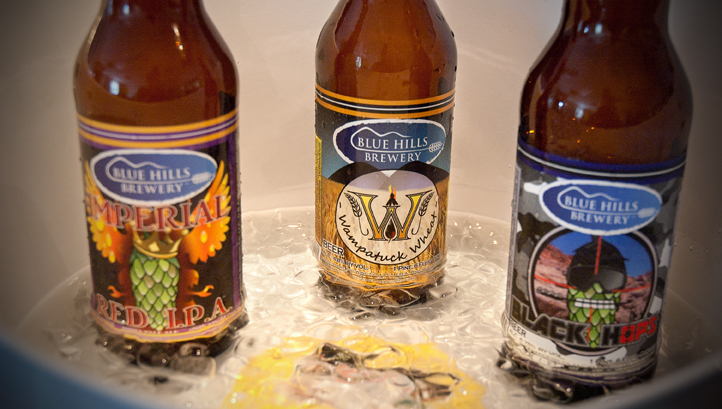 Shhhh little ones…. I'm not going to hurt you.
I'm just going to DRINK you.
Wampatuck Wheat
Nose: Wheat, with a slight lemony tinge.
Taste: Clean, refreshing taste with a touch of banana wheat. Nice, but not my fav.
Watermelon Wheat
Nose: Candy. Sweet bubble gum.
Taste: Fruity, overly sweet. Not syrupy, but "watermelon flavor" fake taste. Bitter, slightly stale finish. Ew. Andris didn't seem too thrilled about this one either. I don't think it was his idea.
Antimatter (Experimental "Smash" beer)
The Antimatter recipe changes, based on the whims of the brewer, and is considered their experimental beer. I remember trying the first batch and not thinking much of it. This second batch uses a single malt, Vienna, and a single hop, Calypso. I remarked that I had never heard of Calypso hops, and Andris replied "Me either." Apparently it's about 2-3 years old, a somewhat new hybrid including Nugget, with a fruity citrus flavoring, and a 12-13% alpha acid. His hop hookup had a surplus, so Andris decided to give it a try for a "smash" beer, which in the brewing world means "Single MAlt, Single Hop."
Nose: Fruity, fresh aroma
Taste: Slight hop bitter undertone. Mouthwatering and refreshing. Very nice, a good session drink. I wasn't impressed with the original Antimatter, but this new batch is great.
Black Hops black IPA
A black hoppy ale in the style of a swarzbier, but not a lager. The bittering comes from the roasted malt, not the hops.
Nose: Malty sweet with a slight roast
Taste: Starts malty, slides to a roast, bitter finish. Very tasty, and very nice.
Imperial Red IPA (9% abv)
Ok, this is where we get silly. Andris took the malt bill from his red ale, normally brewed around St. Patty's, and his regular Pub Draft IPA, and mashed them together. Then he threw in a whole bunch of Summits Golding and Liberty hops (30lbs of hops per 15 barrel batch) and left them unsupervised, like junior high school kids playing Seven Minutes in Heaven. Like hormone-intoxicated teenagers, they fumbled awkwardly for awhile, but came out all smiles with a great story.
This nosed with a sweet, tree fruit aroma.
Taste: Well, my notes just say "Wow." Fruity tree fruit, like peach and apple. Mouthwatering fruit, as a Citra hop, with no red ale copper/metallic bite. Does NOT taste like a 9% brew. VERY GOOD.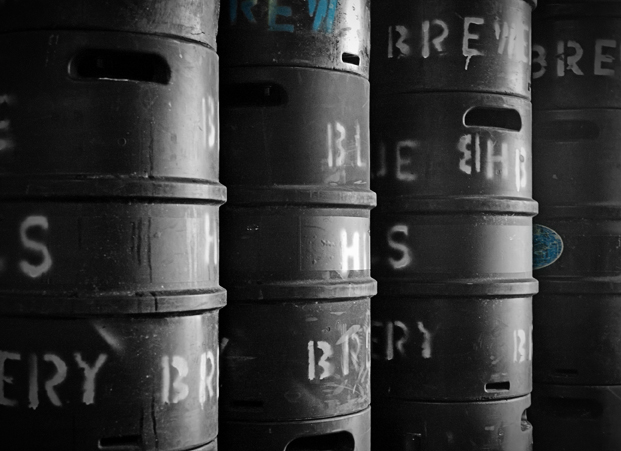 I was blown away by the Imperial Red IPA. It was not at all what I was expecting, and was fantastic. I snagged a bomber for $7 at the brewery store (retail $9+) and Andris hooked me up with a pint glass as well. The only beer currently brewed that we didn't try was the Pub Draft IPA, easily found around the South Shore, which I've had several times. It's a nicely hopped easy-going IPA, that clocks in around $4 for a 22oz bomber. Apparently there are six-packs of the IPA and the Antimatter available, but the rest are sold only in bombers or kegs.
I had been chatting with Andris throughout the tasting, and apparently asked the right questions, since he was very forthcoming with answers. They typically brew certain beers on certain days to keep the schedule going, for example wheat on Monday, IPA on Tuesday and the black ale every other week. The Antimatter experiments sneak in whenever there's time and space on the production line, though Blue Hills just added two fermenters just to keep up with current demand. Coastal Extreme Brewing Company of Newport, RI contacted Blue Hills looking to contract some brewing space, but there's no space to be had.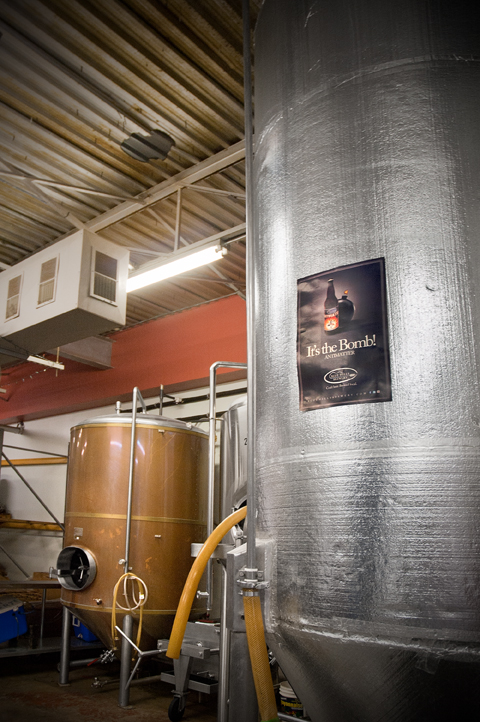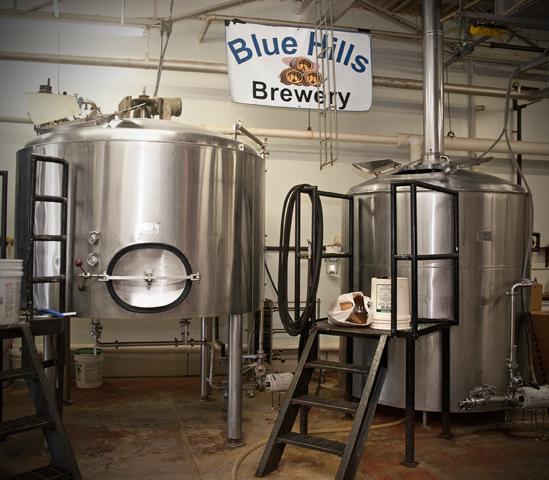 I asked if I could poke around in the back where the actual brewing equipment was set up, and it was no problem. Andris started brewing back in the early '90s, and worked for a time at Harpoon Brewery before going out to San Diego for some further brewer education. His background includes a lot of construction and fabrication of brewing equipment, so he was able to set up most of Blue Hills' paraphernalia himself, which is quite a task. Their production was 1400 barrels in 2010, and now with seven tanks (four fermenters and three conditioners) they're looking at 2500bbls for their 2011 target.
Blue Hills is self-distributed, and operate under the farmer-brewer license. At the time of my visit, there was a big kerfuffle in the brewing industry about the requirements of the farmer-brewer license, and small operations like Blue Hills would be forced out of business if rulings didn't swing their way. I asked about this, and Andris said it had been on the books for hundreds of years, but only became relevent in the past 35 years or so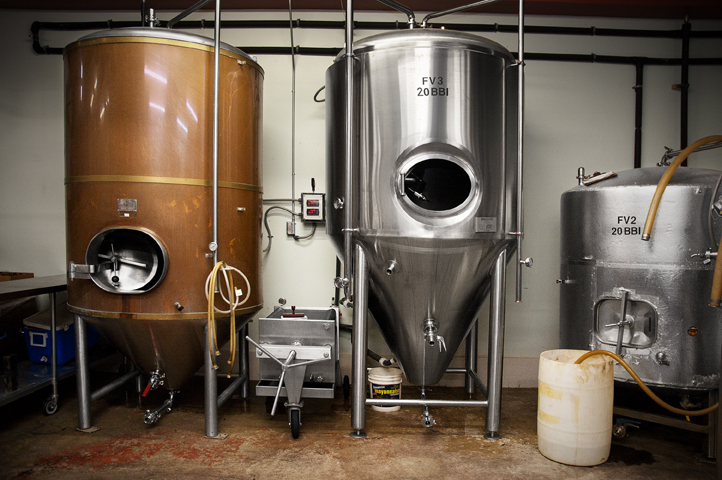 (when craft brewing became legalized). He wasn't sure if it was the state, or the distributors pushing the enforcement of rules that would close most local breweries. The distributors have a hand in this because the farmer-brewer license allows for self-distribution, transporting product from brewer to point of sale, skipping the distributing company in the three-tier system. When asked what would happen to Blue Hills if the regulations were strictly enforced, Andris shrugged and said he'd "party for a couple months until they shut us down."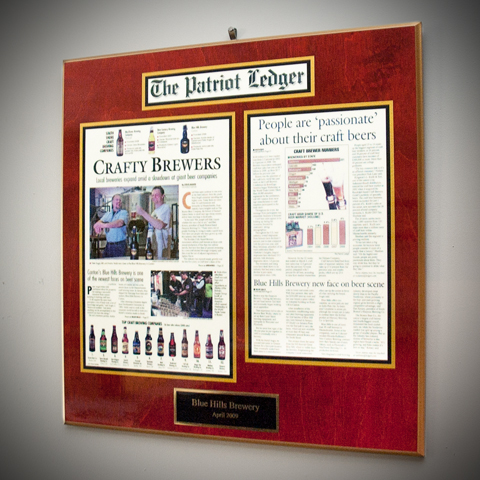 Blue Hills was great. A local, craft brewery with plenty of experience behind them, as well as a solid product. They're very reasonably priced in stores, and easy to find, at least in the South Shore. If you see a bomber of the Imperial Red IPA, snag it… it was the winner of the bunch, in my opinion. Very drinkable, lots of flavor, and you'd never realize it was a 9%. It's most popular in November. They do rotate seasonal beers, and their Oktoberfest lager started brewing in July. It'll ferment for a couple of weeks, start to be filtered and bottled around Aug 21st, and be in stores at the end of that week.


Go get some.