Modern Drunkard Magazine's articleThe 86 Rules of Boozing, by Frank Kelly Rich states:

Rule 37. Try one new drink each week.

The Rule 37 series of posts chronicle my attempts to accomplish this feat every week. For the recipes of R37s past, click the Htf do I make these drinks? tab.




This was a long-awaited cocktail night, after another long, long week of suckiness. I opted out of my traditional payday liquor store visit, and headed straight for Squirrel Farts HQ: the Cocktail Cave and Beer Burrow. Some light tidying was necessary to put the Hobbit Hole into order, and I had a pair of Sidecars while waiting for the Lady Friend to arrive. Note: there are two versions of the Sidecar, the French school and the English school. I prefer mine in the French style, with equal parts brandy (or cognac), triple sec (or Cointreu/ Grand Marnier) and fresh lemon juice. However, other recipes greatly increase the amount of brandy, as in the English style, which starts at 2:1:1 and climbs from there. I've seen suggestions for 8 parts brandy, which is just ridiculous. At that point you're having a brandy with a dash of juice in it.
The Lady Friend eventually arrived, and had a freshly prepared and chilled Sidecar waiting for her. From there, we went to Fog Cutters, using Robert "Drinkboy" Hess's recipe (click for a video), though we both found it too lime-tart, and not as sweet as a tiki-style drink is usually expected to be.
With her Rule 37 requirement met, the Lady Friend ventured off into tequila land leaving me to fend for myself, wondering what to make. Strangely, I had felt the hankering for some red wine on Thursday night, perplexing the Lady Friend, as wine and I don't hang out very often, and generally not willingly at that. So, I had an open bottle of merlot sitting around, wondering what I could make with it. It was a 2008 Bogle merlot, and clocked in at a boozy 13.8% abv with quite a bit of dark fruitiness, though I could both smell and taste the tinge of medicinal alcohol. A thought had occurred to me while drinking the wine, wondering if it would mix well with a stout. I did some digging on the web to see if this had been done before. One result was for a drink called the Brutal Hammer, a 50/50 mixture of red wine and vodka, though that wasn't what I was looking for, or ever feel the desire to try. A couple people suggested mixing a strong Cabernet with a nice chocolaty stout or porter, and I did consider cracking my Bear Republic Big Bear Stout bomber for the experiment. However, the Bogle wasn't that powerful flavor-wise, and I recalled the can of good ol' Guinness lurking in the fridge, nearly forgotten after our rounds of Black Velvets.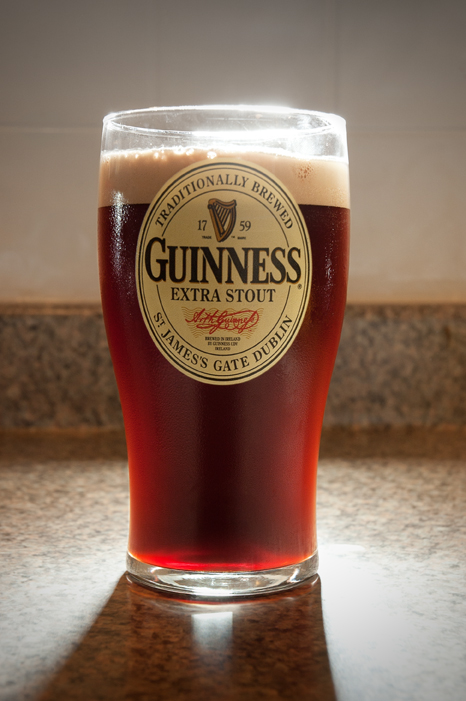 Into the breech.


Yikes. I poured about 1.5oz of the merlot into a pint glass and topped with the Guinness. Hmmm. Not bad, but didn't really taste the wine coming through. So I dumped in another ounce. Now things were shaping up. I decided to call it the Black Plague, since it had the dark Guinness and the blood red wine mixed together. As near as I can tell, no one's taken that name so far, though there are a number of variations of drinks called "the Black Death."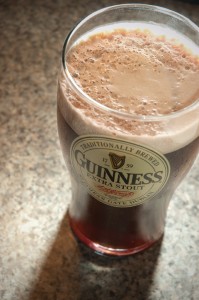 The Black Plague
– 2.5 oz red wine (I used a 2008 Bogle merlot)
– 12 oz stout or porter (A can of Guinness went into this one)
Um. Pour in the wine, then the Guinness.
Or reverse that.
Either one.


So, even though it looks like death, it's pretty tasty. The fruitiness of the wine plays nicely with the roasted tones of the stout. I'm sure this mixture has infinite variables, with different wines, different beers, and different ratios according to taste. I thought it was pretty good with this mixture, but neither the merlot, nor the Guinness, had an overpowering taste, so they blended well. The wine helped dilute the darkness of the stout and bring out a nice, deep red coloration, as well as tinting the foamy head a reddish tan.
It sounds scary, but works out quite nicely. Give it a whirl.