Time for another Rule 37: A drink I've never had before. I had a half-bottle of champagne awaiting consumption in my fridge for my traditional birthday quaff, and another bottle of Domaine Chandon Riche (technically, sparkling wine) donated by a friend who works as a promo girl for Moët Hennessy (Hi LK!). The best-tasting booze is free booze, so I was more than happy to give it a good home. So, it was decided on by Lady Friend and myself that our Friday cocktail night this week would involve champagne.
So, we had to find a couple champagne/sparkling cocktails that we had never had. We've both tried French 75's (while forcing her to watch Casablanca for the first time), Champagne Cocktails, and a Kir/ Royale, so things were getting a bit worrisome for finding a new tipple. She was intrigued enough by my description to try a Black Velvet, which is half champagne, half Guinness, and a drink I've had before, for an earlier Rule 37. I resorted to my cocktail book library, and grabbed my go-to, Dale DeGroff's The Craft of the Cocktail. Flipping through, I got as far as the letter "C" before finding an appropriate candidate: an original by DeGroff called the Casino Royale.
This is where a little explanation is needed. Casino Royale was the first James Bond book written by Ian Fleming back in 1953. In the novel, Jimmy B. orders a drink of his own invention, called the Vesper, named for (spoiler!) double-agent Vesper Lynd (whose name apparently is a play on "West Berlin." Neat.) Anyway, the Vesper is a concoction of gin, vodka and Kina Lillet, creating a sort of Martini varient. Later in the books, and eventually films, Bond prefers Vodka Martinis, and turns the world into idiots ordering Martinis as "shaken, not stirred." Sorry Bond; clear, liquor-only cocktails like the Manhattan or Martini should be stirred, saving the shaking for drinks with fruit juice. However, the popularity of the Bond films essentially helped bring vodka into the national consciousness, especially his (product-placement) brand of choice, Smirnoff.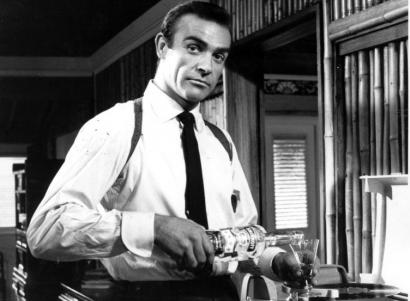 This look just impregnated all the female readers.


This is not either of those drinks. DeGroff's recipe is an ode to the Bond legend without being a Vodkatini or Vesper varient. And there's no vodka anywhere near it. It does have plenty of booze, with gin and champagne. Just a touch of lemon juice helps bring down the sweetness of the champagne and orange juice.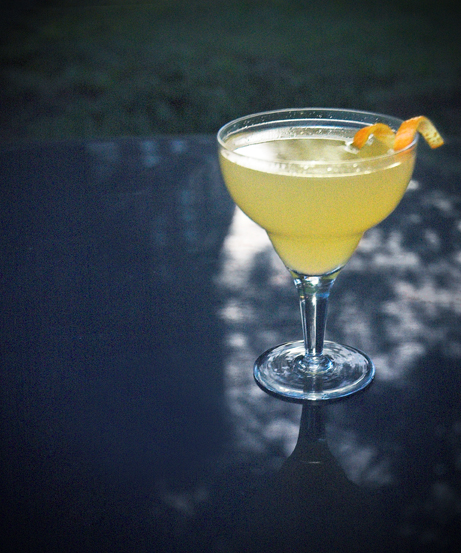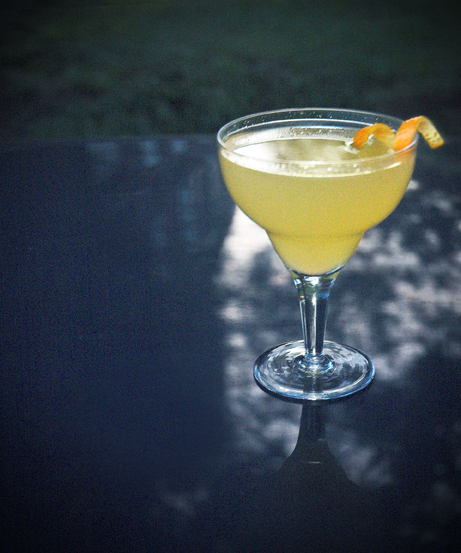 Casino Royale
A Dale DeGroff original recipe
1 oz gin
1/2 oz maraschino liqueur
1 oz fresh orange juice
1/4 oz fresh lemon juice
Champagne or sparkling wine to top
Combine ingredients (except champagne) in a cocktail shaker and, well, shake.
Strain into a cocktail glass (preferably chilled) and top with champagne or sparkling wine.
Garnish with orange twist.
Lovely with an au naturel woman in bed
and an all natural Walther PPK on the bedside table.


Though I've had a Black Velvet before, I decided to join the Lady Friend and made one for myself, following the Casino Royale. The story with this one is that the drink was created following the death of Prince Albert, Queen Victoria's husband, in 1861. The Queen mourned his death for the rest of her reign, and it's said that even the champagne was draped in black (Guinness), creating this drink. It's not technically a cocktail, as no spirits are involved, but as a beer and wine combination, it's quite… interesting. The sweetness of the champagne mixes well with the creamy stout.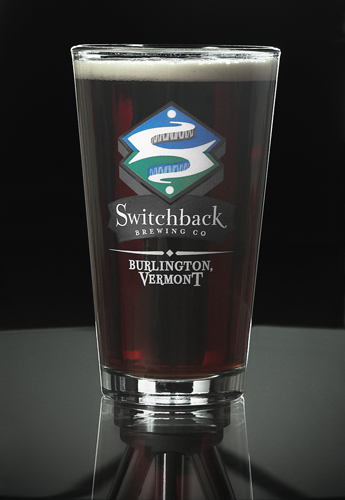 Black Velvet
4 oz champagne
4 oz Guinness stout
Um, that's it.


Pour (carefully, both will create a lot of foam) equal parts champagne or sparkling wine and Guinness stout into a champagne flute.
Some sites suggest pouring the Guinness first and layering the champ on top. We obviously didn't follow that tidbit, and also used a full on pint glass instead of a flute. We're renegades like that.


As a bonus, I got to try something I've always wanted: sabering the top off a bottle of champagne. Basically, you use the blunt edge of a large knife (or in my case, my taekwondo sword) to hit the neck of the bottle at the seam where the two halves meet the top. The blunt trauma (not the sharpness of the blade) causes the glass to break at the weakest point, and the cage, cork and top of the bottleneck go flying off. For further details, check out a fav blog of mine, Andrew Bohrer's fantastically opinionated Caskstrength. Specifically, you should read his series on "Drinking Like a Man," and in this case, #8: Order Champagne, Often. Lots of useful info, and instructions on how to properly saber a bottle towards the end of the post. Awesome.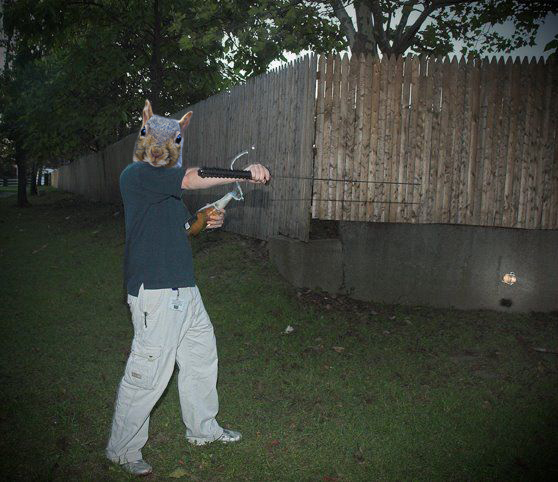 Ki-yah mofos.
Also, note the cork flying off to camera right. Photo credit goes to the Lady Friend.