This is Part Two of an ongoing series chronicling the Maine Beercation of late July, 2011. To start at Part One, click here.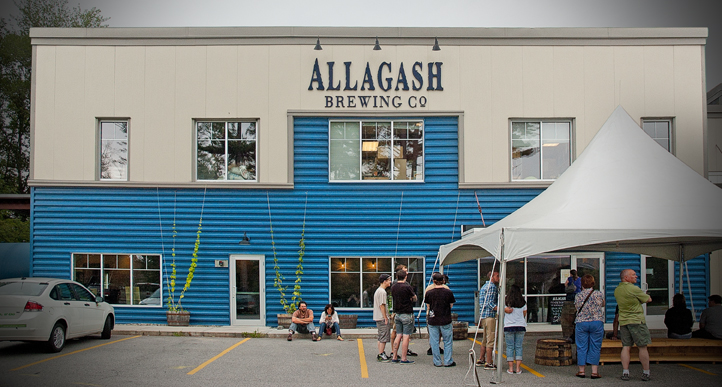 Aaaaaaaaallagash-y where the wind comes sweepin' down the plain
And the wavin' wheat can sure smell sweet
When the beer isn't made from barley graaaaaain


Yikes. Enough of that.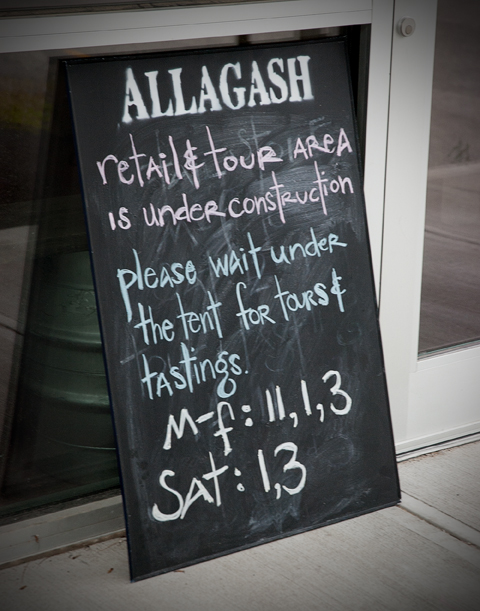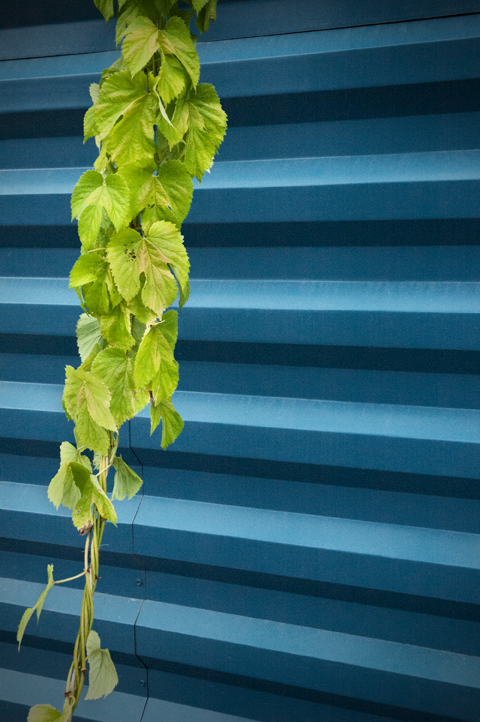 Allagash is a wheaty kind of place, producing pretty much only Belgian wit styles. Apparently, they were one of the first in the US to really start making Belgians back in the mid-90s, and they've been doing pretty good ever since. They're all over the place in ME, and not hard to find in other New England states, though some of their more exclusive bottles might be less common. I remember seeing many of their premium bottles on the list at American Flatbread in Burlington, VT. They've got a decently large facility in an industrial park on the outskirts of Portland, complete with hop vines out front, which I've started to look for at breweries.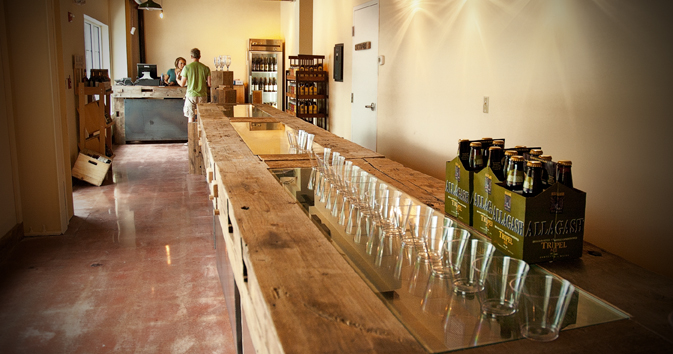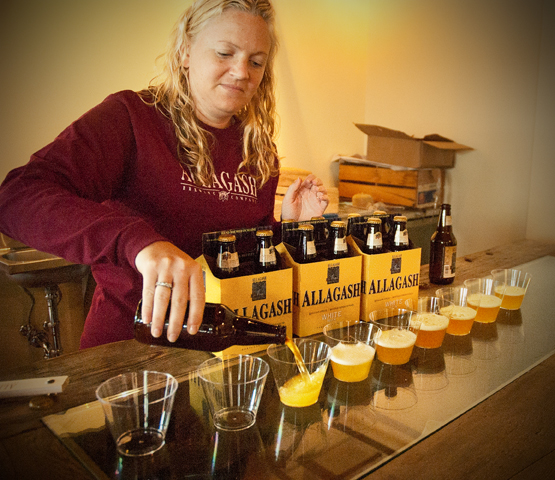 Unlike most tours, we started with the tasting, which our tour guide, Kate, promised would make the actual tour more fun. They were currently finishing up construction on their retail/ tasting room, so there was a bit of drywall and paint reek wafting through the air. The space looked like it was expanded to be a decent size, with a cool bar that appeared to be constructed from old barn rafters. I imagine they get some rather large tours, as there were probably about 20 people in our group, and it seemed like a low-key day. There were four beers to sample: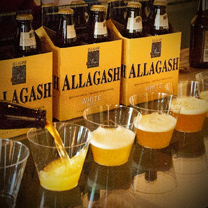 White Ale
A Belgian Witbier, 5% abv. Spiced with Curaçao orange peel, coriander and a "secret spice." This is their flagship beer and accounts for 80% of production. It's distributed in 16 states, and DC, with California being the biggest market. Allagash uses bottle conditioning, so there is still active yeast in the bottle, creating the cloudy appearance (you're supposed to invert the bottle and swirl the yeast around to mix it evenly before pouring). It smells and tastes like a Belgian. Wheaty, banana. Next.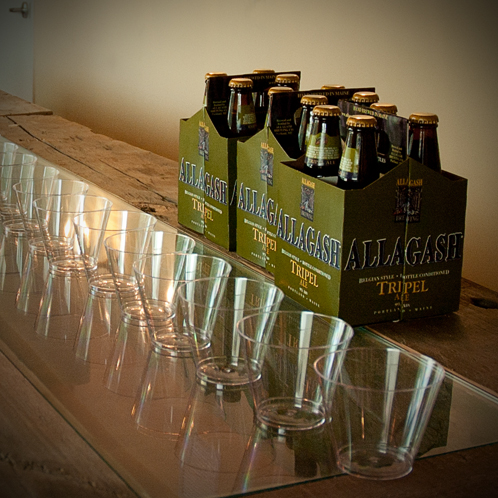 Tripel Ale
A Belgian Abbey/Trappist Tripel "celebration" style ale. 9% abv, but doesn't taste it. Honey undertones, but dry. Again, wheaty, banana. Move along.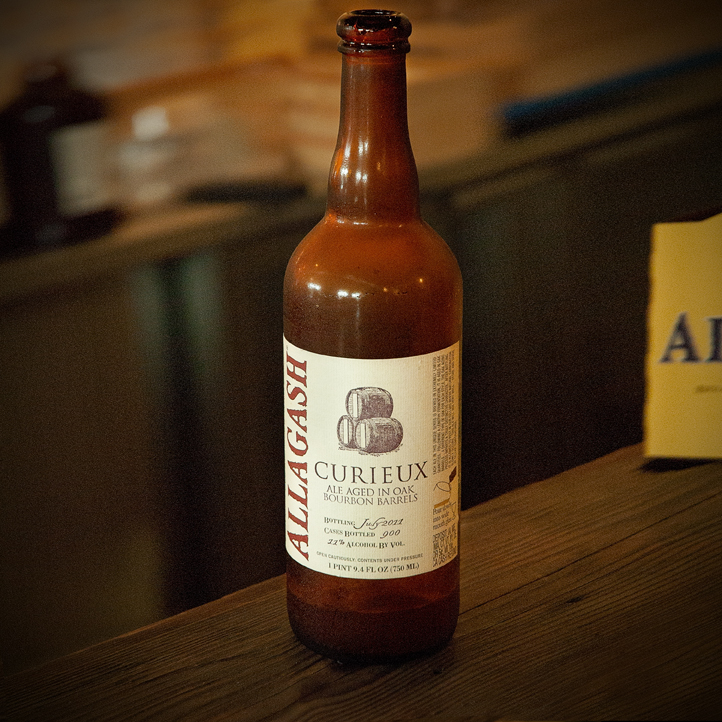 Curieux
Ok, now we're talking. This was unusual. They take the Tripel, and age it in Jim Beam Bourbon barrels for 6-12 weeks (it averages eight weeks). What you get is an 11% abv syrupy, smokey, bourbon taste along with the wheat. Yow. It was very interesting, but a bit too bourbony for me (I like bourbon, but this was a strange flavor). I think I'd need to sample more before making a verdict, but this was certainly intriguing.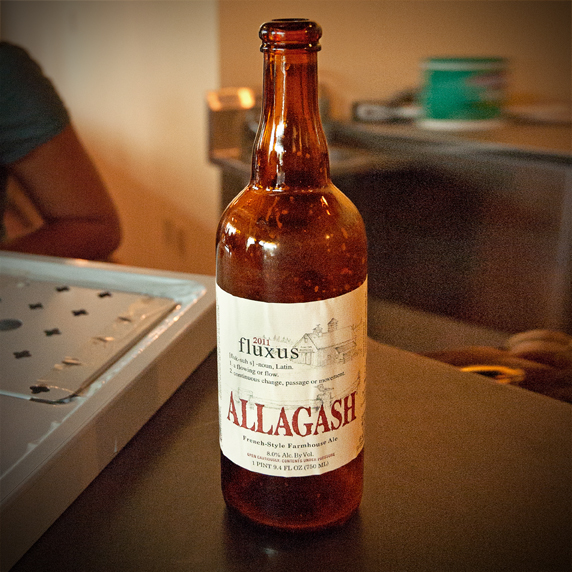 Fluxus '11
French-style farmhouse ale, 8% abv. Brewed every year in July for the anniversary of the brewery's first beer sale in 1995. This is a "bier-de-garde" as it is aged and conditioned (or "guarded") for six weeks. I was expecting something much more… let's say "earthy," from this farmhouse ale. They tend to be a bit on the bovine-deuce side in aroma and underlying tastes. This one, however, was built as a malt showcase, and certainly succeeds. They were aiming for "malty, but not too sweet," and definitely hit the mark. I found it to be quite tasty, with just a hint of that Belgian wheatiness, but without an overpowering malt syrup as in a barleywine. This one is part of their "Tribute" series of beers, of which $1 of the sale of each bottle goes towards a charitable organization in Maine. Which makes me wonder if the bottle costs $1 more than it should. Yes, I'm a terrible person.


Tour time! Now that we had a healthy dose of 5%-11% wheaty Belgian bubble bearers, we donned our OSHA-approved, State of Maine issued occular protection apparatuses. Safeten up!


Pictured left, in resting mode, and right, in active deployment.




We were warned that we'd be entering a working brewery, and production was in progress today, so be aware of your surroundings. Also, "There will be things screaming 'touch me!' Lots of shiny buttons and knobs."

Ooooooh, shiny.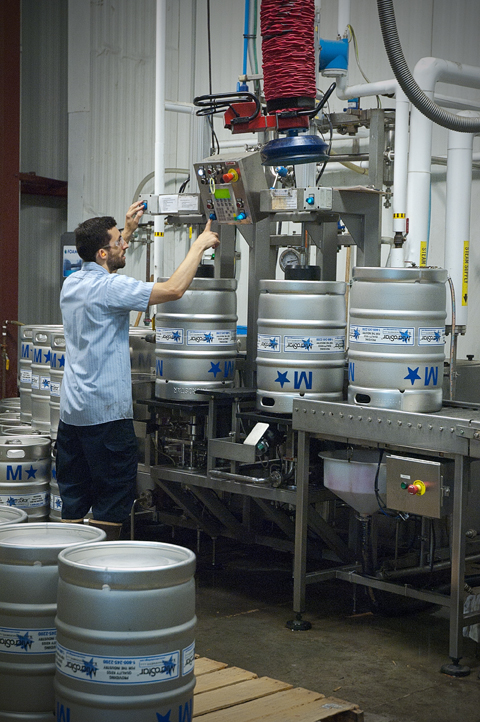 Standard brewery tour, this is how to make beer, skip ahead, skip ahead. Interesting bits: they sell their spent wort for cattle feed. One of their whirlpools is an old Ben & Jerry's dairy tank.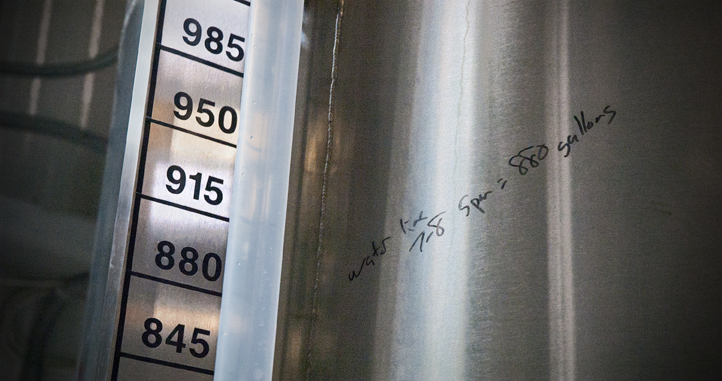 Largest tank is 120 barrels (if my math is correct, 1 barrel is 31 gallons, so that's a 3720 gallon tank. In beer terms it's 39,680 12oz bottles. Approx one f-ton). Their production is around 4800 barrels per year. The bottler will run both bottle caps AND corks for 12oz bottles and 22oz bottles (many of their premium bottles are corked).
Ok. Now we get to see the barrel "house," two climate controlled rooms used for aging and conditioning the beers. The first room was cooler, and had an immediate smack of bourbon aroma, like a punch to the nose. Yum. This is where all the Curieux is aged (again, an average of eight weeks) before bottling. The second room was filled with 90% experimental brews with some great names. We saw "Zebulon," "The Lude/ El Luderino/ His Ludeness," "B'oncé," and even a Three Sheets shoutout: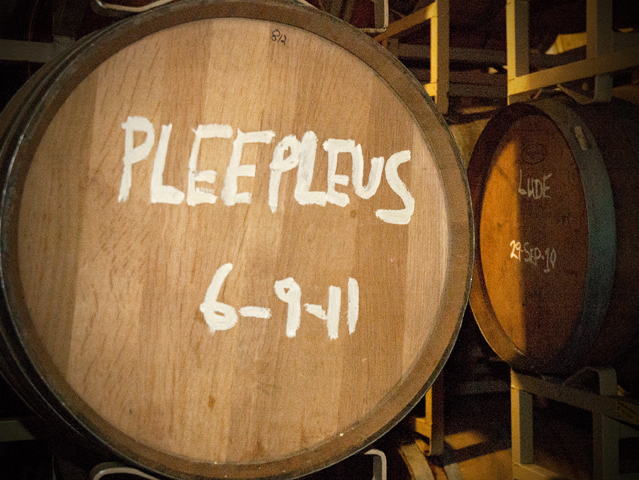 That curious little monkey.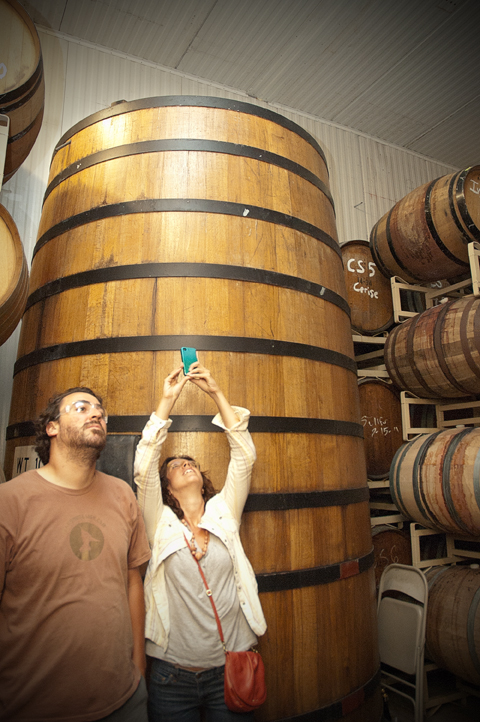 That was about it for the tour. Overall, very cool. I don't like Belgians/wheats, but they do some very nice work there. Allagash is one of the big boys in Maine, although nowhere near Shipyard Brewing, which is a MONSTER. We opted to check out some smaller places instead of Shipyard, so we didn't make that tour. But Allagash was well worth the visit. It's probably one of the larger "smaller" breweries. Our next stop was on the other end of the spectrum, a tiny place just down the road in the same industrial park: Maine Beer Company.