This week's cocktail comes from Serious Eats. According to them, it's a drink by Sother Teague of Amor y Amargo in New York, and I have no reason not to believe that. It just sounded tasty, AND I get to bust out my freshly-made ginger syrup for this one. More on that later.
For this inspirational-sounding cocktail, I needed an equally holy whiskey.
Time for my Redemption.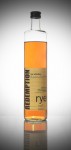 Rye whiskey must be made from 51% rye grain (whereas bourbon must be 51% corn), but as far as I'm concerned, the more rye, the better. Redemption Rye whiskey boasts a 95% rye grain bill, making it one of the most rye-y of the ryes out there. It doesn't get much rye-y-er than this (though my treasured Alberta Premium clocks in at 100% rye). The original recipe recommends Bulleit, which I'm sure is also tasty, but I don't have any. And I just got this bottle of Redemption. They're actually produced from the same source, but Bulleit is aged about twice as long.
Let's get to it.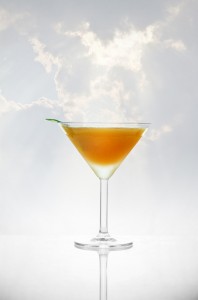 Southern Baptist
Created by Sother Teague of Amor y Amargo
Recipe from Serious Eats
– 2 oz rye whiskey (Redemption)
– 3/4 oz ginger syrup
– 1 oz lime juice
That's it. Shake it, strain it, serve it.






The drink doesn't look all that impressive. Lime juice usually seems to cloud drinks, and it just looks strange paired with whiskey. The ginger syrup is certainly brown as well, so the whole thing comes out with a rather muddy hue. The combination of whiskey and lime juice always reminds me of the Leatherneck (2oz blended whiskey, 3/4oz blue curaçao, 1/2oz lime juice) a pre-blog Rule 37 drink from Ted Haigh's fantastic Vintage Spirits and Forgotten Cocktails. That one also turned a muddy sort of color, despite the blue curaçao, the culprit there being the clouded lime juice. And so it goes.
Nose: It smells of whusky, and not much more. Sweet though. On its own the Redemption has a sweetish alluring aroma, though with a scorpion sting of alcohol warning you to be cautious. The boozy bite doesn't come through in the smell of this drink, but rather the wood, cherry fruit, cinnamon, and dark sugary molasses are at the forefront. There isn't too much ginger, but a decent hint of savory spice lurks beneath the whiskey glow. It's a wet and dry spice all at the same time. My mouth is watering. Time for a sip.
Taste: Sweet fruit to start. Cherry. Then it washes away to a lovely rye whiskey essence: sweet but with a bite. The ginger comes through in the midtones paired alongside the lime citrus, and it's wonderful. The heat of the ginger spice warms, the lime tart snaps, and the whiskey flows along with a woody sweet spice. The overall effect is that of cloves, cinnamon candy. It's difficult to tell the lingering ginger heat from the alcohol's warmth. Redemption does weigh in at a welterweight 92 proof, but it's not overly boozy in this one.
Let's see what that female creature thinks. Right from the start she thinks my ginger syrup is too peppery, and just exclaimed that the kitchen smells of black pepper. So I think I can guess where she'll go with this one.
"I'm trying to place that smell… it's kind of anise. But a little bit bourbon. Alright: now tasting. Kind of grassy, and then sweet. I really don't know what you put in there. [Another sip] It's very tree-like. It's piney but not gin piney. I guess herbal might be the term. There's something I've recently had that this reminds me of… ROSEMARY. I think that's what I get. Am I insane?"
Well. Kind of.
But I see her point.
"Can you put at the end of my review 'Hi Mom!'? She'll get a kick out of that."
I suppose.
"I like ginger, but that syrup is too peppery."
CALLED IT.


I think this one is excellent. The rye and spice combination is a wonderful pairing, with a citrus tart adding a cool counterpoint. It leaves a tingle in the mouth, but it's sweet and tasty as well. I wouldn't call it complex, but there is a good range of flavor happening here. Without the ginger, it'd be a dull whiskey sour, but that spice gives it a healthy snap. Fantastic.
My goodness. I do believe I shall have another.