Yes, this is a pretty simple one, and no, I've never had it before. The Black Russian consists of only two ingredients, vodka and coffee liqueur, neither of which I'm particularly fond of. I'm not a coffee drinker, and vodka lacks… personality. But, this was an easy cocktail to concoct, so I decided to make a batch and take it along on a woodland walk. Turns out it travels quite well as a trail sipper, so here we go.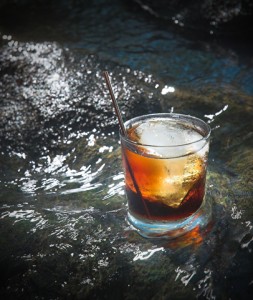 Black Russian
From Dale DeGroff's The Essential Cocktail
– 1 oz vodka (Bully Boy)
– 1 oz coffee liqueur (Kahlua)


Um. That's it.
Dale says to build over ice in an Old Fashioned glass, so we don't even have to shake. Or stir. Though you can add a stirrer to give it a quick spin here and there. No garnish on this one.


You can play with the amounts any way you please as long as it's equal parts. A 2oz drink over ice might make a nice little nightcap nipper, but is kind of an underwhelming handheld drink. Unless you've got straight liquor in your Old Fashioned glass, you could do better than a few ounces. Go ahead and make this one a double.
If we're using vodka, might as well use GOOD vodka. I like Bully Boy's (of course) because it's really neutral without a syrupy/glycerin mouthfeel, or too much heat. It's just nice. Reviewers have described it as "wet granite" which is odd and awesome at the same time. The coffee liqueur de rigueur here is Kahlua. Pretty standard.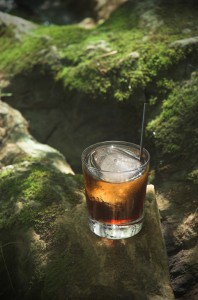 Not surprisingly, the bouquet here isn't terribly complex. Booze and coffee. If I think really hard about it I can go with "The top notes of an astringent sting become overwhelmed with roasted bitter char and soft creamy sweetness. Hints of chocolaty mocha pair well with the lifted spirit warmth."
…aaaaand it tastes like coffee and booze. With a slightly syrupy mouthfeel. Admittedly, the flavors are much more chocolate than coffee, starting with a milky sweetness before the roast char bitters bite back. A slight alcohol heat eases in as a peppery sensation and continues through the finish. The initial sweet chocolate mingles with char becoming a lingering velvety dark mocha.
After several gulps and some typing (on an empty stomach) the computer screen suddenly gave a good wobbly lurch to the left before righting itself again, so heads up: this drink is decently boozy, even if it doesn't taste it. A liquor and liqueur ingredient list still counts as all-booze.


The Lady Friend sez: "I just smell coffee mocha Kahlua smell. Mmmmm… it tastes mainly like Kahlua, and then after it's been in your mouth a second or two you get that alcoholic burn from the vodka. Yeah, that's kind of tasty and dangerous."


I think we're actually on the same page with this one.
Amazing.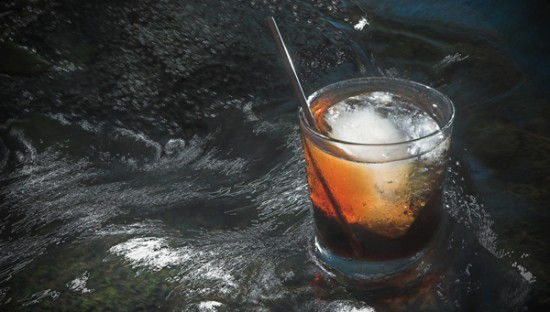 Nature tip: Maine mountain streams are not as cool and refreshing as they appear.
Bring booze instead.