This spring has been irritating.
Largely it's been cold. Then a little warmer. Then suddenly 90 degress for three days. Then back down to the low 60s. Now it's hovering in the 70s and incredibly humid.
The weather in Maine is like a cat trying to decide which side of the door to be on.
Well I've had it. Time for tropical drinks. It's warm enough.
(Actually, up here it's pronounced "wum.")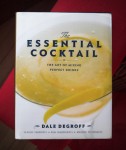 Having exhausted the recipes of Dale DeGroff's Craft of the Cocktail over the past several years, I finally sprung for his second book, The Essential Cocktail. This one has quite a bit more design work in it, lots of photography, and more information about the individual recipes, specific ingredients, and techniques. However, this means there are a lot fewer actual recipes, and many of them (as feared) are repeated from Craft of the Cocktail. Still, there are enough new ones to keep me happy, and the book is divided up into categories (classics, sours, tropicals, etc) which is helpful for finding a particular KIND of drink, rather than just skimming an alphabetical list of recipes.
Wanting a fruity tasty tropical drink, I merely perused the fruity tasty tropical drink section. Simple. What was not so simple was finding a drink I hadn't had before. The Painkiller was a familiar name, but hadn't been dumped down my gullet, so let's mix this one up.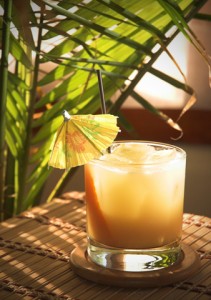 Painkiller
From Dale DeGroff's The Essential Cocktail
– 2 oz Navy Rum (Pusser's recommended, used Sailor Jerry)
– 1 oz coconut cream (Coco Lopez)
– 2 oz pineapple juice
– 1 oz orange juice
Mix it up, shake it up, pour over ice. This can be a tall or a short glass. Garnish with grated nutmeg. Dale is very insistent on that point. I also tossed an orange peel in there.


So, a couple things to note: navy rum is specified here, which is generally a higher proof. The Pusser's Dale recommends varies in strength, depending on where you get it, but in the US it's generally 94 proof. Also, apparently Pusser's decided to TRADEMARK the "Painkiller" in 2003, and claim ownership, like Gosling's did with a "Dark 'N Stormy." I think it's kind of a dick move, and their 4 oz of pineapple juice is quite different from the version used here. So between that and the use of Sailor Jerry, by law, this technically isn't a Painkiller. Ugh.
After that legal nonsense, I need some sort of drink… to… kill… the pain.


Nose: Well, with that fresh nutmeg grated across the top, that's about all there is to smell. I'll have to reevaluate after sipping some off.
A good stir mixes that nutmeg down into the drink, and now I get aromas of coconut, pineapple and orange. There's a touch of vanilla sweetness as well, but in general, the aroma sum does not add up to more than its separate parts. I can clearly identify each ingredient. Not that it's bad – they're all quite tropical and yummy – but it doesn't really mesh together as well. Perhaps it will in the taste.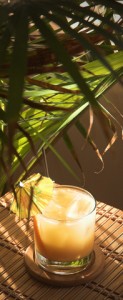 Taste: OOOOOoooohhhhhhh hominahomniahominakerzam. That's gooooooooooooood. The flavors do mingle together a bit better in the taste, but are still identifiable. Coconut cream lovliness all over everything. Pineapple sweet tropical fruit. A touch of orange tart (I hesitate to say tart, as fresh orange juice is generally pretty sweet, but compared to the coconut and pineapple, the orange IS the citrus tart in this drink). The rum is harder to identify. Sailor Jerry is a SPICED navy rum, with a LOT of vanilla in the bouquet and flavor, but it's no match for the other flavors in here. The nutmeg really adds a nice spice to the finish, and helps create another layer other than fruity sweetness. Don't leave it out of this drink: it really works. There's a very slight alcohol sour hiding underneath, but mostly this is one you could pound without even tasting the booze. Hence the higher proof rums… you'll never notice them in here. Coconut and pineapple make almost everything taste wonderful, but this drink is a touch too sweet. It could use a little splash of lime tart, and some bitters would just make it better, but as-is this is alarmingly tasty.


Trademarked or not, this tasty concoction can will get you into trouble.