I'm sorry. That's just how I have to say "rickey." Every time. Old timey "rrrrrrrrickey!"
Anyway, a rrrrrrickey is a family of cocktails similar to a highball. They date back to the mid 1800s or so, the most famous example being the gin rrrrrrickey, which I just so happen to be sipping on right now. It helps the writing process. I swear. The drink itself is pretty simple to make: a shot of the liquor of your choosing, half a lime, squeezed and dropped into the glass, ice, and soda water. Some recipes add a little sugar in there, but that's about it. It's old timey and tasty.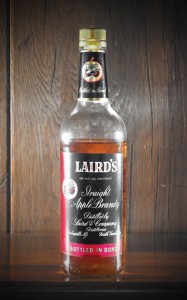 The Lady Friend was in an apple flavored cocktail mood, and we put my new bottle of Laird's to good use. I had finished off my bottle of Laird's Applejack awhile ago, but replaced it with their Bottled-in-Bond 100 proof Straight Apple Brandy. This stuff is the real deal. According to Laird's, the Straight Apple Brandy is aged for a minimum of three years in charred oak barrels and bottled at 100 proof. And it's mighty tasty.
The Lady Friend made her cocktail, a variation on a Sidecar substituting the brandy for apple brandy, while I took it for a test drive with a Jack Rose. It handled wonderfully, with a lot more real apple flavor than the 80-proof Applejack, which according to Laird's is a blend of only 35% apple brandy while the rest is neutral grain spirit.
However, I've indulged in many a Jack Rose, and this was not to be my Rule 37 of the week. So I broke out a 1965 copy of a Mr. Boston "De Luxe Official Bartender's Guide" that reeks wonderfully of mildew, age, and lost dreams. Flipping through from back to front, I eventually came across the Apple Rrrrrrickey (though perhaps apple brandy rrrrrickey would be a more accurate name) and gave it a whirl. So here we go.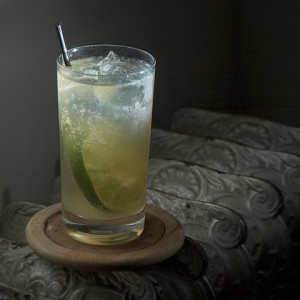 Apple Rrrrrrickey
Courtesy of my 1965 copy of Mr Boston
– 1 1/2 oz apple brandy (Laird's!)
– Juice of 1/2 lime
– 1 cube of ice (?)
– Club soda
"Fill 8 oz. highball glass with carbonated water and stir. Leave lime in glass."
Yeah, that's all it says.
Realistically, here's the deal: find a juice glass. Those are usually around 6-8oz. Fill it halfway with ice (really Mr Boston? ONE cube?). Squeeze the lime half and drop the shell in. Fill the rest of the glass with ice, and pour in your spirit. Top with club soda and give it a stir. Serve with a straw. Despite the fresh fruit juice, this is a built drink, made right in the glass. The bubbles in the soda water should do some mixing for you.


Initially, I'm a bit wary… there's no sweetener in here. Just apple brandy and lime with some carbonated water. Let's see what happens.
It smells of apples and lime, as one would expect. The two mingle quite nicely, except for a bit of overlap where a whiff of bile-esque acidity is detected, some strange ratio of lime citrus and apple sour tart. Let's have a taste.
Hmm. Well, the carbonic is snappy on the tongue right from the start. Lime citrus is dominant, adding to the tongue snappage, teaming up with the biting bubbles. There's a lovely apple quality that's buried beneath the lime, but it really comes through on the finish, lingering on with sweetness, even though the tongue still reels from the double whammy of fresh lime and stinging carbon dioxide. I really don't think you'd get this apple quality from the regular Applejack.


The Lady Friend went in for a sip and came out with this: "Tastes like apple juice. Almost watery in a way, but water with an apple tint to it."
Then she had a second sip: "Eh. Yeah, I guess."
"I get lime, yeah, but it's not super limey, like sour in-your-face lime."
Le sigh.


I thought it was pretty good. Despite my initial apprehension, it really doesn't taste like there's a shot of 100 proof booze in there. I'm putting that down to the smoothness of the Straight Apple Brandy and the dilution with club soda. The classic gin version of this drink is decently summery, but with the apple brandy it becomes perfectly suited to fall.
Oh, and it's got plenty of booze.
Score.