Ah, sweet Fridays. Cocktail night! I even had a surprise guest!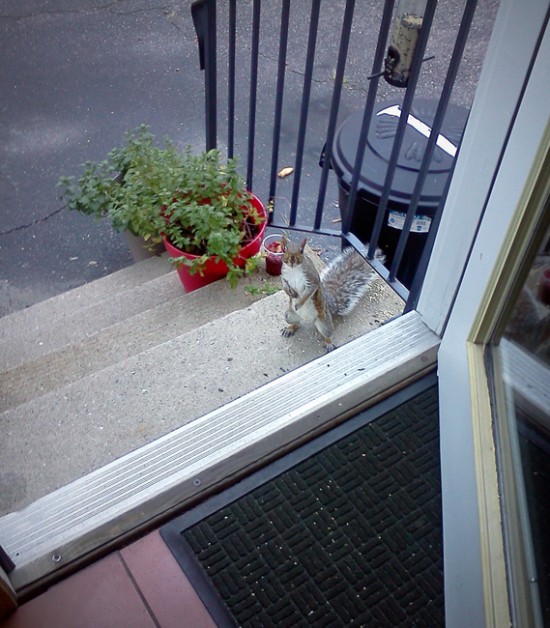 Once you give them a cocktail, they just come begging for more.
With the Lady Friend driving up from Boston, she was too tired to come up with her own Rule 37, and charged me with making one for her. I snagged a copy of a Mr. Boston recipe book and found that a drink had already been bookmarked. It was the Rosita, which uses both tequila (for she) and Campari (for me). Interesting. Or horrifying. I'm not sure yet. Mr. Boston does some strange things. Still, I'm willing to give it a try. I broke out the Agavales for this one, which was a great tip from Bottom Shelf Drinker Will Gordon. Read his review here, and then read everything else he's written.
Seriously.
Ok, drink time. Let's see what happens.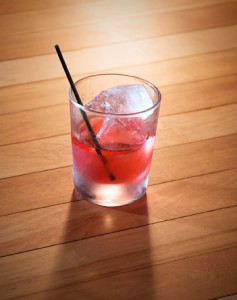 Rosita
From Mr. Boston's Official Bartender's and Party Guide
– 1 oz tequila (used Agavales)
– 1 oz Campari
– 1/2 oz dry vermouth
– 1/2 oz sweet vermouth
All spirit (no fruit juice) so this one is stirred. The book suggests serving with a lemon twist (which I just plain forgot) and also instructs to build it in an Old Fashioned glass over ice. I guess that could work too, but I was making a double batch. So, stir with ice in a mixing glass (that's why it's a MIXING glass) and strain into an ice-filled Old Fashioned or rocks glass. Don't forget the lemon twist.


Well it LOOKS pretty. I refused to tell the Lady Friend what was in it, and the strawberry hue had her guessing that there was grenadine in there. Nope. But she certainly smelled the tequila. And tasted the Campari. Had a lucky guess on the sweet vermouth, and couldn't pin the dry (that'd be a tricky one to pick out flavor-wise). So now it's my turn. Let's start with a sniff.
PHRORawrHAMRah. It REEKS of tequila. Smokey and irresponsible. Not like an elderly and well-mannered Scotch. Really, that's all that I'm getting in the nose. Just tequila. Blargh.
The taste is another story. The tequila is up front, but more subdued than you'd guess from the aroma. The Campari comes a-knockin' in the middle, and the smokey Mexican spirit and bittersweet Italian liqueur do strange, unmentionable things with and/or to each other. It's like watching two fat people rub sunblock on each other, or seeing senior citizens vigorously making out. Horrifying, yet hypnotizing. It can't be unseen, and this drink can't be untasted. A smokey and spicy tequila pig in an herbal syrupy Campari blanket. The vermouth is just there to make sure things don't get too out of control.


It's a really strange drink, but I kind of like it.