Found this one on Caskstrength, a zip zoop zabulous drinking blog. It looked tasty, and I'm a sucker for applejack… it's adult apple juice. WAY better than cider. Cider clocks in at what? Maybe 5-8% abv? Yeah, take that stuff and DISTILL it to 40%. That's applejack, Jack.
Didn't make this one for awhile, since I didn't have any decent maple syrup. I like the HFCS store-brand sweet happiness with all the chemical flavorings, much to the horror of my friends from Maine. They've come to terms with it, just as I have come to terms with the Lady Friend generally avoiding whiskey and whisky, due to the realization that I'm not chugging their fancy expensive stuff.
Yup.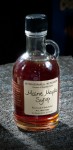 So, for Grinchmas, I participated in a Yankee Swap, strangely enough the first time that my Yankee Irish family has done this. I wound up with a Stonewall Kitchen gift basket with some pancake mix, jams, and fancy maple syrup. I could have traded it for a variety of gift cards, or Mad Men seasons three and four (on Blu-Ray… I'm still in the DVD world) but my first thought was "I can use this for cocktails!"


I am not normal.
– 1 1/2 oz applejack
– 1/4 oz fresh orange juice
– 1/4 oz fresh lemon juice
– 1/4 ounce maple syrup
Shake, strain, serve. Cocktail glass will do nicely.


No garnish specified, but an orange peel looked nice, and I'm sure a lemon twist would have an equally aesthetic appeal. I thought of doing an intertwined lemon-and-orange twist, but it occurred to me too late, as the photography was already underway.
While preparing the cocktail, I mistakenly poured a half ounce of orange juice in. Whelp. Only one thing to do now… upscale everything else and make a double.
The taste was actually pretty interesting. If I had to choose a word, it'd be "layered." Seriously, you get every flavor at a different point. It starts with the apply applejack, then melds into the lemon tart, offset by the orange sweetness. Juicy and citrusy. It ends with an undeniable maple syrup finish, sweet and, well, mapley. It's strange how the flavors don't blend, but it's not necessarily a bad thing. They all work together independent of each other. Yes, that's a bit oxymoronical "working together individually" but it's true. One flavor eases into the next for a delightful little taste bud voyage.
I liked it.
I was glad I made two.




Fun Fact: according to the dvd commentary of Super Troopers, they actually did chug maple syrup, as nothing else looked realistic enough.