Modern Drunkard Magazine's articleThe 86 Rules of Boozing, by Frank Kelly Rich states:

Rule 37. Try one new drink each week.

The Rule 37 series of posts chronicle my attempts to accomplish this feat every week. For the recipes of R37s past, click the Htf do I make these drinks? tab.




Friday night! Cocktail night!
…but what cocktail to have?
I hit some cocktail doldrums. Despite having a constant list of Rule 37 suggestions, I was adrift in the Ennui Sea with no wind in the sails. I flipped through various recipe books and hit random drink suggestions on a couple websites, but nothing seemed appealing. When this happens, I tend to fall back on my fav book, Dale DeGroff's Craft of the Cocktail, and scan the pages looking for something tasty. There were a couple things that looked mildly interesting, but what I finally settled on was something completely unexpected.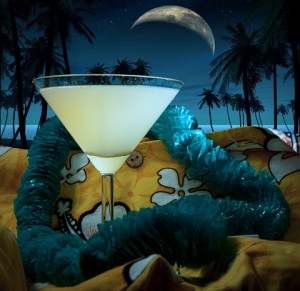 The Royal Hawaiian
From Dale DeGroff's The Craft of the Cocktail
– 1 1/2 oz gin (Beefeater London Dry)
– 1 oz pineapple juice
– 1/2 oz freshly squeezed lemon juice
– 1/4 oz orgeat
Splash ingredients into mixing glass like the waves crashing on the beach, add ice and shaker tin.
Shake to a hula rhythm while wearing a grass skirt.
Sip by moonlight on a white sand beach.


This was a surprisingly good drink. I expected it to either have too much gin flavor, or too much pineapple, but it really balanced well. Sure, you can taste the gin up front, and the pineapple juice sweetens and rounds out the finish, but not in an overpowering way; I find pineapple tends to be stronger in drinks than I prefer. I had been trying to avoid gin-based drinks, since SFHQ is in a bit of a gin deficit at the moment, and what remained of a bottle of Beefeater was being rationed, mainly for usage in an Negroni in times of amaro emergencies. However, nothing else caught my attention, so in went the gin. Mix, shake, sip. Hmm. Since the first one was so nice, I may as well have another and kill off the wounded soldier. Plus, the last shot in the bottle is free. See if your local bartender agrees.