Round Turn Distilling is cranking out new gin in an old mill. Located in Biddeford's 150-year-old Pepperell Mill next to Banded Horn Brewing, Round Turn is the boozechild of Darren Case. His flagship (and currently sole) product is Bimini Gin, a American style gin that's softer on the palette than a brash London Dry. Gin isn't my most favorite of spirits, but a new distillery in Maine is a pretty big deal, and Case graciously invited me down to check out his setup and ask him far too many questions.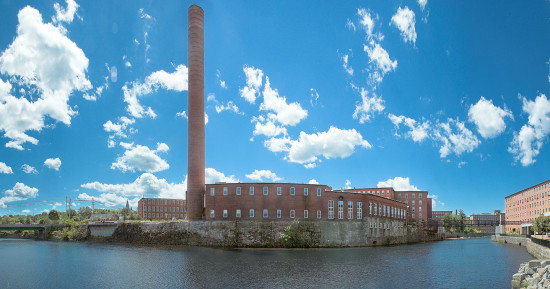 Yes, the mill smokestack really is that tall.




Round Turn owner and distiller Darren Case was a corporate website developer in his previous career starting in 2007. A Maine native, he wound up in New York City for several years working for the Grey Group, a large advertising and marketing agency. After several years in the city, he began to plan his return to Maine, but needed a sustainable job, as the web dev options in the Pine Tree State are not quite as prevalent as in NYC. After visiting Maine Craft Distilling in Portland he realized that distilling was a viable option. Not only was it proven possible by several local craft distilleries, but it had a lot of complication involved to satisfy Case's problem solving skills.




Gin palace.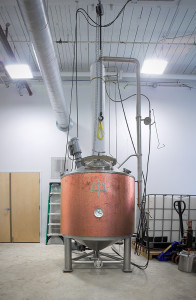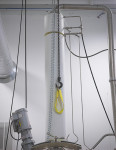 Round Turn, named for a simple nautical knot, started forming in spring of 2014. The main piece of equipment needed was the still, and Case wound up with a nice one: a 300 gallon steam jacketed affair topped with a dephlegmator, built by Trident Stills of Etna, Maine. Until then I was unaware that anyone in Maine was making stills, and this one is beautiful. The "dephlegmator" was another surprise, since I had no idea what it was. Basically, there's a section of pipe at the top of the still packed with copper mesh. The dephlegmator is a piece on top of the pipe that warms or cools, controlling the refux action within. The distillate steam collects on the mesh and is cooled, acting like a column still, but more refined. The heavier compounds fall down to re-distill, and the lighter ones pass up into the condenser, where the steam is cooled into liquid and drips out a spout at the bottom.

So, it's a gin still. Why gin? Because it requires the least amount of equipment needed to produce a final spirit. Bimini Gin starts from a purchased neutral grain spirit (NGS) base, which means no fermentation (and its related equipment) is needed on site. Since gin is essentially flavored vodka, you can save the first step of distilling your own base spirit and buy an NGS. You'll still need some space needed for creating the various flavors in the gin however. The NGS is loaded into stainless steel tanks for resting and macerating the botanical ingredients. Some of the ingredients include grapefruit peel, coriander seed, some malted barley, and strangely, hops (Mt. Hood variety). Two tanks are used for a batch, each with a different blend of botanicals that blend nicely together. After one to two days, the contents of a tank is pumped into the still. The still boils the mixture, the dephlegmator helps refine the vapor, and it's cooled into liquid booze pouring out the spout. After distilling separately, the two flavored batches are combined. They're left to rest for about six weeks to let the flavors develop further, and off-gas some of the higher, harsher alcohols. The high-proof spirit is then diluted down to a drinkable 94 proof with a uniquely local Maine ingredient, water from the Saco River, the shores of which the distillery's mill is built on.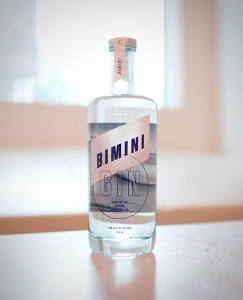 Bimini Gin
94 proof/47%abv
American Style
Nose: Sweet, warm. Barley grain, lime sour/citrus. Juniper pine, but not overpowering, perfect for the American style.
Taste: Hot start with a sweet flavor, honey. Citrus and juniper rush into the middle for a snap, followed by a sweet cereal grain finish.


The aim of Bimini Gin is a lighter, highly drinkable spirit, the session IPA of gin. Though the abv is still decently high, the crafted flavors shine through. Case explained that gin generally falls into three categories: herbal, spicy, or citrus. He didn't really want to fit into any of those, and began with a base of hops, adding flavor without the traditional punch of juniper. From there he added citrus (grapefruit peel), some coriander seed, and even malted barley as a botanical. Chamomile adds a floral element, and being a gin, there is of course some juniper. Case was looking for the perfect gin and tonic for sunny days and warm weather, a refreshing but long term drinkable spirit. Inspired by Hemingway's Islands in the Stream, Bimini is a lovely spirit for warm summer days (or reminding you of the warm summer days). As I say with most of my gin reviews, I'm not a gin drinker, but I like this one. Maybe I'm turning into a gin drinker after all.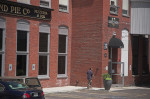 Round Turn Distilling is located at 32 Main Street (Building 13W) Suite 103 in Biddeford, ME. They're to the right of Portland Pie Company, in the same hallway as Banded Horn Brewing Co. There's a small parking lot in front of the building, but also ample street parking along Main Street. Check their Facebook page for current tasting room hours, serving samples of Bimini Gin as well as an assortment of cocktails (usually with jazz records playing in the background).