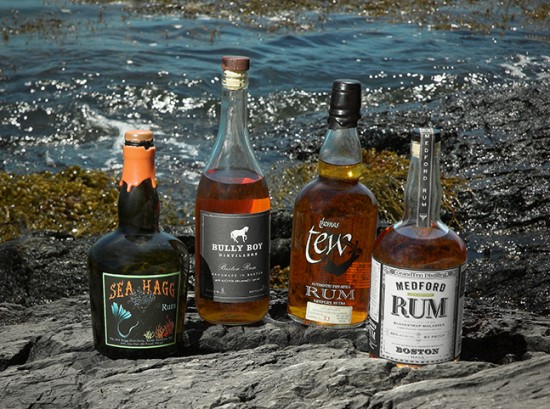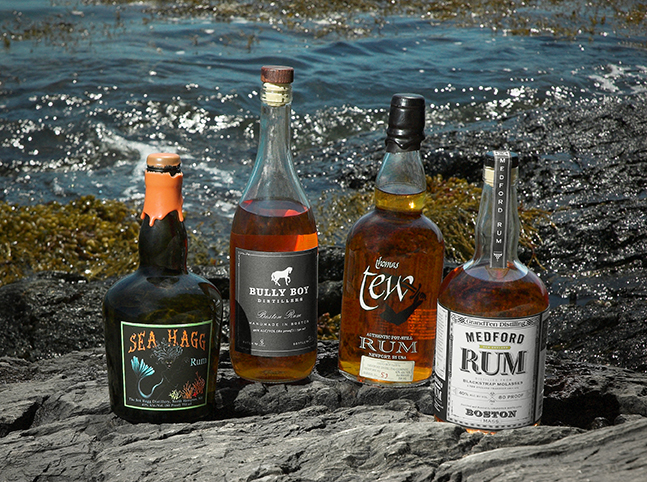 Rum-ble?


So I got a bunch of new, somewhat local, rums recently from a variety of sources. Some gifts, some smuggling requests, some I just plain bought. So I'm going to line them up and try them side by side. Sounds like a fun afternoon for me.
All of these happen to be local(ish) rums, all blackstrap style, and all fairly new. As in, none of these existed ten years ago. The oldest of the group is Rhode Island's Thomas Tew rum which started production back in 2006. Historically, rum has had a significant place in New England and contemporary craft distillers are taking advantage of that connection to the past. Rhode Island was HUGE in the rum trade, so Newport Distilling's Thomas Tew brings some of that history back. GrandTen Distilling's Medford Rum is named for the original which started back in 1715. Bully Boy's Boston Rum, the aged version of their white rum, is a nod to Boston's rummy past. The old New England rums were generally a blackstrap style, made from molasses. Molasses is the gunk left over after refining sugar and some people think it tastes delicious. I think it's great after you distill it. This is in no way related to the incident two weeks ago where I bit into what I thought was a brownie, which turned out to be a runny molasses cookie. Vile goo. Ferment it, boil it, and drink it.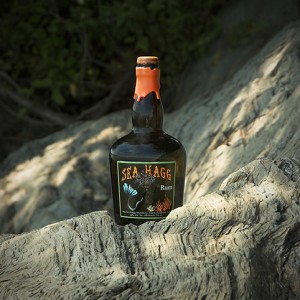 Sea Hagg Silver Rum
Sea Hagg Distillery, North Hampton, NH
Unknown price. Available in NH State Liquor Stores
This one comes from my hometown, so now there's a brewery and a distillery there. Craziness. I haven't visited yet, so I don't know much about this one, other than what's on the webpage. Copper pot still, aged, and small-batch. Nice squat olive glass bottle, and a orange wax dipped top. Not sure how much this goes for, since it was a gift from the Lady Friend's parents. I literally found this hiding on the bar one day.
Nose: Sugary with oak, floral, some antiseptic booze, and a tinge of vegetation, like a rhum agricole.
Taste: Hot. The heat leaves a sticky sugar coating, honey, vanilla, and a touch of dead wood. Light, yet syrupy, and floral.
Lady Friend: "Smell definitely was antiseptic/alcohol but with floral notes. It actually tasted sweeter than I expected, but I get a specific flavor of creamy tomato sauce, like with a milk base. I don't know where I've had it before, but it reminds me of that. It tasted better neat than I expected it to." She made a "New Hampshire Mojito" with this last night, and also noticed the tomato/vegetable aspects.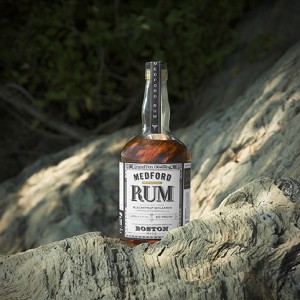 GrandTen Distilling Medford Rum
GrandTen Distilling, Boston, MA
$40 at the distillery
40% abv/ 80 proof
Like the Bully Boys, GrandTen also dove into the Boston rum history. I first tasted this right off the still several years ago when I went for a tour, but finally got a bottle of the finished product as a gift from Leelz. Thanks for the smuggling! Nice graphic label to fit with the rest of their lineup.
Numbered bottle Batch 1, Bottle 0646.
Nose: Cleaner, sugar aroma. Soft and light. Hay, straw, sunshine. Floral vanilla, lilac. Frosting. A twinge of booze, but not hot and stinging.
Taste: Warm, not hot. More oak than expected, with a sugar warmth and touch of dry wood that counteracts the syrup slightly. Sugary, but lighter. The oak flavors lead me to believe this is aged longer than others, or it's a lighter taste to begin with so the oak shows through.
Lady Friend: "I smell sugar cookie, birthday cake, vanilla. This is actually the opposite of Sea Hagg for me. Sea Hagg smelled boozy but tasted kind of sweet, but this one smelled really sweet but tasted really boozy. It actually reminded me of our scotch tastings. It does finish smoothly. Towards the end I get some of that vanilla sweetness back. The initial taste is boozy."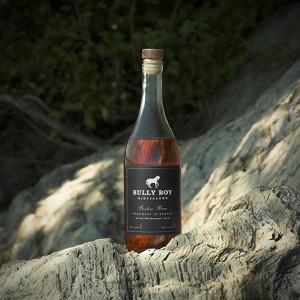 Bully Boy Boston Rum
Bully Boy Distillers, Boston, MA
$33, Liquor Land, Boston, MA
40% abv/ 80 proof
I'm a big fan of Bully Boy White Rum, and had been waiting several years for the aged version to finish. Finally picked up a bottle at the liquor store around the corner from their distillery on a MA booze run. Hand-numbered like all their bottles, this one is Batch 8, Bottle 205.
Nose: Straight up sugar and booze aromas. This one smells more caramel/toasted, and it's darker, brown sugar aroma rather than white. Aromas are much like a good bourbon, though much more sweetness.
Taste: Oh this just glides right down. There's some heat, and then a little smoke char, like a campfire, but dark brown sugar all the way through. S'mores. Boozy s'mores. Toasted vanilla oak and caramel. Very nice.
Lady Friend: "It was much smoother than the last one. Little bit of alcohol bite, but not as overwhelming. Very vanilla, sweet, kind of reminded me of a sugar lollipop I had when I was a kid… made of complete sugar. You get it at like a penny candy store. This is my favorite of the bunch so far."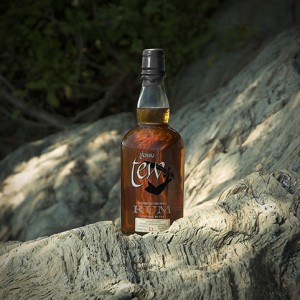 Newport Distilling Co. Thomas Tew Single Barrel Rum
Newport Distilling/Coastal Extreme Brewing, Newport, RI
$32, Standard Liquors, Providence, RI
42% abv/ 84 proof
I had been to Newport Distilling/Coastal Extreme before (they make the Newport Storm line of beers) and loved their rum. This is a pot-still single barrel rum (I have Barrel 53). Only sold in RI, I kicked myself for not picking up a bottle. The brewery/distillery will do a rum tasting for $9 which gets you three samples (white rum, cask strength, and finished product) and a tasting glass. The Lady Friend and I made a visit a few months ago and got our own bottle. Note: the distillery only sells the 375ml size bottles. The regular 750ml are only in liquor stores and retail for $32-38. Standard Liquors in Providence looks kind of sketchy on the outside, but has great service and prices, so I scored this bottle on the low end of the price scale. Also I had KFlynn smuggle up a reserve bottle, since he lives in the Ocean State. Thanks Flynny!
Nose: Boozier, some fruit and wine-like aromas, with dark sugar syrup behind it. This one is much more forward in the aroma. More syrup, more heat, but not stinging hot in the nostrils. Vanilla, fig, raisin, caramel, and grape.
Taste: Smooth, but it's got some heat. The heated tingle opens up the caramel flavors, like you dipped your tongue in liquid toffee/butterscotch. Lots of vanilla, and VERY sweet. The booze helps cut down the syrup, though this does have a thicker mouthfeel than the others. It's hot, but full of flavor. I wouldn't change it at all.
Lady Friend: "Smelled caramel sweet with a little burning alcohol in the nose, but still a lot of sweetness. Definitely some heat, but got a nice vanilla oak tast as well that kind of balanced it. Also thought it was a little woody or hay-like… maybe that's from the oak."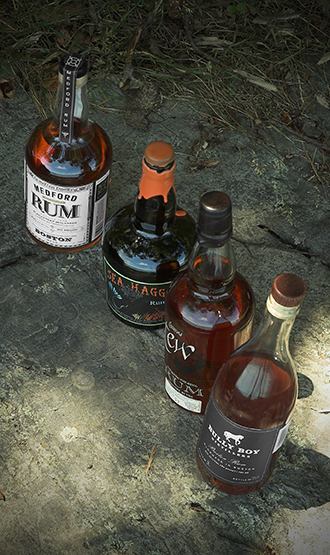 So which is best?
Well.
The Sea Hagg tastes a bit more unrefined and country. Which is fine, but it's not a sugar bomb like the others. It was probably unfair to put it in this comparison, but it was our least favorite of the bunch. It also gives some off-flavors when mixed, leaving few options. However price is going to play a role here, and I suspect this one is under $30, which would help its case. I would expect to pay between $25-35 for an aged craft rum, so if this is on the low-end of the price scale, I can forgive some flavor quirks.
The Medford Rum was lighter than expected, but still very tasty. However at $40, it's the most expensive by a wide margin. I haven't mixed this one yet, but I fear the more subtle flavors would get lost in, say, a daiquiri. It might be hard to justify this one.
Bully Boy is all-around tasty. As a fan of the unaged version, this one was like an extra layer of frosting on the sugar cookie flavors. Not as brash as the white, but a lot more caramel smooth. The flavors are there and the price is right.
The Thomas Tew takes the win for me. It's got the big flavors, the sugar, and the boozy heat to balance without being too harsh to sip. I've put it in a daiquiri where that syrupy sweetness shines paired with tart fresh lime. Drink this neat in the winter by the fire, or with ice and soda in the summer. The cheaper you can find it, the better, but I would say this tastes more like a $40 rum than the Medford.
Lady Friend: "I still think Bully Boy is my favorite, but the Thomas Tew is a close runner-up. Not that I dislike the Medford, but if you have to split hairs…"