Ok, ignore the last post. That was started last week when it was merely "wum" out. It's officially balls hot. 90°+ and humid with high probability of local scattered swass outbreaks.



Even the cat is trying to air out his naughty bits.


I need something refreshing.
I had originally been thinking of a Tom Collins, but I had a few of those this weekend, and wanted a change. Hot weather means rum, and I do love a good Daiquiri, but perhaps a more refreshing version.
BAM! Rum Collins.


So, a Tom Collins is simply a Gin Sour (I make my sours 2:1:1, that is, 2oz spirit, 1oz citrus, 1oz simple syrup) served in a highball (well, ideally a Collins) glass, over ice, and topped with club soda. It's a tall, cool, refreshing drink. Very nice. I don't prefer gin (I'm getting better about that) but this one is easy for anyone to take down. Another good description I've heard is "sparkling lemonade with gin." Pretty much. Though gin mileage varies per individual.
Anyway, a Rum Collins is simply a Rum Sour (a Daiquiri) served tall, over ice, with soda. A Daiquiri Highball. Sound good? I thought so. Apparently James Bond thinks so too.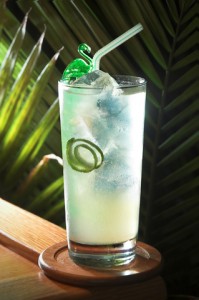 Rum Collins
– 2 oz rum (Bully Boy)
– 1 oz lime juice
– 1 oz simple syrup
– Top club soda
Shake the rum, lime, and simple syrup in a shaker, as if you're making a Daiquiri. Actually, this is a Daiquiri, but with soda. Pour into a highball/Collins glass filled with ice and top with club soda. Traditionally, this was garnished with a cherry and lemon slice, but I went with a lime peel. Cherry would be ok, but lemon doesn't make sense in a lime-based drink.


It's a fairly tropical drink, so feel free to decorate with flags, umbrellas, crazy straws, or drink stirrers. I have a pretty green flamingo.
Couple notes here: I used Bully Boy rum because it's goddamn fantastic. Was the cursing necessary? Yes. If you've tasted the Bully Boy then you'll agree with me. Use any white/light rum you've got, but know that Bacardi isn't going to have much flavor to it at all.
I also use a raw simple syrup, made from equal parts raw sugar and water. It gives the drink a touch more dark brown sugar flavor rather than white sugar. Also, it's practically healthy. Yeah, let's go with that.
The lime ratio varies by recipe and by personal taste. I like things a bit more tart, so I'm fine with the simple 2:1:1 ratio. Dale DeGroff gives all his sour recipes as 1 1/2 :1 :3/4, lowering the spirit to the more regulated serving, and easing off of the citrus by 1/4 oz to make a sweeter drink which he feels suits the American palate a bit closer. I started out using his recipes and they're mighty tasty, but I like a little more pucker and flavor nowadays, so it's a full ounce of lime juice. Either way, the ice dilution and club soda will ease the sharp edges a bit in this cocktail, versus the unmolested Daiquiri.


The nose here is quite simple: lime and Bully Boy happiness. That white rum just gives off sugar cookies, bunny sneezes, and rainbow dust. It's like a Disney movie in a glass. Until the booze kicks in. Then it's like parts of Alice in Wonderland.
It tastes like a bubbly Daiquri… a perfect combination of tart, sweet, and spirit. With bubbles. The club soda (and ice) dilute the drink down a touch, but does help to make it a bit more refreshing; I find regular Daiquiris just make me want another Daiquiri, whereas this drink is a bit more thirst-quenching. Quite nice on a day when my lower region is sitting in a puddle of dampness.
Yeah. That was gross. I agree.
But the drink is really really tasty.
Especially today.