This one came from an idle afternoon snooping around Kindred Cocktails, which is proving to be a very handy resource. A recent blast down to MA brought the NH State Liquor store across our path, and since the Lady Friend was taking advantage of a St Germain sale, I did some wandering of my own, coming away with a sale-priced bottle of Kahlua. How I've gone this long without some Kahlua on the bar, I'm not sure, but I do know it rules out a lot of new drinks, being a gap in the ingredients available. So now I have some. And need to use it.
Kindred Cocktails lets you search by a particular ingredient, and after several unappealing suggestions, I decided to go with this Negroni variation. It's simply splits the sweet vermouth with the coffee liqueur. Tia Maria also comes up for this sort of thing, but for now the Kahlua will have to do. According to the creator on San Diego Food Finds, this one is named as a mashup of "Negroni" and "Cafe Lolita," apparently a brand of coffee liqueur. Don't have that, but do have Kahlua, so in we go.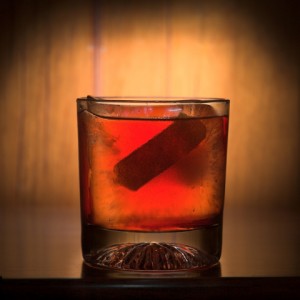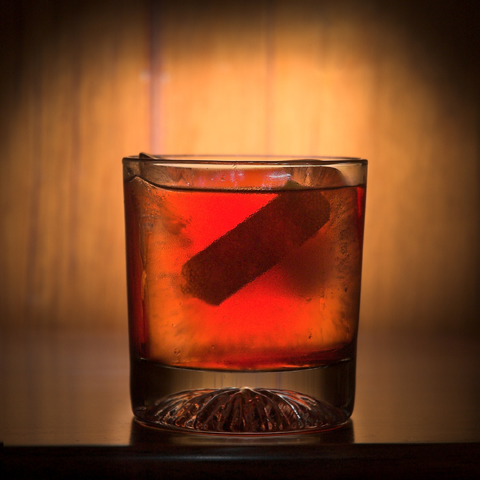 Nolita
From San Diego Food Finds via Kindred Cocktails
– 1 oz gin (I used GTD Wire Works because it's AWESOME.)
– 1 oz Campari
– 1/2 oz sweet vermouth (Martini & Rossi)
– 1/2 oz coffee liqueur (Kahlua)
– 1 dash bitters*
It's a Negroni at heart, so STIR it. Use Julep strainer and serve up or on the rocks. I prefer my Negronis (or variations) on the rocks with one giant monster ice block. Garnish with a lemon peel.


*Yeah, so they simply say "dash of bitters" but neglect to specify WHAT bitters. I could go with orange here, which would play nicely in the Campari flavors, but with that addition of coffee liqueur, I'm going to use the old standby, Angostura. I'm assuming that when people say "bitters" but don't specify, they mean Angostura. A little cinnamon/spice should also work here.
Nose: Actually, with that big iceberg in there, I don't really get much aroma at all. There's a hint of gin botanicals, and a very subdued Campari, but that's about it.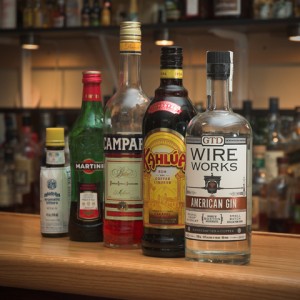 Taste: Cold. Slightly syrup mouthfeel, as can be expected from that Campari ooze. Light gin up front, followed by bittersweet puckering orange Campari, and finishes with a coffee roast. I really wish this was more dramatic, but that's how it is. It's quite nice, but it's a Negroni with some coffee flavor. For the second sip, I rolled it around in my mouth a bit more to warm it a touch, and it had a bit of a numbing effect from the booze rather than the cold. The gin is certainly prevalent, matched with the Campari spice. I'm sure this would be quite a bit rougher without the vermouth, but I can't really pick out any of its essence among the big flavors. Again, the finish is a coffee roast, like a good stout/porter, bitter rather than mocha or dark chocolate. I bet Kahlua gets somewhat chocolatey when mixed with whiskey, but with the brighter, sharper flavors in a Negroni, it sets itself apart as the darker ingredient. The Angostura is nowhere to be found, though I suspect it's lurking in the finish sheltered by the coffee flavors.
This is quite nice with the Wire Works, an American style gin, which eases off of the juniper a touch. I think the combination of a big, brash London Dry style would be an odd pairing of pine and coffee.


Is this a good time to say that I don't drink/like coffee?
Even so, this is a good alternative to a regular Negroni. Something about it feels more like a cold, damp, rainy day drink. A little brown liqueur in an otherwise bright drink. It dims things down a bit.
Wonderful.