Remember how I used to write this blog thing?
Yeah, me too.
I've been on a bit of a hiatus, which was unexpected, but not entirely unproductive. Lots of content built up, so expect some new posts.
In the meantime, Mayflower.


UPDATE:
Since posting this review and trekking to Plymouth, I discovered that there
IS
still some of this beer left. As of 5/18,
Pioppi's
in Plymouth still had several bombers on the shelf (minus the one we snagged.)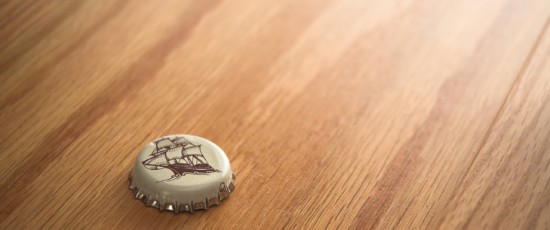 This one I've been meaning to get to for awhile. The Lady Friend and I took a trip down to Mayflower Brewery in Plymouth earlier in the year to snag a bottle of their limited bottling: the Mayflower 5th Anniversary Ale, a double IPA clocking in at 8.2%. I wanted it. Badly. Loin-achingly. But there weren't many bottles left, and we couldn't get down to Ply-town for a few weekends. Calamity! Fortunately, a friend of mine at the brewery, Sarah, (Hi Sarah! Well, say hello! Oh, quit hiding… wave to the internetz peoplez! OH NOW COME ON. That gesture was just plain rude. Fine. I'll have to post that picture where you wanted me to put Vin Diesel's face on you.)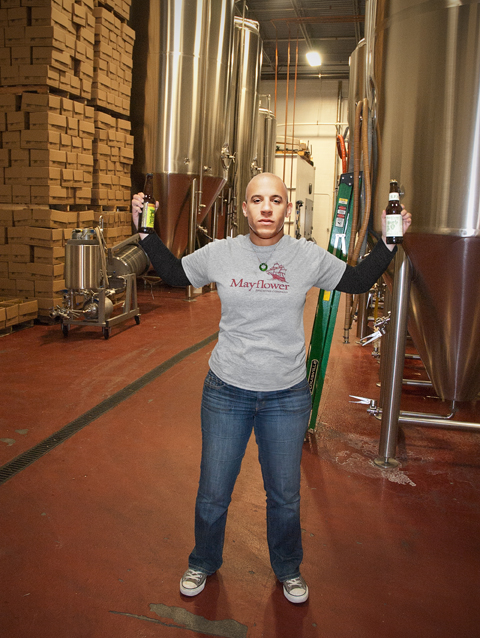 Exhibit A.


That escalated quickly.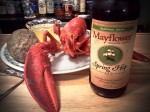 Anyway, Sarah – who really is awesome – snagged me a bottle and hid it until we got down there. They had also just changed over to their Spring Hop seasonal, which is mighty tasty, so naturally we stayed for a round of sampling. It's never too hard to convince us to stay for a sample or ten, especially when the seasonals have just switched over. Om nom nom Spring Hop.


Since then, the anniversary brew has been unintentionally aging in my beer fridge. I didn't mean to, but it just sort of happened. I wanted to save it and savor it rather than pound it down and move on to the next beer. But now, I'm getting back the blogging, and leading off with this tasty brew. Coincidence? Not entirely. Mayflower is hosting their annual Open House (open brewery?) this weekend, May 18th from 11a-4p. $10 a head at the door gets you free beer, good fun, sporadic brewery tours (I may have led a semi-sober tour for my friends last year), music and food. Details here. For the Lady Friend and I, this will be our third consecutive open house, and we're even trekking down from the frozen tundra of Maine, so you know it's a good time. It also serves as the release party for their summer seasonal, the Summer Rye Ale.


Anyway. Let's get to the tasting.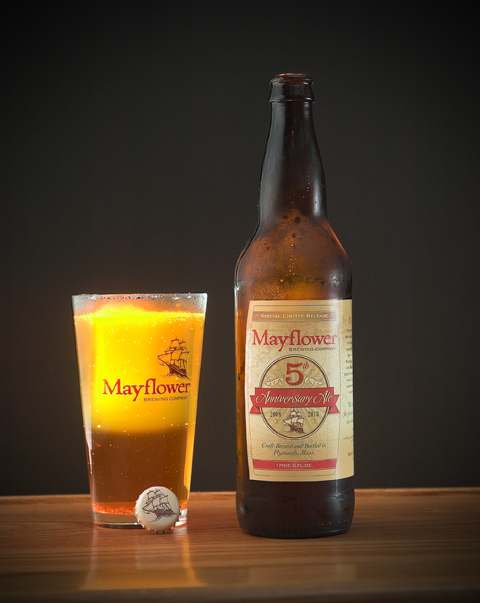 Kablammo


Nose: Ooooh hoppy. But you knew that was coming. Fresh, clean, open hops. Slightly syrupy. Citrus orange and lemon, with a darker pine spruce. Almost sugary, like maple sugar candy but without the maple. So, just sugar candy then? Yeah, I guess. Whatever, I've been drinking. What's your excuse? Rich malty back gluing the works together. Very promising.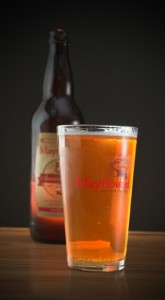 Taste: Smooth, easy carbonic. Orange citrus sweetness with a blue spruce sour. Not that it's sour, but it's not a sharp, stinging bitter snap. More like a counterpoint to the lighter aspects of the hop. Rounded overall… not as dry as an East Coast, but not as sweet as a West Coast, though I'd say that this is probably the most West Coast style I've tasted from Mayflower. The malt syrup oozes in the background like a lazy meandering stream in no particular hurry. While the hop boats on top shoot the rapids from sweet to tart to round bitter, the malt mud on the bottom lies undisturbed, providing a foundation for the rest of the flavors to float on. The smoothness of the carbonic is also lovely; a creamy mouthfeel closer to a nitrogenated sensation rather than big brassy bubbles of bitter stings. Butterflies, not bees.
To be fair, I let this one age a bit in my beer fridge. In theory, this could account for a mellower hop presence and even a smoother carbonation, though that is not as likely without a leak in the cap.


Here's what the Lady Friend had to say: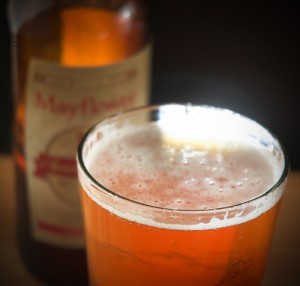 Nose: "I smell that yummy tree fruit. I also think it smells a little malty. I wonder if that would have been different if we smelled it when it was fresh. Almost has a little apple juice – I think that's the malt."
Taste: "It's good. [How profound.]
"It's very good. [How very profound.]
"It's got some sharp bitter hop taste, still get some of that tree fruit. It's very good. Still a little malty, but it's well-balanced. And that's it."


You heard the lady. It's good. It's very good.
Actually, I quite agree.





Squirrel Farts is now accepting solicited product reviews! Send me a bottle and I'll take a pretty picture and talk it up in the amusing tangential manner you've come to expect. Beer, spirits, mixers, whatever. Contact here for details. Note: I will mention that the review was solicited, hell, I'll even brag about it. Free booze? Damn right. But The Man says I have to say I got it for freebies. I'm excited about free stuff, so whatever. Now, that doesn't mean that I'll like it, or that I'll give it a good review. But chances are if you read this blog, then we'll get along. Put it to the test: send me your booze!