"It's a chalice, not a glass."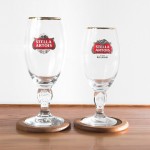 So, I belong to a word-of-mouth marketing group called BzzAgent. Every once in awhile they send me some free stuff, and I tell people about it. Pretty simple. Occasionally, they have BOOZE stuff, which is pretty much why I signed up in the first place. This is one of those times. They sent me a logo'd 33cl (~11.2oz) drinking chalice to drink their beer with. I already had the 40cl (~13.5oz) bigger sister, likely from some bar giveaway, but unique glassware is always fun. Until I have to move again.


Stella Artois is the current campaign, and they sent me a glass chalice. They like it when you call it a chalice. Stella is a Belgian lager, and a big brand of Anheuser-Busch InBev which is pretty much the largest producer of beer in the world. I would show you some choice quotes from the legal agreement they sent out, but that link has mysteriously disappeared. Basically I'm not supposed to mention any other brands and just stick to the Stella basics, which is difficult because I like to compare things. For example, there may be another beer company who made it a point to create their own custom drinking glass to enhance the flavor of their product. Just saying. It happens.
Not that this is anything new. A great number of breweries, especially in Europe, have brand-specific glassware to serve their beers in. The theory is that the shape, size, thickness, and other features of the glass are tailored to each individual beer and everything tastes better. Certainly glassware makes a difference. You wouldn't want a martini served in a plastic red cup, or a fine scotch sipped through a twisty straw (well, maybe you would, but you know what I'm saying). So that's where Stella is coming from. They're also big about the ritual of the drink. There's a certain well-known Irish stout that also has a bit of ritual for a proper pour, but the Stella dance is a NINE STEP NUMBER: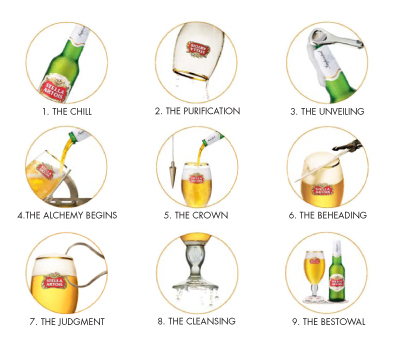 Yikes.


Now, I've never known a bartender to go through that many steps to pour a beer, despite what the commercials say. Even on a train. But then I don't order Stella that much. The tastiest one I ever had was from a keg, but most likely you'll find it in a bottle. A green glass bottle. Green glass doesn't block as much light as brown glass, and the beer gets skunky, like a number of other imported European brews. In sciency talk, the beer is light-struck in a process called photodegregation. When the light-sensitive isohumulones in the hops are exposed to light, they break down creating, among other things, sulfurous atoms creating the undesirable aromas and flavors. Why they haven't made the switch to UV-blocking brown glass despite this known flaw is beyond me, but I suspect it has to do with brand recognition. Some argue that the sulfurous qualities are intentionally created traits in certain brews. I don't really buy that. I've had both good and bad examples from the same brewery, so either way, inconsistencies exist in the product. Maybe it's from being light-struck, maybe not, but a beer brewed in Europe has plenty of opportunity to sit in less-than-ideal conditions, even on the supermarket shelf. So let's do the ritual and see if the chalice can enhance my Skunky Artois.







I had my bottle chilled and ready to go. The glass was washed purified, and I popped unveiled the bottle. The alchemy part was fun, but I skipped the plum bob for the crown, also known as building a head. Having misplaced my antique Belgian dagger, I went with a samurai sword for the beheading. It seemed to work just fine. The head crown was judged to be exquisite, I cleansed my glass chalice, and bestowed the frosty beverage upon myself.
Man, this terminology gets tricky.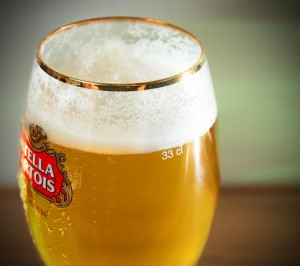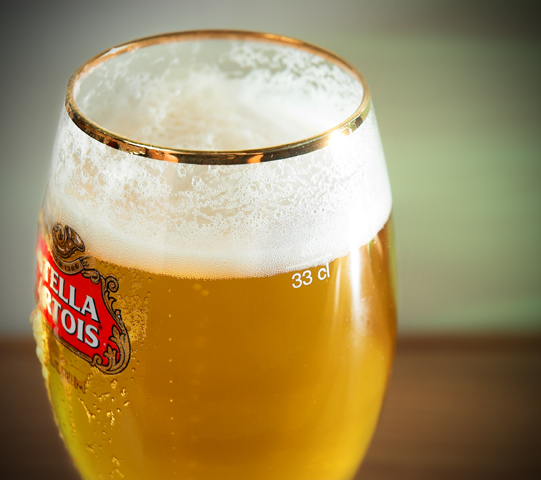 So, how did it work out?
Well, the brew nosed sweet with cereal grains, and a mild skunky aroma. Not the worst one I've smelled, but that sulfur musk is still in there. It does smell corn sweet, which makes sense as corn is an adjunct used in the brew. It's even bragged about as part of their ad campaigns.
The taste?
Well, it's a little too sweet. Very rounded, very pleasing, very refreshing. I can't say that I notice the difference the chalice makes to the taste, as opposed to swigging straight from the bottle. The chalice does impart a nice handfeel… there's some weight to the chunky stem that counterbalances the liquid. The stem also allows you to handle the chalice without touching the reservoir itself, which would raise the temperature of the beer from the heat of your hand. Lagers should generally be served as cold as possible. Stella recommends serving at 36°-38°F, just a shade above freezing. Bad things happen to warm lagers.


Did it make a difference? Maybe, but it certainly didn't hurt. Having a little ritual to a beverage can be nice sometimes, but other times you just pour the beer already. Either way, now I've got a brewery-specific piece of glassware should I pick up some more Stella. Actually, I've got one more bottle in the fridge, so I guess it's time to start the ritual over again.





Squirrel Farts is now accepting solicited product reviews! Send me a bottle and I'll take a pretty picture and talk it up in the amusing tangential manner you've come to expect. Beer, spirits, mixers, whatever. Contact here for details. Note: I will mention that the review was solicited, hell, I'll even brag about it. Free booze? Damn right. But The Man says I have to say I got it for freebies. I'm excited about free stuff, so whatever. Now, that doesn't mean that I'll like it, or that I'll give it a good review. But chances are if you read this blog, then we'll get along. Put it to the test: send me your booze!