Cocktail night!
This one comes from a website sent to me by colleague/bickering compatriot Leelz. She forwards me updates on this site regularly, though why I haven't subscribed myself, I don't know. Maybe because she keeps sending me the updates so it's like I've already subscribed. Anyway, the website (Tasting Table) is currently doing a feature on cocktails across the nation (though there is a DISTINCT lack of cocktails from Boston, or, for that matter, Portland, ME) and several of them seemed tasty. This particular one calls for rye whiskey, which I couldn't turn down.


The recipe source and backstory can be found here, which tells of the tipple's trail via bartender Mia Sarazen's Churchill bar in West Hollywood, CA. Apparently it can be made two ways, hence the name. I've gone the first route, making it as a cocktail, served "up" ("up" means chilled in a cocktail glass, as opposed to "neat," "straight," or "on the rocks." Bit of a sidebar here so we're all dealing with the same terminology. "Neat" is usually served in a rocks/old fashioned glass, with no ice. Liquor in glass. Like Scotch, neat. "Straight" means chilled liquor, like "neat" only cold. "On the rocks" is with ice. See also).
Anyway. I'm back now. The drink is Rye Two Ways because there's a bonus cocktail in there: you take the "up" cocktail, but pour it into a highball glass with ice, and top with Allagash White ale. Sounds like a good idea, especially since Allagash is right up the road from here. But I don't really get excited about Belgians (the beer or the people). So, it's the cocktail version for me.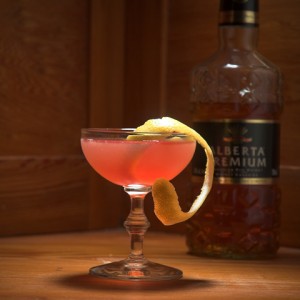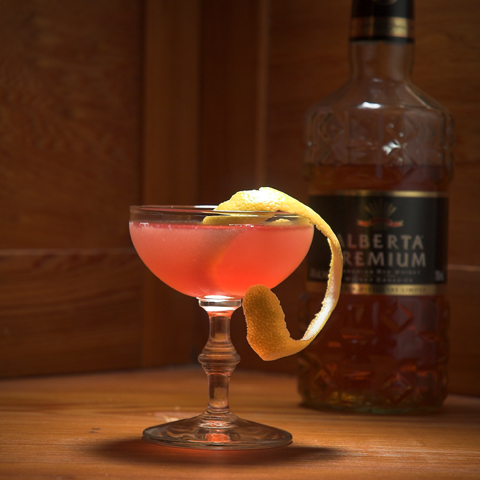 Rye Two Ways
By Mia Sarazen, Churchill. Recipe here.
– 1 oz rye (used Alberta Premium)
– 1 oz dry vermouth
– .75 oz grenadine
– .5 oz fresh lemon juice
– 2 dashes orange bitters (Fee Bros)
Mix 'em up, shake 'em up, serve it up, drink it down.
Garnish with a lemon peel.
It doesn't have to be as big as mine, as long as you know that I'm better than you and you'll somehow continue to go about your sad little life with that knowledge.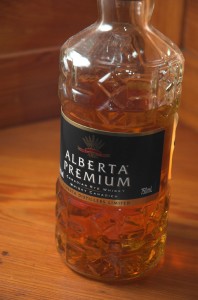 I went with my bottle of Alberta Premium rye whiskey for this one because a) it's a 100% rye whiskey and b) it looked lonely on the bar tonight because I haven't used it in awhile, since there are several other ryes to choose from. Like when you drive your Ferrari everywhere but forget about the Lamborghini in the back of the garage. I hate it when I do that. Anyway, this is one you can find ONLY in Canada, and the Lady Friend's parents were nice enough to traffic this one across international borders for me last year (what's the statute of limitations on smuggling?). You can read my thoughts about it here, and since it's a bottle that's hard to acquire, I don't use it much. I'm a bit of a liquor hoarder. But you have to drive them all once in awhile.
So let's drink some rye.


Nose: Lemony (yeah, GIANT lemon peel) with a sweetness. There's a little whiskey essence, but that grenadine is the dominant smell. Sugary fruity sweet, with some lemon. Not terribly exciting.
Taste: Now, you might say "Gosh golly gee SquirrelFarts, 3/4 oz sounds like a lot of grenadine in that little cocktail," and I might reply "You're right. But who are you and what are you doing in my barpartment judging my drink decisions? Be off with you, post haste, lest my cane find your backside!" But it is quite sweet. So. Yeah. There's a tiny bit of the grapey-ness from the vermouth, and a little caramel with bitterness from the rye. But it largely tastes of grenadine with some lemon. Not that it's bad, but it's very sweet.


Then the Lady Friend wanted a taste. Despite quaffing some Sierra Nevada Torpedo Extra IPA moments before, apparently she has a magic self-cleansing palate that can jump from big gobs of Cascade hops to a cocktail and give an accurate flavor assessment.
"Big surprise, smells like lemon" on the nose and tastes "Sweet. Not syrupy sweet but I don't get much whiskey from that.
"I mean, it's good.
"…because I don't taste a lot of whiskey."


I hate you.
Get out of my barpartment.