Just because I've been a slacker with the posts doesn't mean I haven't been drinking my Rule 37s. So let's try to get caught up. This one, the Hazzard County Line, comes courtesy of the Lady Friend, though she had no idea what the Hazzard County reference was.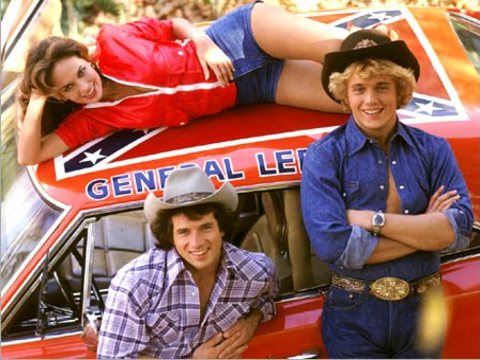 Hint.


In addition to having a tv-themed namesake, apparently it's a drink at The Vanderbilt in Brooklyn. She found it on this site while looking for decent apple brandy recipes.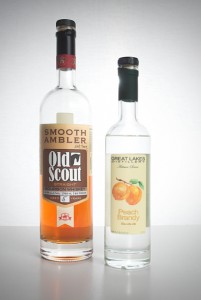 Since this is a spirit-forward drink, I'm actually using some very nice ingredients. It'll make a big difference in a drink where you really taste the booze. For the bourbon, we've got Smooth Ambler's Old Scout straight bourbon, clocking in at 99 proof. A hand-numbered bottle, (batch two), this one was a gift from boozing buddy Brent when he visited Boston earlier in the year. It's not a Kentucky bourbon from Bourbon County (or Hazzard County, Georgia, for that matter), but rather hails from West Virginia. I swore I'd never use this one for mixing, but this spirit-heavy drink seemed like an acceptable compromise. Plus, the 99 proof was a much needed boost.
The peach brandy comes from Great Lakes Distillery, one of my happy places out in Milwaukee. They make a range of eau-de-vie brandies and liquors, like Grappa, Kirschwasser, and peach, pear and apple brandies. These are the real deal… a bit hot and boozy up front, but once the heat evaporates, they leave a wonderful fresh fruit flavor behind. Currently on the bar are the apple and peach brandies (I don't like pear), and they're great to use for a nice crafted cocktail featuring the spirit.
So. Let's mix it up and see what happens.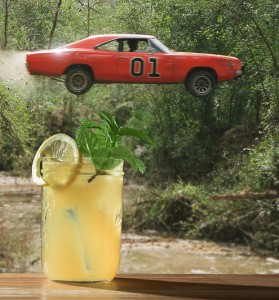 Hazzard County Line
From The Vanderbilt Restaurant and Bar, Brooklyn, New York
– 1 oz peach brandy (Great Lakes)
– 1 oz bourbon (Smooth Ambler)
– 3/4 oz lemon juice
– Dash of honey (Blue Line Apiary)
– Sprig of fresh mint
– Lemon wheel
Shake it real hard and fast like bouncing down a backcountry dirt road in your '69 Charger. Serve over ice in a mason jar, garnish with a lemon wheel and a big 'ol sprig of fresh mint. It kicks like the 'shine from your uncle's still, and it'll make you jump right over the river. Better learn to fly or start flappin' your arms real hard.


The original recipe just said "shake with ice, then serve over ice. Garnish with lemon wheel." Um. What about the mint? What kind of glass? Yeah, this recipe isn't too specific about a couple things. I used a nice big sprig of mint as a garnish, as with a julep. I also tossed it into a mason jar/drinking glass just like they'd do in Hazzard County. I'd recommend using some honey syrup instead of straight honey. Honey is a little too thick to mix well, especially with ice. Use a half ounce of honey syrup (1 part honey, 1 part water) in place of the straight stuff. Mine came from Blue Line Apiary, which was featured in my Rule 37: The Bee's Knees.
Ok. Let's try it.
Well, lots of mint and lemon in the aroma. Mostly because of the mint sprig and lemon wheel stuck up my nose when I go in for a sniff. Kind of hard to get past those, so let's have a taste.
Whoa.
Boozy.
It's an interesting combo. There's the dark quality of the bourbon, and a lot of lemon right from the start. The peach and honey flavors are more subdued and come in with the finish. It's kind of like a cough drop: honey, lemon, and alcohol. Actually, this would probably make a dandy cough remedy. Plus the booze would put you right at ease. I think it's rather nice (good thing I made myself a double) though the Lady Friend found it way too boozy. As if there is such a thing.
Now if only there were a silly and gratuitous Dukes of Hazzard picture to end this post with…



That works.
Someone got Daisy Duke out of her Daisy Dukes.